Karakteristik Kimia dan Organoleptik Sirup Gandaria dengan Penambahan Konsentrasi Gula
Chemical Characteristics and Organoleptics of Gandaria Sirup with Addition of Sugar Concentration
Rachel Breemer

Jurusan Teknologi Hasil Pertanian, Fakultas Pertanian, Universitas Pattimura, Jl. Ir. M. Putuhena, Kampus Poka, Ambon 97233

Syane Palijama

Jurusan Teknologi Hasil Pertanian, Fakultas Pertanian, Universitas Pattimura, Jl. Ir. M. Putuhena, Kampus Poka, Ambon 97233

Julius Jambormias

Jurusan Teknologi Hasil Pertanian, Fakultas Pertanian, Universitas Pattimura, Jl. Ir. M. Putuhena, Kampus Poka, Ambon 97233
Keywords:
Gandaria, sugar concentration, syrup
Abstract
"Gandaria†fruit is a seasonal fruit that is easy to prepare but cannot be kept fresh for a long time. Processing technology is important for creating a food product with a longer shelf life and being consumed outside of the season. Processing "gandaria†into syrup is one of the methods. The syrup has a thick and distinctive taste characteristic because it contains 55-65% sugar. This study aimed to determine what sugar concentration is best for producing good "gandaria†fruit syrup. A completely randomized experimental design with one factor, namely the concentration of sugar, i.e., 50%, 55%, 60%, 65%, and 70% repeated three times, was applied in this research. The results showed that sugar concentration treatment produced syrup with total sugar 59,36-65,97%, total acidity 13.48-17.35%. vitamin C 16.47-16.97%, and total soluble solid 39.27-46.43%. Organoleptic characteristics, namely color (rather yellow to yellow), aroma (slightly gandaria aroma), taste (slightly gandaria taste to gandaria taste), thickness (somewhat like to like), overall (somewhat like to like). The best sugar concentration in producing good gandaria syrup was 70%.
Keywords: Gandaria; sugar concentration; syrup
ABSTRAK
Buah gandaria merupakan buah musiman yang mudah dan tidak dapat dikonsumsi dalam bentuk segar dalam waktu yang lama. Penerapan teknologi pengolahan sangat penting untuk menghasilkan produk pangan olahan yang memiliki daya simpan yang lebih lama dan dapat dikonsumsi diluar musim salah satunya adalah mengolah gandaria menjadi sirup. Sirup memiliki karakteristik yang kental dan rasa yang khas karena mengandung gula 55-65%. Penelitian ini bertujuan untuk menentukan konsentrasi gula yang tepat dalam menghasilkan sirup buah gandaria yang baik. Rancangan percobaan yang digunakan dalam penelitian ini adalah rancangan acak lengkap dengan satu faktor yaitu konsentrasi gula 50%, 55%, 60%, 65% dan 70%, masing-masing perlakuan diulang sebanyak tiga kali. Hasil menunjukkan bahwa perlakuan konsentrasi gula 55-70% menghasilkan total gula sebesar 59,36-65,97%, total asam sebsesar 17,35-13,48%, vitamin C sebesar 16,97-16,47%, dan total padatan terlarut sebesar 39,27-46,43%, dan karakteristik organoleptik warna (agak kuning-kuning), aroma (agak beraroma gandaria), rasa (agak berasa gandaria-berasa ngandaria), kekentalan (agak suka-suka), overall (agak suka-suka). Salah satu perlakuan konsentrasi terbaik adalah perlakuan konsentrasi gula 70%.
Kata kunci: Gandaria; konsentrasi gula; sirup
Downloads
Download data is not yet available.
References
Ahmed, A., S.W. Ali, K-ur Rehman, S. Manzoor, S.R. Ayub, and M. Ilyas. 2016. Influence of sugar concentration on physicochemical properties and sensory attributes of sapodilla jam. PeerJ Preprints. DOI: 10.7287/peerj.preprints.1777v1.
Akal, C., Ä°, Buran, R.A. DelialioÄŸlu, and A. YetiÅŸemiyen. 2018. The effect of different sugar ratio on the quality properties of milk jam. The Journal of Food 43: 865-875. DOI: 10.15237/gida.GD18067
[AOAC]. Analytical Methods of Anlysis Association Analitical Chemists. 2005. Washington DC, USA: Association Analitical Chemists.
Andrea, M., I.V.D. Heuvel, and F. Brouns. 2016. Fruits syrup: Sweet concetrated sources. The World of Food Ingredients 44-46.
SNI. 2013. SNI 3544 Sirup. Badan Standarisasi Nasional Jakarta.
Bastanta, D., T. Karo-Karo, dan H. Rusmarilin. 2017. Pengaruh perbandingan sari sirsak dengan sari bit dan konsentrasi gula terhadap sirup sabit. Jurnal Rekayasa Pangan dan Pertanian 5: 102-108. DOI: 10.35891/TP.v11i1.1786.
Fitri, E., N., Harun, dan V.S. Johan. 2017. Konsentrasi gula dan sari buah terhadap kualitas sirup belimbing wuluh (Averrhoa bilimbi L.). JOM Faperta UR 4: 1-13.
Hadiwijaya, H. 2013. Pengolahan Bahan Pangan Dengan Suhu Tinggi. Dasar-Dasar Teori dan Praktek Proses Termal. Pusat Studi Pangan dan Gizi. Institut Pertanian Bogor. Bogor.
Harsono, T., N. Pasaribu, Sobir, and Fitmawati. 2016. Diversity of Gandaria (Bouea) based on morphological characters in Indonesia. SABRAO Jurnal of Breeding and Genetics 48: 504-517.
Hidayat, B.T., A. Wae and N. Andriati. 2018. Physicochemical, sensory attribute and protein profile by SDS-PAGE of beef sausage substitute with texturized vegetable protein. Food Research 2: 20-31. DOI: 10.26656/FR.2017.2(1).106.
Hui Y.H., J. Barta, M.P. Cano, T. Gusek, J.S. Sidhun, and N.K. Sinha. 2006. Handbook of Fruits and Fruit Processing. Blackwell. Ames, Iowa.
Ibrahim, M. 2016. Effect of different storage condition on pH on vitamin C content on some selected fruit juices (pineapple, pawpaw and watermelon). International Journal of Biochemistry Research & Review 11(2): 1-5. DOI: 10.9734/IJBCRR/2016/ 23462.
Magwaza, L. and U. Opara. 2015. Analytical methods for determination of sugars dan sweetness of horticultural products - A review. Scientia Horticulturae 184: 179-192. DOI: 10.1016/j.scienta.2015.01.001.
Melisa, R. dan H. Mardesci. 2016. Studi konsentrasi gula yang tepat dalam pembuatan sirup buah kelubi (Eleiodoxa conferta). Jurnal Teknologi Pertanian 5: 37-44. DOI: 10.32520/jtp.v5i1.89.
Marwanto, H.S. Gusnawaty, dan Tamrin. 2016. Pengaruh konsentrasi gula kristal dan asam sitrat terhadap karkateristik fisik, kimia dan organoleptik sirup air kelapa. Jurnal Sains dan Teknologi Pangan 1: 209-214. DOI: 10.33772/jstp.v1i3.1547.
Masriatini, R. 2018. Penambahan gula terhadap mutu sirup mangga. Jurnal Online Universitas PGRI Palembang 3: 33-36.
Minh, N. 2014. Various factor affecting to the production of marian plum (Thanh Tra) jam. International Journal of Multidiciplinary Research and Development 1: 127-131.
Nurwin, F.A., E.N. Dewi, dan Romadhon. 2019. Pengaruh penambahan tepung karagenan pada karakteristik bakso kerang darah (Anadara granosa). Jurnal Ilmu dan Teknologi Perikanan 1: 39-46.
Pratama, S.B., S. Wijana, A. Febriyanto. 2012. Studi pembuatan sirup tomarillo (Kajian perbandingan buah dan konsentrasi gula). Jurnal Industri 1: 181-194.
Pujimulyani, D. 2009. Teknologi Pengolahan Sayur-sayuran dan Buah-buahan. Yogyakarta: Graha Ilmu.
Rajan, N.S., R. Bhat, and A. Karim. 2014. Preliminary studies on the evaluation of nutrition composition of unripe and ripe 'Kundang' fruits (Bouea macrophylla Griffith). International Food Research Journal 21: 985-990.
Rajan, N.S., and R. Bhat. 2016. Antioxidant compounds and antioxidant activities in unripe and ripe kundang fruits (Bouea macrophylla Griffith). Fruits 17: 41-47. DOI: 10.1051/fruits/2015046.
Rajan, N.S., and R. Bhat. 2017. Volatile constituents of unripe and ripe kundang fruit (Bouea macrohylla Griffith). International Journal of Food Properties 21: 1751-1760. DOI: 10.1080/10942912.2016.1218892.
Sirangelo, T.M. 2019. Sensory descriptive evaluation of food products: A review. Journal of Food Science and Nutritional Research 2: 354-363. DOI: 10.26502/jfsnr. 2642-11000034.
Sudarmadji, S., B. Haryono, dan Suhardi. 1997. Prosedur Analisa untuk Bahan Makanan Dan Pertanian. Edisi ke-4. Yogyakarta: Liberty.
Umam, M. F., R. Utamidan E. Widowati. 2012. Kajian karakteristik minuman sinbiotik pisang kepok (Musa paradisiaca forma typical) dengan menggunakan starter Lactobacillus acidopillus IFO 13951 dan Bifidobacterium longum ATCC 15707. Jurnal Teknosains Pangan 1: 3-11.
Vaclavic, V.A., and E.W. Christian. 2014. Sugars, Sweeteners, and Confections. In: Essentials of Food Science. Springer, 279-295.
Warella, J., P. Papilaya, dan P. Tuapattinaya. 2016. Lama fermentasi terhadap kadar serat nata buah gandaria. Biopendix 3: 33-39. DOI: 10.30598/biopendixvol3issue1page33-39
Zaitoun, M., M. Ghanem, and S. Harphoush. 2018. Sugars: types and their functional properties in food and human health. International Journal of Public Health Research 6: 93-99.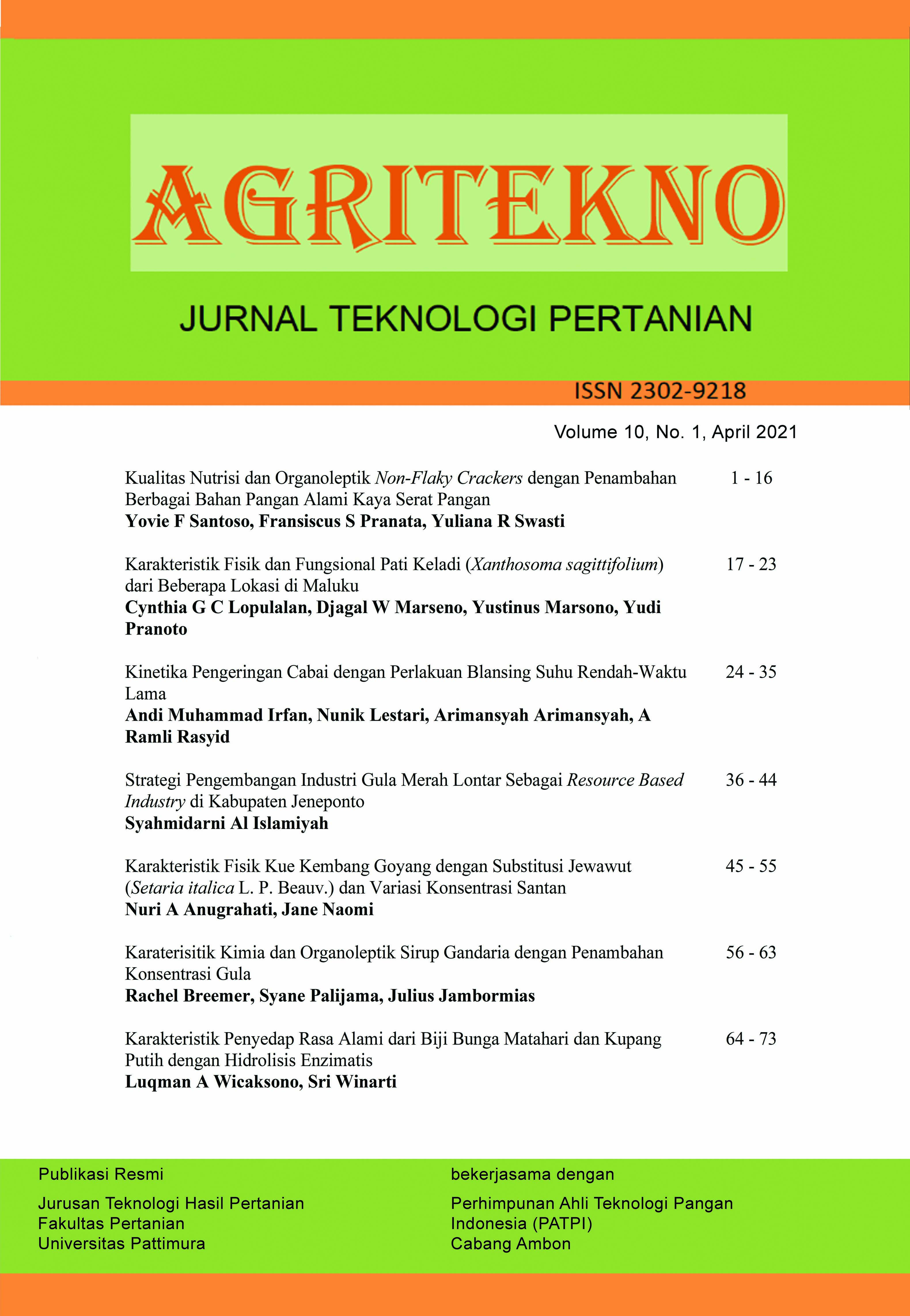 How to Cite
Breemer, R., Palijama, S., & Jambormias, J. (2021). Karakteristik Kimia dan Organoleptik Sirup Gandaria dengan Penambahan Konsentrasi Gula. AGRITEKNO: Jurnal Teknologi Pertanian, 10(1), 56-63. https://doi.org/10.30598/jagritekno.2021.10.1.56
Copyright (c) 2021 Rachel Breemer, Syane Palijama, Julius Jambormias
This work is licensed under a Creative Commons Attribution-ShareAlike 4.0 International License.
Authors who publish with this journal agree to the following terms:
Authors retain copyright and grant the journal the right of first publication with the work simultaneously licensed under a Creative Commons Attribution License that allows others to share the work with an acknowledgement of the work's authorship and initial publication in this journal.
Authors are able to enter into separate, additional contractual arrangements for the non-exclusive distribution of the journal's published version of the work (e.g., post it to an institutional repository or publish it in a book), with an acknowledgement of its initial publication in this journal.
Authors are permitted and encouraged to post their work online (e.g., in institutional repositories or on their website) prior to and during the submission process, as it can lead to productive exchanges, as well as earlier and greater citation of published work (See The Effect of Open Access).