Penambahan Bunga Telang (Clitoria ternatea L.) Pada Fermentasi Tempe Sebagai Peningkat Antioksidan dan Pewarna Alami
The Addition of Butterfly Pea Flower (Clitoria ternatea L.) on Tempeh Fermentation as An Increase of Antioxidants and Natural Dyes
Kresentia D Gracelia

Program Studi Biologi, Fakultas Biologi, Universitas Kristen Satya Wacana, Jl. Diponegoro 52-60, Salatiga 50711, Indonesia

Lusiawati Dewi

Program Studi Biologi, Fakultas Biologi, Universitas Kristen Satya Wacana, Jl. Diponegoro 52-60, Salatiga 50711, Indonesia
Keywords:
Antioxidant, butterfly pea flower (Clitoria ternatea L.), natural dye, organoleptic, tempeh
Abstract
Food additives or additives are ingredients or mixtures if added to raw ingredients can affect the nature and shape of food and beverage. Some functions of these ingredients' addition include a preservative, flavoring, coloring, antioxidant, and others. Tempeh is one of the foods consumed by many people, especially in Indonesia. The addition of additives to tempe can increase its nutritional components such as increasing antioxidant levels. Butterfly pea flower (Clitoria ternatea L.) is added as an additive to increase antioxidants because, from several studies, the flower has a high antioxidant. The addition of butterfly pea flower is also expected to affect the antioxidant activity and give the tempe an attractive aroma, taste, and color. The objective of this research was to determine the effect of butterfly pea flower addition with concentrations of 0%, 0.5%, 1%, 1.5%, and 2% on antioxidant activity using the DPPH method, and the organoleptic properties of tempeh based on the preference level (hedonic) using a questionnaire. Based on the results obtained, it was shown that the addition of butterfly pea flower was able to increase the antioxidant activity. This can be seen from the IC50 value at the addition at 2% concentration, which showed the highest value of 2398.5 ppm from each treatment even though in the antioxidant power category, it was still relatively low. Then on the organoleptic test, the results showed that in the color parameter, panelists tended to like the butterfly pea flower addition at a concentration of 1%, while in the aroma and taste parameters the panelists liked the butterfly pea flower addition at a concentration of 0.5%.  
Keywords: Antioxidant; butterfly pea flower (Clitoria ternatea L.); natural dye; organoleptic; tempeh.
ABSTRAK
Bahan tambahan pangan atau bahan aditif merupakan bahan ataupun campuran yang jika ditambahkan ke dalam bahan baku dapat mempengaruhi sifat serta bentuk dari suatu makanan dan minuman. Beberapa fungsi dari penambahan bahan ini diantaranya adalah sebagai pengawet, penyedap, pewarna, antioksidan dan lainnya. Tempe merupakan salah satu pangan yang banyak dikonsumsi oleh masyarakat terutama di Indonesia. Penambahan bahan aditif pada tempe dapat meningkatkan komposisi gizinya seperti meningkatkan kadar antioksidan. Bunga telang (Clitoria ternatea L.) ditambahkan sebagai bahan aditif untuk meningkatkan antioksidan karena dari beberapa penelitian yang dilakukan, bunga tersebut memiliki antioksidan yang cukup tinggi. Penambahan bunga telang juga diharapkan dapat mempengaruhi aktivitas antioksidan serta memberikan aroma, rasa dan warna yang menarik pada tempe. Tujuan dari penelitian ini adalah mengetahui pengaruh penambahan bunga telang dengan konsentrasi 0%, 0,5%, 1%, 1,5% dan 2% terhadap aktivitas antioksidan dengan metode DPPH, dan sifat organoleptik pada tempe berdasarkan tingkat kesukaan (hedonik) menggunakan kuisioner. Berdasarkan hasil yang diperoleh, ditunjukkan bahwa penambahan bunga telang mampu meningkatkan aktivitas antioksidan. Hal ini dilihat dari nilai IC50 pada penambahan konsentrasi 2% menunjukkan nilai tertinggi yaitu 2398.5 ppm dari setiap perlakuan walaupun dalam kategori kekuatan antioksidan, masih tergolong rendah. Kemudian pada uji organoleptik, hasil menunjukkan bahwa dalam parameter warna, panelis cenderung menyukai penambahan bunga telang pada konsentrasi 1%, sedangkan pada parameter aroma dan rasa panelis menyukai penambahan bunga telang dengan konsentrasi 0,5%.
Kata kunci: Antioksidan; bunga telang (Clitoria ternatea L.); organoleptik; pewarna alami; tempe.
Downloads
Download data is not yet available.
References
Adnan, M. H. (2019). Aktivitas Antioksidan Ekstrak Tempe Kacang Hijau (Vignaradiata L). Skripsi. Jakarta: Universitas Islam Negeri Syarif Hidayahtullah.
Almey, A., Khan, A. J., Zahir, S., Suleiman, M., Aisyah & Rahim, K. (2010). Total Phenolic content and primary antioxidant activity of methanolic and ethanolic extracts of aromatic plants leaves. International Food Research Journal, 17, 1077–1084.
Andriani, D., & Murtisiwi, L. (2020). Uji Aktivitas antioksidan ekstrak etanol 70% Bunga Telang (Clitoria ternatea L) dari daerah Sleman dengan metode DPPH. Pharmacon: Jurnal Farmasi Indonesia, 17(1), 70–76. https://doi.org/10.23917/pharmacon.v17i1.9321
Apriani, S. (2020). Uji Aktivitas Antioksidan Ekstrak Bunga Telang (Clintoria ternatea L.) dengan Metode DPPH (2,2-diphenyl 1-1 pickrylhdrazyl). Skripsi. Medan: Universitas Muhammadiyah Sumatera Utara.
Awe, F. B., Fagbemi, T. N., Ifesan, B. O. T., & Badejo, A. A. (2013). Antioxidant properties of cold and hot water extracts of cocoa, hibiscus flower extract, and ginger beverage blends. Food Research International, 52(2), 490–495. https://doi.org/10.1016/J.FOODRES.2013.01.021
Badan Standardisasi Nasional. (2012). Tempe : Persembahan Indonesia Untuk Indonesia. Jakarta: Badan Standarisasi Nasional.
Banobe, C. O., Kusumawati, I. G. A. W., & Wiradnyani, N. K. (2019). Nilai Gizi makro dan aktivitas antioksidan tempe kedelai (Glycine max L.) kombinasi biji kecipir (Psophocarpus tetragonolobus L.). Pro Food, 5(2), 486–495. https://doi.org/10.29303/PROFOOD.V5I2.111
Choiriyah, N. A. (2020). Kandungan Antioksidan pada berbagai bunga edible di Indonesia. AGRISAINTIFIKA: Jurnal Ilmu-Ilmu Pertanian, 4(2), 136–143. https://doi.org/10.32585/AGS.V4I2.892
Dewi, A. P., Setyawardani, T., & Sumarmono, J. (2019). Pengaruh penambahan bunga telang (Clitoria ternatea) terhadap sineresis dan tingkat kesukaan yogurt susu kambing. Journal of Animal Science and Technology, 1(2), 145–151.
Fizriani, A., Quddus, A. A., & Hariadi, H. (2021). Pengaruh penambahan ekstrak bunga telang terhadap sifat kimia dan organoleptik pada produk minuman cendol. Jurnal Ilmu Pangan Dan Hasil Pertanian, 4(2), 136–145. https://doi.org/10.26877/jiphp.v4i2.7516
Istiani, Y., Handajani, S., & Pangastuti, A. (2015). Karakterisasi senyawa bioaktif isoflavon dan uji aktivitas antioksidan dari ekstrak etanol tempe berbahan baku koro pedang (Canavalia ensiformis). Biofarmasi, 13(2), 50–58. https://doi.org/10.13057/biofar/f130202
Lakshmi, C. N. D. M., Raju, B. D. P., Madhavi, T., & Sushma, N. J. (2014). Identification of bioactive by FTIR analaysis and in vitro antioxidant activity of Clitoria ternatea leaf and flower extract. Indo American Journal of Pharmaceutical Research, 4(9).
Limbong, J. J. W. (2018). Pengaruh Konsentrasi Bunga Telang (Clitoria ternatea L.) sebagai Tambahan Bahan Makanan terhadap Karakteristik Sensori dan Aktivitas Antioksidan pada Kuliner Blue Sushi. Skripsi. Semarang: Universitas Katolik Soegijapranata.
Mubarok, Z. R., Fatwa, M., & Deden. (2019). Pengaruh penambahan asam sitrat pada proses perebusan dan perendaman kedelai untuk mempercepat proses fermentasi tempe. Jurnal Ilmiah Teknik Kimia, 3(1), 18–20. https://doi.org/10.32493/jitk.v3i1.2596
Muin, R., Hakim, I., & Febriansyah, A. (2015). Pengaruh waktu fermentasi dan konsentrasi enzim terhadap kadar bioetanol dalam proses fermentasi nasi aking sebagai substrat organik. Jurnal Teknik Kimia, 21(3), 59–69.
Mulangsari, D. A. K. (2019). Penyuluhan pembuatan bunga telang kering sebagai seduhan teh kepada anak Panti Asuhan Yatim Putra Batti Jannati. Abdimas Unhawas, 4(2).
Purba, E. C. (2020). Kembang Telang (Clitoria ternatea L.): Pemanfaatan dan bioaktivitas. EduMatSains : Jurnal Pendidikan, Matematika Dan Sains, 4(2), 111–124. https://doi.org/10.33541/EDUMATSAINS.V4I2.1377
Putri, A. A. ., & Hidajati, N. (2015). Uji Aktivitas antioksidan senyawa fenolik ekstrak metanol kulit batang tumbuhan nyiri batu (Xylocarpus moluccensis). Unesa Journal of Chemistry, 4(1), 1–6.
Rizal, S., & Kustyawati, M. E. (2019). Karakteristik Organoleptik dan kandungan beta-glukan tempe kedelai dengan penambahan Saccharomyces cerevisiae. Jurnal Teknologi Pertanian, 20(2), 127–138. https://doi.org/10.21776/ub.jtp.2019.020.02.6
Sidiq, M., Mappiratu, & Nurhaeni. (2016). Kajian Kandungan fenolat dan aktivitas antioksidan ekstrak etanol tempe gembus dari berbagai waktu inkubasi. Kovalen, 2(3), 1–9.
Sihmawati, R. R., Panjaitan, T. W. S., & Rosida, D. A. (2017). Evaluasi Sifat fisikokimia tempe warna dengan penggunaan kunyit sebagai pewarna alami dan penambahan SDB (Sabouraud Dextrose Broth). Heuristic, 14(01). https://doi.org/10.30996/HE.V14I01.1041
Suknia, S. L., & Rahmani, T. P. D. (2020). Proses Pembuatan tempe home industry berbahan dasar kedelai (Glycine max (L.) Merr) dan kacang merah (Phaseolus vulgaris L.) di Candiwesi, Salatiga. Southeast Asian Journal of Islamic Education, 03(01), 59–76.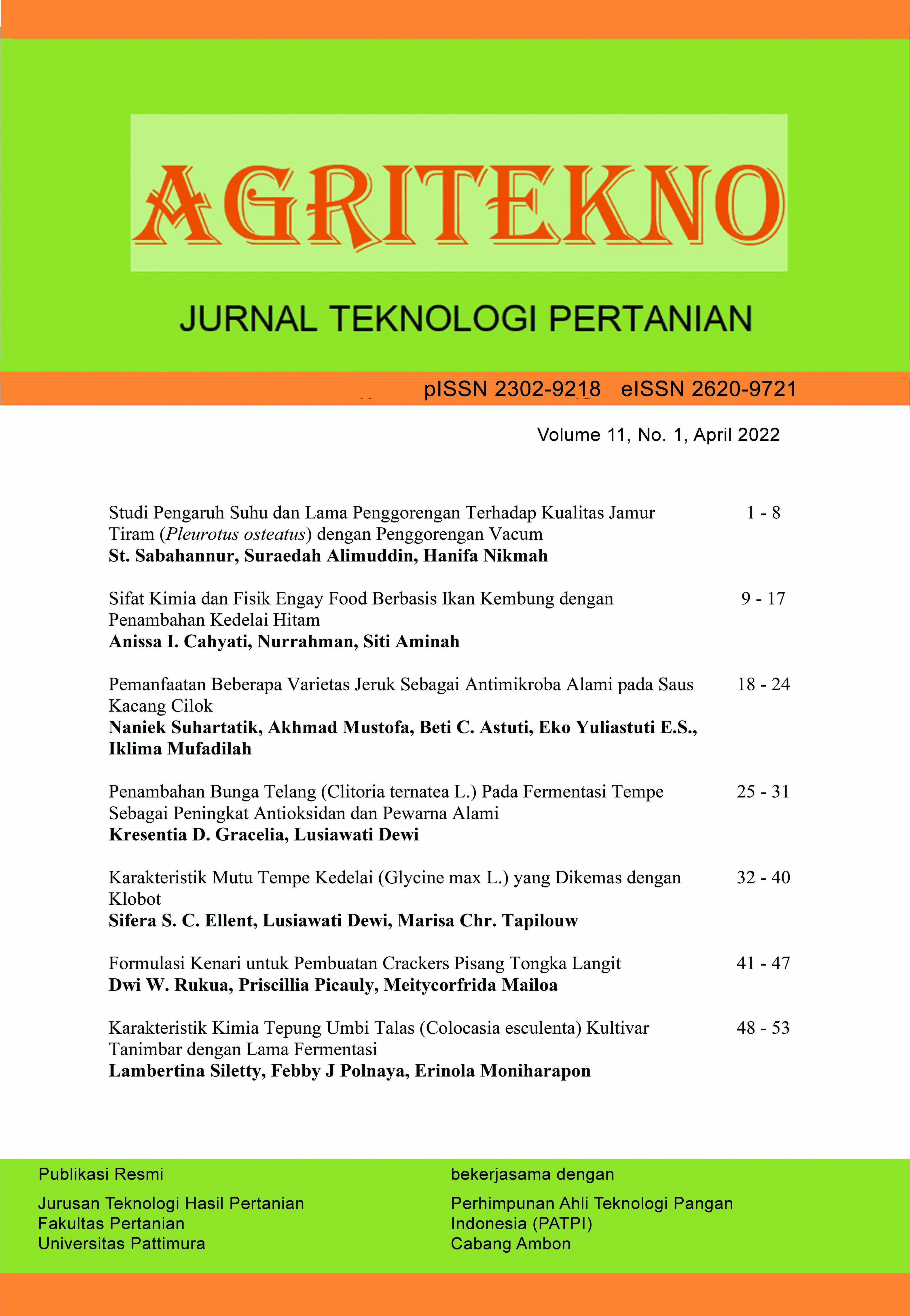 How to Cite
Gracelia, K., & Dewi, L. (2022). Penambahan Bunga Telang (Clitoria ternatea L.) Pada Fermentasi Tempe Sebagai Peningkat Antioksidan dan Pewarna Alami. AGRITEKNO: Jurnal Teknologi Pertanian, 11(1), 25-31. https://doi.org/10.30598/jagritekno.2022.11.1.25
Copyright (c) 2022 The Authors
This work is licensed under a Creative Commons Attribution-ShareAlike 4.0 International License.
Authors who publish with this journal agree to the following terms:
Authors retain copyright and grant the journal the right of first publication with the work simultaneously licensed under a Creative Commons Attribution License that allows others to share the work with an acknowledgement of the work's authorship and initial publication in this journal.
Authors are able to enter into separate, additional contractual arrangements for the non-exclusive distribution of the journal's published version of the work (e.g., post it to an institutional repository or publish it in a book), with an acknowledgement of its initial publication in this journal.
Authors are permitted and encouraged to post their work online (e.g., in institutional repositories or on their website) prior to and during the submission process, as it can lead to productive exchanges, as well as earlier and greater citation of published work (See The Effect of Open Access).