Karakteristik Mutu Tempe Kedelai (Glycine max L.) yang Dikemas dengan Klobot
Quality Characteristics of Soybean (Glycine max L.) Tempeh Packaged with Corn Husks
Sifera S C Ellent

Program Studi Biologi, Fakultas Biologi, Universitas Kristen Satya Wacana, Jl. Diponegoro 52-60, Salatiga 50711, Indonesia

Lusiawati Dewi

Program Studi Biologi, Fakultas Biologi, Universitas Kristen Satya Wacana, Jl. Diponegoro 52-60, Salatiga 50711, Indonesia

Marisa Chr Tapilouw

Program Studi Biologi, Fakultas Biologi, Universitas Kristen Satya Wacana, Jl. Diponegoro 52-60, Salatiga 50711, Indonesia
Keywords:
Klobot, packaging, quality characteristics, tempeh
Abstract
Tempeh is a processed food made from fermented soybeans using the mold Rhizopus oryzae or Rhizopus oligosporus which has the main nutritional content of 56% protein. Quality tempeh has the characteristics of being compact, slightly grayish-white in color, and has a distinctive tempeh aroma. In general, tempe is packaged using banana leaves and plastic. The type of packaging in temphe can affect the quality characteristics of tempe. The purpose of this study was to analyze the quality characteristics of tempe with packaging using klobot (corn husk) on four main parameters are protein content, moisture content, shelf life, and organoleptic properties. This study used a completely randomized design with three treatments and three repetitions, namely banana leaf packaging, plastic packaging, and klobot packaging. Based on the results obtained, the use of the type of packaging has a significant effect on the 95% significance level on the physicochemical characteristics (protein and moisture content). Tempeh wrapped in klobot has a protein content of 23,87 ± 1,17 (%) and a moisture content of 51,58 ± 0,30 (%). This value is in accordance with Indonesian National Standard 3144: 2015 that the protein content of soybean tempeh is at least 15% (w/w) and the moisture content of soybean tempeh is a maximum of 65%. Next, the shelf-life analysis showed that tempeh wrapped in klobot had a shelf life of 5 days with a slight tempeh texture. Then based on the result of the organoleptic test, variation of treatment has no significant effect at the 95% significance level on organoleptic characteristics of color, flavor, texture, taste and significantly affects overall preference organoleptic characteristics.
Keywords: Klobot, packaging, quality characteristics, tempeh
ABSTRAK
Tempe merupakan makanan olahan yang dibuat dari kacang kedelai hasil fermentasi menggunakan kapang Rhizopus oryzae atau Rhizopus oligosporus yang memiliki kandungan gizi utama yaitu protein sebesar 56%. Tempe yang berkualitas memiliki karakteristik yaitu berbentuk kompak, berwarna putih serta memiliki aroma khas tempe. Pada umumnya tempe dikemas dengan menggunakan daun pisang dan plastik. Jenis kemasan pada tempe dapat mempengaruhi karakteristik mutu tempe. Tujuan penelitian ini untuk menganalisis karakteristik mutu tempe dengan pengemasan menggunakan klobot (kulit jagung) terhadap empat parameter utama yaitu kadar protein, kadar air, umur simpan dan sifat organoleptik. Penelitian ini menggunakan rancangan acak lengkap dengan tiga perlakukan dan tiga kali pengulangan yaitu kemasan daun pisang, kemasan plastik, dan kemasan klobot. Berdasarkan hasil yang diperoleh penggunaan jenis pengemas berpengaruh nyata pada taraf signifikansi 95% terhadap karakteristik fisikokimia (kadar protein dan air). Tempe yang dibungkus dengan klobot memiliki kadar protein sebesar 23,87 ± 1,17 (%) dan kadar air sebesar 51,58 ± 0,30 (%). Nilai tersebut sesuai dengan dengan Standar Nasional Indonesia 3144: 2015 bahwa kadar protein tempe kedelai minimal 15% (b/b) dan kadar air tempe kedelai maksimal 65%. Selanjutnya pada analisis umur simpan menunjukkan bahwa tempe yang dibungkus klobot memiliki daya simpan 5 hari dengan tekstur tempe yang sedikit lunak. Kemudian berdasarkan hasil uji organoleptik, variasi perlakuan tidak berpengaruh nyata pada taraf signifikansi 95% terhadap karakteristik organoleptik warna, aroma, tekstur, rasa dan berpengaruh nyata terhadap karakteristik organoleptik kesukaan secara keseluruhan.
Kata Kunci: Karakteristik mutu; kemasan; klobot; tempe
Downloads
Download data is not yet available.
References
Alvina, A. & Hamdani, D. (2019). Proses Pembuatan Tempe Tradisional. Jurnal Pangan Halal, 1(1), 9-12.
Badan Standarisasi Nasional. (2015). Tempe. Jakarta.
Fang, L., He, X., Zhang, X., Yang, Y., Liu, R., Shi, S., Shi, X., & Zhang, Y. (2021). A small amount of nitrogen transfers from white clover to citrus seedling via common arbuscular mycorrhizal networks. Agronomy, 11(1), 1–15. https://doi.org/10.3390/agronomy11010032
Furqon, A., Maflahah, I., & Rahman, A. (2016). Pengaruh jenis pengemas dan lama penyimpanan terhadap mutu produk nugget gembus. Agrointek, 10(2), 71. https://doi.org/10.21107/agrointek.v10i2.2468
Ginting, A. (2015). Pemanfaatan limbah kulit jagung untuk produk modular dengan teknik pilin. Dinamika Kerajinan Dan Batik: Majalah Ilmiah, 32(1), 51. https://doi.org/10.22322/dkb.v32i1.1180
Jubaidah, S., H. Nurhasnawati, & H. Wijaya. (2016). Penetapan kadar protein tempe jagung (Zea mays L.) dengan kombinasi kedelai (Glicine max (L.) Merill) secara spektrofotometri sinar tampak. Jurnal Ilmiah Manuntung, 2(1): 111–119. https://doi.org/10.51352/jim.v2i1.55
Kasmidjo, R.B. (1990). Tempe: Mikrobiologi dan Kimia Pengolahan serta Pemanfaatannya. PAU Pangan dan Gizi UGM. Yogyakarta.
Lelatobur, L.E. & Dewi, L. (2016). Optimasi Perebusan Biji Ketapang (Terminalia cattapa) Dalam Fermentasi Tempe. Skripsi. Fakultas Biologi Universitas Kristen Satya Wacana. Salatiga.
Nurrahman, Astuti, M., Suparmo, & Soesatyo, M.H. (2012). The mold growth, organoleptic properties and antioxidant activities of black soybean tempe fermented by different inoculums. Agritech, 32(1), 60–65.
Pratiwi, E. (2014). Klobot Jagung Sebagai Kemasan Alami Wajik Kelapa. Skripsi. Fakultas Teknologi Pertanian. Institut Pertanian Bogor. Bogor.
Pratiwi., R.C. (2015). Pemanfaatan Limbah Bulu Ayam dan Kulit Jagung Sebagai Bahan Pembuatan Kertas Seni dengan Penambahan NaOH dan Pewarna Alami. Skripsi Thesis. Universitas Muhammadiyah Surakarta.
Purnama, F.A., Dewi, L., & Hastuti, S.P. (2010). Kadar Air, Abu, Protein dan Karbohidrat Pada Tahapan Pembuatan Tempe. Repository UKSW. Hal. 1–9.
Purnomo, H. (1988). Mempelajari Pengaruh Umur Panen dan Cara Kemas Terhadap Sifat Fisiko Kimia Jagung Manis (Zea mays saccharata) Selama Penyimpanan. Skripsi. Teknologi Pangan dan Gizi. Fateta. IPB. Bogor.
Salim, E. (2012). Kiat Cerdas Wirausaha Aneka Olahan Kedelai. Yogyakarta: Liliy Publisher.
Setyawan, B. (2015). Budidaya Umbi-Umbian Padat Nutrisi. Yogyakarta: Kanisius.
Suprapti, L. (2003). Pembuatan Tempe. Yogyakarta: Kanisius.
Wihandini, D.A., Arsanti, L. & Wijanarka, A. (2012). Sifat fisik, kadar protein dan uji organoleptik tempe kedelai hitam dan tempe kedelai kuning dengan berbagai metode pemasakan. Jurnal Nutrisia, 14(1), 34-43.
Winarno. (1993). Pangan, Gizi, Teknologi dan Konsumen. Jakarta: Gramedia.
Yazid, A.E. & Nuha, B.U. (2017). Kadar protein terlarut pada ampas kedelai dari hasil proses pembuatan tempe dengan penambahan ekstrak kasar papain (Crude Papain). Journals of Ners Community, 8(1), 45-42.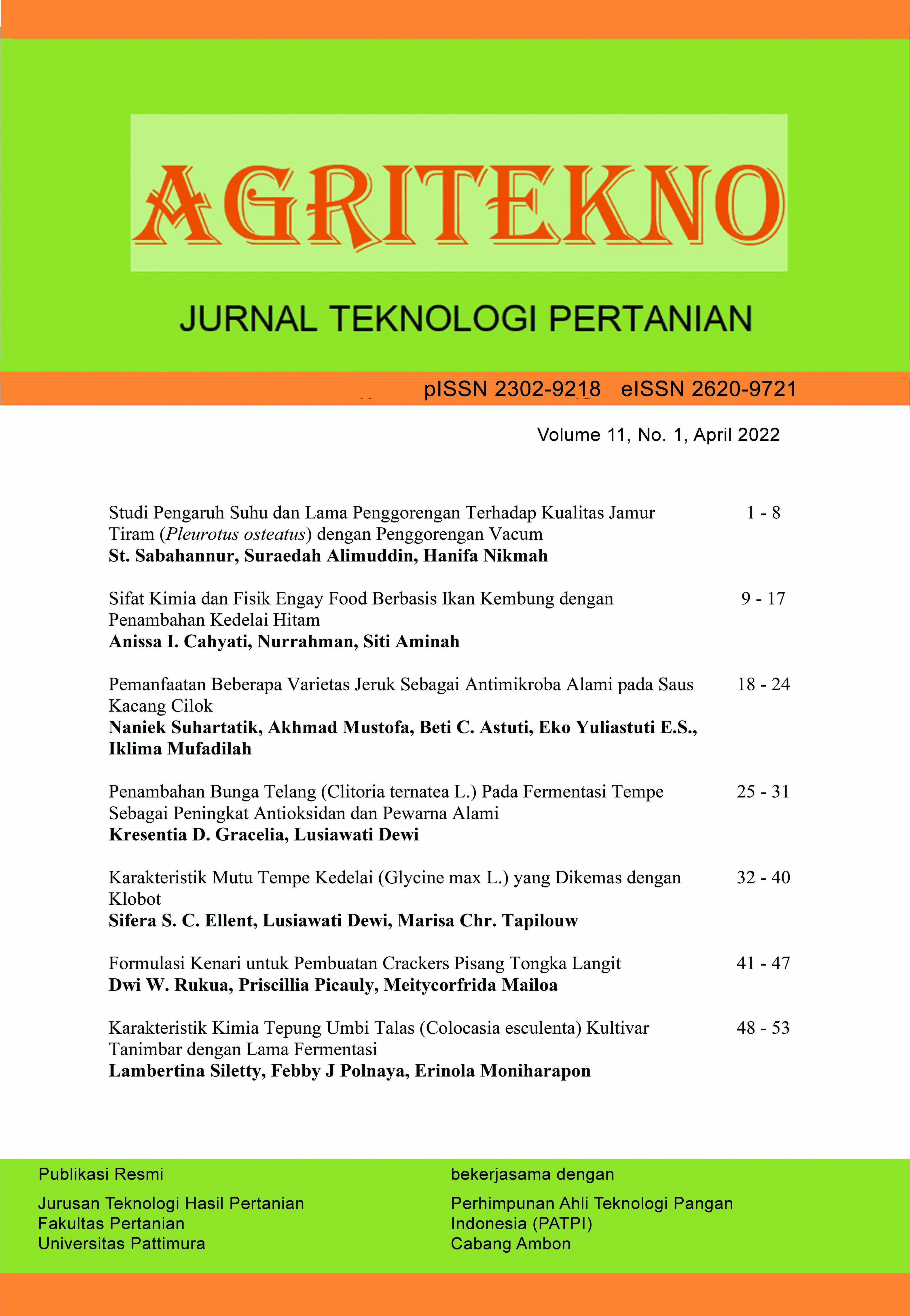 How to Cite
Ellent, S., Dewi, L., & Tapilouw, M. (2022). Karakteristik Mutu Tempe Kedelai (Glycine max L.) yang Dikemas dengan Klobot. AGRITEKNO: Jurnal Teknologi Pertanian, 11(1), 32-40. https://doi.org/10.30598/jagritekno.2022.11.1.32
Copyright (c) 2022 The Authors
This work is licensed under a Creative Commons Attribution-ShareAlike 4.0 International License.
Authors who publish with this journal agree to the following terms:
Authors retain copyright and grant the journal the right of first publication with the work simultaneously licensed under a Creative Commons Attribution License that allows others to share the work with an acknowledgement of the work's authorship and initial publication in this journal.
Authors are able to enter into separate, additional contractual arrangements for the non-exclusive distribution of the journal's published version of the work (e.g., post it to an institutional repository or publish it in a book), with an acknowledgement of its initial publication in this journal.
Authors are permitted and encouraged to post their work online (e.g., in institutional repositories or on their website) prior to and during the submission process, as it can lead to productive exchanges, as well as earlier and greater citation of published work (See The Effect of Open Access).