KAJIAN SIFAT FISIKOKIMIA DAN ORGANOLEPTIK ES KRIM PISANG TONGKA LANGIT
Helen C D Tuhumury

Jurusan Teknologi Hasil Pertanian, Fakultas Pertanian, Universitas Pattimura

Sandriana J Nendissa

Jurusan Teknologi Hasil Pertanian, Fakultas Pertanian, Universitas Pattimura

Mardila Rumra

Jurusan Teknologi Hasil Pertanian, Fakultas Pertanian, Universitas Pattimura
Keywords:
tongka langit banana, ice cream, chemical composition, physical and organoleptic composition
Abstract
This research was aimed to determine the accurate ratio of concentration of tongka langit banana puree and water that would result in ice cream having good quality and would be preferred by consumers. A Completely Randomized experimental design having four levels of concentration ratio of tongka langit banana: water, i.e. 3%:52%, 5%:50%, 7%:48%, and 10%:45% was applied. Respective variables observed were chemical properties (protein, fat, vitamin C, and total solids contents), sensory properties (color, taste, texture, and overall acceptance), as well as physical properties (resistance / rate of melting). Results showed that the ratio of 7% : 48% was determined as the best ratio to produce ice cream with the best physicochemical and sensory properties.
Downloads
Download data is not yet available.
References
AOAC. 1996. Official Methods of Analysis. Association of Official Anaylitical Chemist. Inc. Arlington Virginia.

Arbuckle, W.S. 1986. Ice Cream. The AVI Publishing Company, Inc. Wesport, Connecticut. Arbuckle, W.S. and R.T. Marshall. 2000. Ice Cream. Chapman and Hall, New York.145. pp.

Astawan, M. 2008. Sehat dengan Hidangan Hewani. Penebar Swadaya. Jakarta.

Filiyanti, I., D.R. Affandi, dan B.S. Amanto. 2013. Kajian penggunaan susu tempe dan ubi jalar ungu sebagai pengganti susu skim pada pembuatan es krim nabati berbahan dasar santan kelapa. Jurnal Teknosains Pangan 2: 57-65.

Fitriani, T.K. 2011. Kajian Penambahan Ekstrak dan Tepung Wortel Terhadap Karakteristik Fisik, Kimia, dan Sensoris Es Krim. Skripsi. Surakarta: Fakultas Pertanian, Universitas Sebelas Maret.

Goff, H.D. dan R.W. Hartel. 2013. Ice cream. 7th edition. Springer Sciece. New York.Harris, A. 2011. Pengaruh Subtitusi Ubi Jalar (Ipomoea batatas) dengan Susu Krim terhadap Pembuatan Es Krim. [Skripsi]. Makassar: Universitas Hasanuddin.

Harris, A. 2011. Pengaruh Subtitusi Ubi Jalar (Ipomea batatas) dengan Susu Skim terhadap Pembuatan Es Krim. [Skripsi] Fakultas Pertanian Universitas Hassanudin. Makasar.

Jumari, S. Utami, dan E. Wiryani. 2002. Identifikasi Plasma Nutfah Pisang di Semarang `Jawa Tengah, UPT-Pustak-UNDIP.

Mailoa, M. 2012. Pengembangan pisang tongka langit (Musa troglodytarum) menjadi biskuit. Jurnal Ekologi dan Sains 1: 1-9.

Masykuri, N. dan R.A. Wibawa. 2009. Pengaruh penggunaan karaginan sebagai penstabil terhadap kondisi fisik dan tingkat kesukaan pada es krim coklat. Prosiding seminar Nasional Kebangkitan Peternakan. Semarang.

Ndiha, B.B.A, dan L. Limantara. 2009. Karotenoid pada bahan makanan. Prosiding Seminar Nasional Biolagi, Lingkungan dan pembelajaran. Biologi, FMIPA Universitas Negeri Yogyakarta. Pp. 75-84.
Padaga, M.C.H. dan M.E. Sawitri. 2005. Membuat Es Krim yang Sehat. Trubus. Agrisarana, Surabaya.

Tuhumury, H.C.D., J. Talahatu, dan S.G. Sipahelut. 2008. Penerapan teknologi pengolahan jus pisang tongka langit di Dusun Seri Desa Urimessing Kecamatan Nusaniwe Kota Ambon. Laporan program penerapan Ipteks. Fakultas Pertanian Universitas Pattimura.

Uyara, R.D. 2015. Pengaruh perbandingan tepung beras ketan dan bubur buah terhadap mutu dodol pisang tongka langit (Musa troglodytarum). [Skripsi]. Fakultas Pertanian Universitas Pattimura.

Winarno, F.G. 1997. Kimia Pangan Dan Gizi. PT Gramedia Pustaka Utama. Jakarta.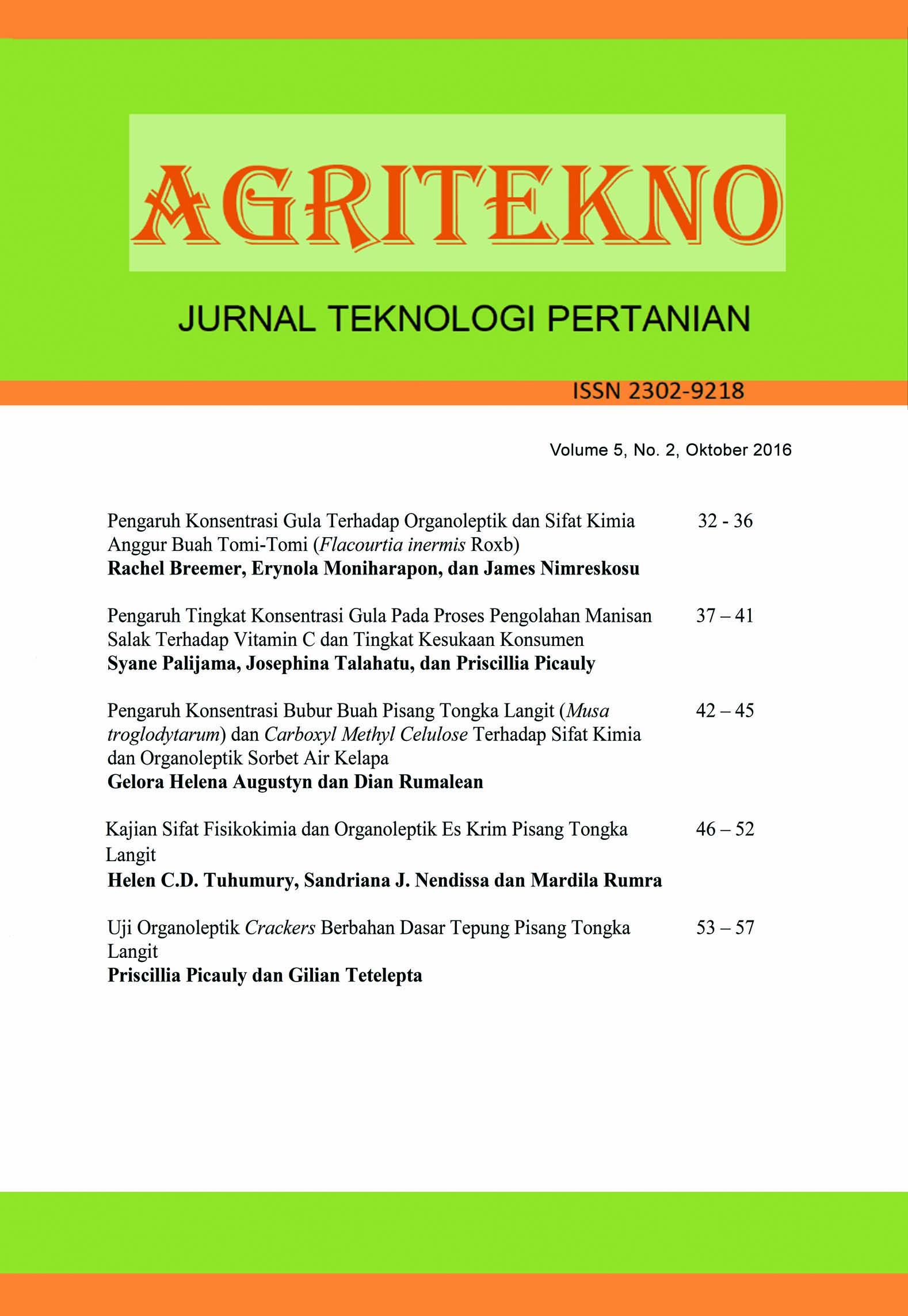 How to Cite
Tuhumury, H., Nendissa, S., & Rumra, M. (2016). KAJIAN SIFAT FISIKOKIMIA DAN ORGANOLEPTIK ES KRIM PISANG TONGKA LANGIT. AGRITEKNO: Jurnal Teknologi Pertanian, 5(2), 46-52. https://doi.org/10.30598/jagritekno.2016.5.2.46
Authors who publish with this journal agree to the following terms:
Authors retain copyright and grant the journal the right of first publication with the work simultaneously licensed under a Creative Commons Attribution License that allows others to share the work with an acknowledgement of the work's authorship and initial publication in this journal.
Authors are able to enter into separate, additional contractual arrangements for the non-exclusive distribution of the journal's published version of the work (e.g., post it to an institutional repository or publish it in a book), with an acknowledgement of its initial publication in this journal.
Authors are permitted and encouraged to post their work online (e.g., in institutional repositories or on their website) prior to and during the submission process, as it can lead to productive exchanges, as well as earlier and greater citation of published work (See The Effect of Open Access).