ANALISIS STRATEGI PEMASARAN TERHADAP KAMERA PONSEL SAMSUNG BERDASARKAN PERSEPSI KONSUMEN DENGAN MENGGUNAKAN METODE MULTIDIMENSIONAL SCALING
A. Z. Wattimena

Jurusan Matematika FMIPA Universitas Pattimura

E. R. Persulessy

Jurusan Matematika FMIPA Universitas Pattimura

M. J. Masbaitubun

Jurusan Matematika FMIPA Universitas Pattimura
Keywords:
Kamera ponsel samsung, kualitas, persepsi konsumen
Abstract
Dewasa ini berbagai macam produk kamera ponsel terus bermunculan dengan keunggulan masing-masing. Trend membanjirnya merek-merek ponsel baru di Indonesia, menjadikan
persaingan di sektor ini semakin menarik. Kamera ponsel Samsung yang berhasil menyaingi Sony, Oppo dan Lenovo membuat banyak pembicaraan dikalangan pengguna gadget yang
menimbulkan rasa ingin tahu sehingga dapat merangsang minat beli. Salah satu jalan untuk meraih keunggulan kompetisi berkelanjutan adalah dengan membentuk citra merek. Tujuan dari penelitian ini adalah untuk mengetahui pengaruh secara parsial maupun simultan variabel bebas citra merek yang terdiri dari jenis-jenis asosiasi merek (𝑋1), dukungan asosiasi merek (𝑋2 ), kekuatasn asosiasi merek (𝑋3 ), dan keunikan asosiasi merek (𝑋4 ) terhadap variabel terikat loyalitas konsumen. Populasi dalam penelitian ini adalah pengunjung yang berada di ambon city center (ACC). Sedangkan sampel dalam penelitian ini adalah 155 responden dengan teknik pengambilan sampel yaitu metode teori dari Naresh K. Malhotra. Dapat disimpulkan bahwa citra merek menentukan tingkat loyalitas konsumen dalam pembelian Kamera ponsel Samsung.
Downloads
Download data is not yet available.
References
[1]. A. Aker, David Kuman., Marketing Research, Fifth Edition, 1995.
[2]. Andwi. S, Rendra., Analisis terhadap Beberapa kamera Samsung di Wilayah Tuban Berdasarkan Persepsi Konsumen dengan Metode Multi dimensional Scaling (MDS), Fakultas Teknologi Industri, Jurusan Teknik Industri, UPN "Veteran" Jatim, 2006.
[3]. Asri, Marwan., Marketing, AMPYKPN, Yogryakarta, 1991.
[4]. Buchari, Alma., Dasar-dasar bisnis dan pemasaran, CV.Alfabeta, Bandung, 1997.
[5]. Engel. dkk, Prilaku konsumen dan pemasaran, 1995.
[6]. James F. Enggel, Paul W. Miniard, Roger D. Black Well., Perilaku Konsumen, Edisi 6, Jilid 1 & 2, 1995.
[7]. Kotler., Analisa Perencanaan implementasi dan Pengendalian, Edisi 9, Jilid l & 2, Prehallindo, Jakarta, 1997.
[8]. Malhotra, (2010:354), Prosedur MDS dengan menggunakan data metric maupun non-metrik, 2010.
[9]. Philip., Manajemen Pemasaran: Analisis, Perencanaan, dan Pengendalian, Edisi 5. Mid 2, E-rlangga, Jakarta, 1991.
[10]. Sugiyono., Statistika Untuk Penelitian, CV. Alfabeta, Bandung, 2003.
[11]. Walpole, E. Ronald, Pengantar Statistika, Edisi 3, Penerbit PT. Ramedia Pustaka Utama, Jakarta.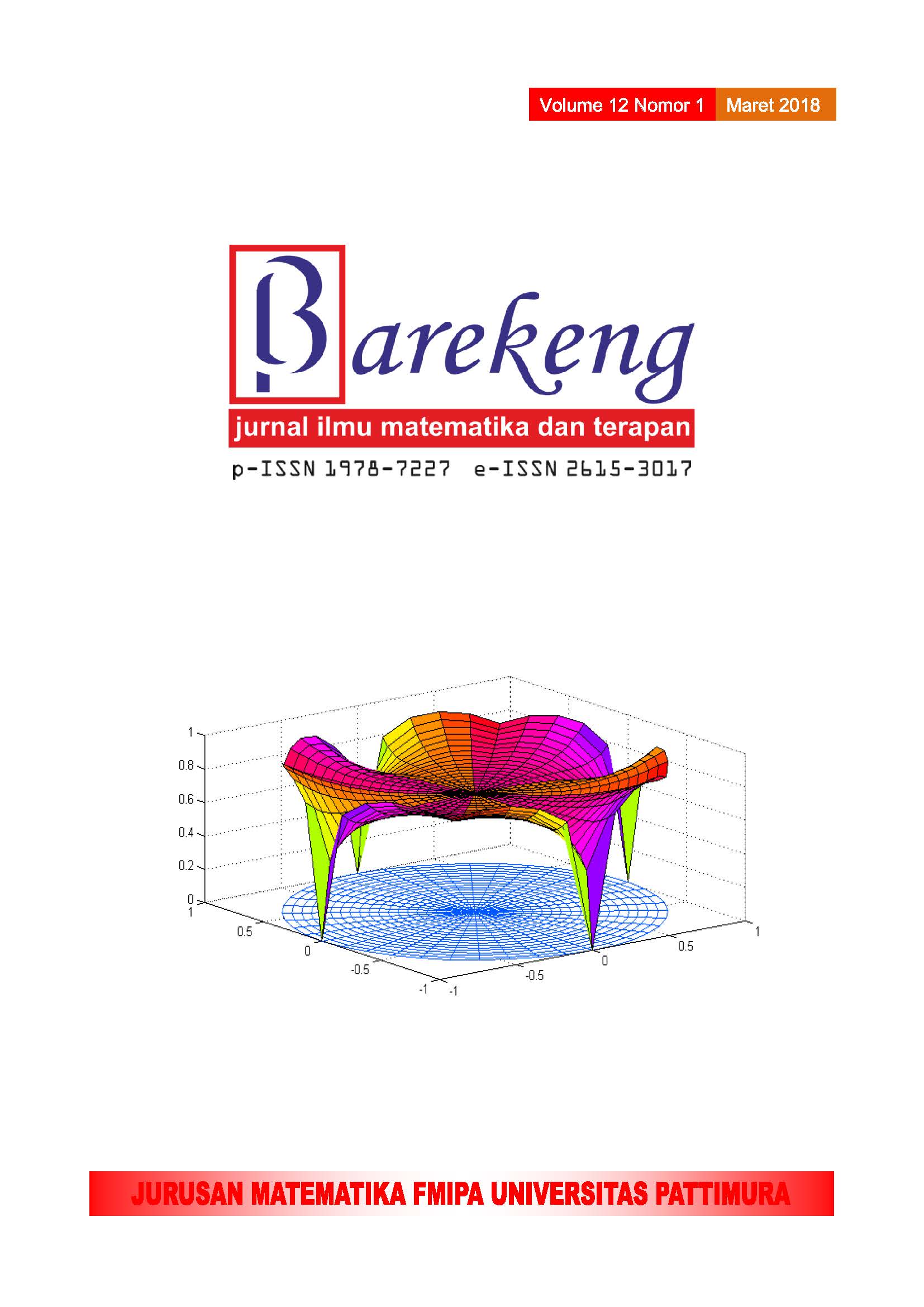 How to Cite
[1]
A. Wattimena, E. Persulessy, and M. Masbaitubun, "ANALISIS STRATEGI PEMASARAN TERHADAP KAMERA PONSEL SAMSUNG BERDASARKAN PERSEPSI KONSUMEN DENGAN MENGGUNAKAN METODE MULTIDIMENSIONAL SCALING", BAREKENG, vol. 12, no. 1, pp. 63-70, May 2018.