OPTIMASI JALUR EVAKUASI BAGI PEJALAN KAKI MENGGUNAKAN ALGORITMA FUZZY DIJKSTRA DI KECAMATAN TELUK SEGARA, BENGKULU
Zulfia Memi Mayasari

Universitas Bengkulu

Nur Afandi

Universitas Bengkulu
Keywords:
optimization, fuzzy, evacuation, dijkstra
Abstract
Provinsi Bengkulu terletak di pesisir barat Pulau Sumatera dan tepat berada di antara pertemuan dua lempeng dunia yang sangat aktif yaitu Lempeng Benua Eurasia dan Lempeng Samudra Indo-Australia.  Hal ini  menyebabkan Provinsi Bengkulu tergolong sebagai provinsi yang sangat rawan terhadap bencana gempa bumi dan tsunami.  Penelitian ini mengkaji persoalan optimasi pencarian rute evakuasi tsunami.  Tujuan penelitian ini adalah menentukan rute evakuasi dari tiap-tiap cluster yang telah dibentuk menuju tempat berkumpul yang telah ditentukan. Tiap-tiap cluster, titik berkumpul dan ruas jalan yang menghubungkannya dibentuk menjadi suatu graph jaringan jalan dimana cluster dan titik berkumpul diwakili oleh vertex dan ruas jalan diwakili oleh edge.  Graph  jaringan jalan ini diberi bobot dimana dalam penentuan bobotnya menggunakan logika fuzzy dengan mempertimbangkan beberapa parameter yaitu panjang jalan, lebar jalan, dan jumlah penduduk yang berpengaruh pada tingkat keramaian dan tingkat kemacetan.  Penentuan rute optimalnya dilakukan dengan menggunakan algoritma Dijkstra.  Berdasarkan hasil penelitian, diperoleh rute optimal dari tiap-tiap cluster menuju tempat berkumpul yang telah ditentukan
Downloads
Download data is not yet available.
References
N. T. Puspito and W. Triyoso, Aspek Kegempaan Tsunami di Indonesia: Suatu Tinjauan Awal. Bandung. 1994.
R. S. Dewi, A-Gis Based Approach to the Selection of Evacuation Shelter Buildings and Routes Ttsunami Risk Reduction: A Case Study of Cilacap Coastal Area Indonesia, [Thesis] Gadjah Mada University, University of Twente, 2010. [Online].
R. Triatmadja and S. S. Nasution, Evalution of tsunami evacuation routes at bengkulu city indonesia using numerical simulations, ASEAN Engineering Journal, vol.3, no.2, pp.9-20, December 2014.
Z. M. Mayasari, U. Rafflesia, M. Astuti and Y. Fauzi, Mathematical modelling approach of an evacuation model for tsunami risk reduction in bengkulu, Journal of Physics: Conference Series, 1188, 012094, 2019.
Y. Fauzi, Suwarsono and Z. M. Mayasari, The run up modelling in Bengkulu using the spatial interpolation of kriging technique, Forum Geografi, vol.28, no.2, pp.103-112, December 2014.
Z. M. Mayasari, U. Rafflesia and M. Astuti, Pemodelan Matematika untuk Sistem Evakuasi Tsunami Kota Bengkulu Menggunakan Algoritma Flyod Warshall (Studi Kasus: Sebagian Wilayah Pesisir Kota Bengkulu), Laporan Penelitian Unggulan Universitas Bengkulu, Tidak dipublikasikan. 2018.
BNPB, Kajian Risiko Bencana Tsunami. Jakarta, BNPB. 2011
N. Afandi dan Z.M. Mayasari, An evacuation route in bengkulu city based on fuzzy dijkstra algorithm. Journal of Physics: Conference Series, 1863, 012007, 2021.
Y. Z. Chen, S. F. Shen, T. Chen and R. Yang, Path optimization study for vehicles evacuation based on dijkstra algorithm. Procedia Engineering, vol.71, pp.159 – 165, December 2014.
I. W. Sudarsana, S. Mendi, Abdullah, A. Hendra and A. Sahari, Model matematika untuk sistem evakuasi kota palu (SET_KP) berbasis jalur terpendek dan waktu evakuasi minimum, Online Jurnal of Natural Science, vol.2, no.3, pp.39-53, Desember 2013.
S. Ardyan, Mulyono and A. Suyitno, Implementasi algoritma dijkstra dalam pencarian rute terpendek tempat wisata di kabupaten gunung kidul dengan program visual basic, Unnes Journal of Mathematics, vol.6 no.2, pp 108-116, November 2017.
I. H. A. Amin, V. Lusiana and B. Hartono, Visualisasi pencarian lintasan terpendek algoritma floyd-warshall dan dijkstra menggunakan TEX, Prosiding SINTAK, pp 17-23, 2017.
Y. Deng, Y. Chen, Y. Zhang and S. Mahadevan, Fuzzy Dijkstra algorithm for shortest path problem under uncertain environment, Applied Soft Computing, vol.12, no.3, pp.1231-1237, March 2012.
N. Nggufron, Rochmad and Mashuri, Pencarian rute terbaik pemadam kebakaran kota semarang menggunakan algoritma dijkstra dengan logika fuzzy sebagai penentu bobot pada graf. Unnes Journal of mathematics, vol.8, no.1, pp.40-49, Juni 2019.
M. H. H. Ichsan, E. Yudaningtyas and M.A. Muslim, Solusi optimal pencarian jalur tercepat dengan algoritma hybrid fuzzy-dijkstra, Jurnal EECCIS, vol.6, no.2, pp.155-160, Desember 2012.
A. Budiarjo, Evacuation shelter building planning for tsunami–prone area; a case study of Meulaboh City, Indonesia. [Thesis], Intrenational Institute for Geo-Information Science and Earth Observation Enschede Nedherlands, 2006. [Online].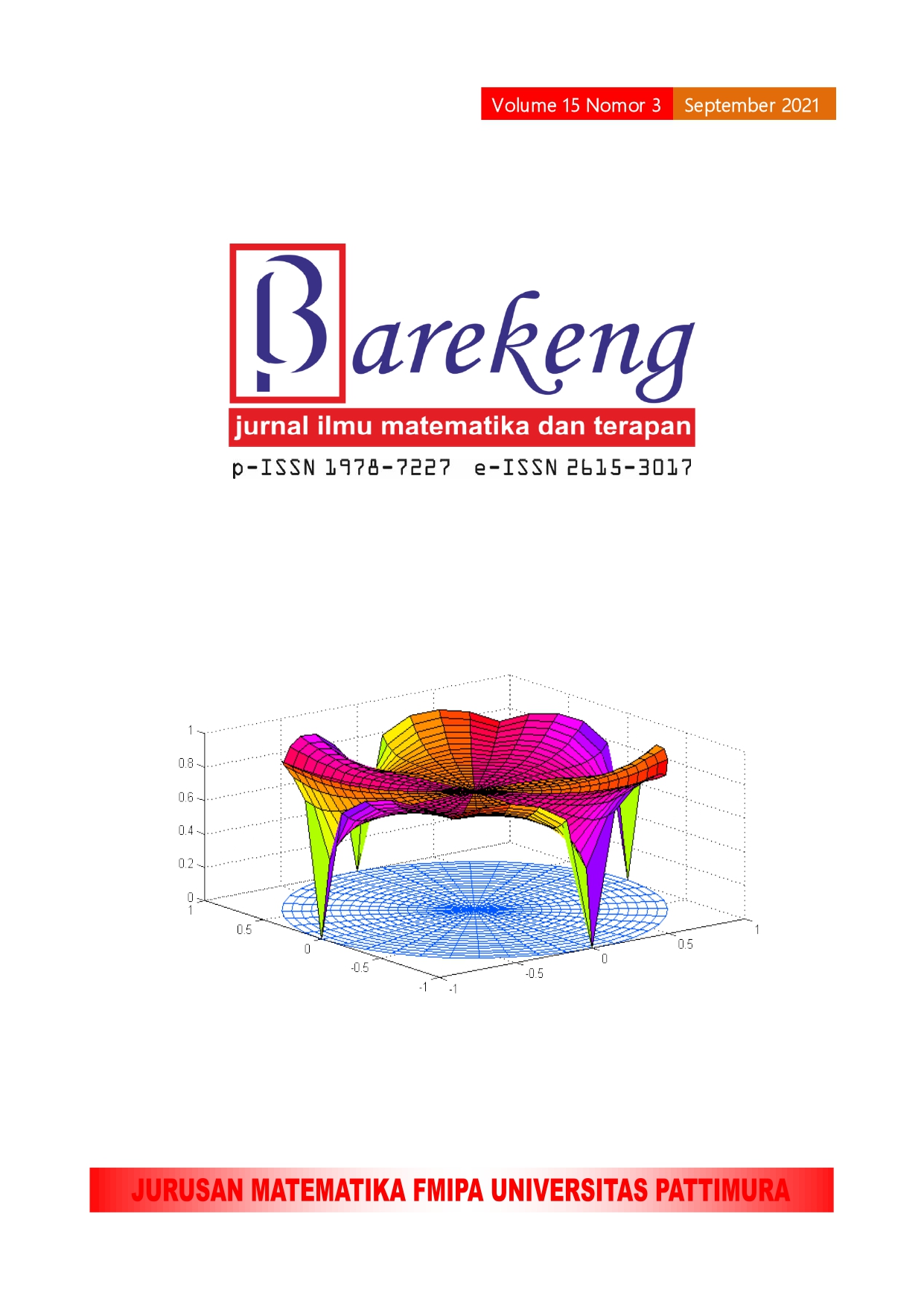 How to Cite
[1]
MayasariZ. and AfandiN., "OPTIMASI JALUR EVAKUASI BAGI PEJALAN KAKI MENGGUNAKAN ALGORITMA FUZZY DIJKSTRA DI KECAMATAN TELUK SEGARA, BENGKULU", BAREKENG: J. Il. Mat. & Ter., vol. 15, no. 3, pp. 581-590, Sep. 2021.
Copyright (c) 2021 Zulfia Memi Mayasari, Nur Afandi
This work is licensed under a Creative Commons Attribution-ShareAlike 4.0 International License.