PENENTUAN PROGRAM DANA PENSIUN PADA GEREJA PROTESTAN MALUKU MENGGUNAKAN METODE INDIVIDUAL LEVEL PREMIUM
Lexy J Sinay

Universitas Pattimura

Delvin S Pattireuw

Universitas Pattimura

A Z Wattimena

Universitas Pattimura
Keywords:
Dana Pensiun, Metode Individual Level Premium,Gereja Protestan Maluku, Pendeta
Abstract
Tenaga kerja merupakan salah satu aset utama dalam pembangunan nasional. Pendeta, pemuka agama Kristen Protestan, merupakan tenaga kerja sekaligus profesi yang memegang peranan penting dalam membina karakter umat Kristen untuk beriman dan bertaqwa, serta bermanfaat bagi bangsa dan negara. Gereja Protestan Maluku sebagai suatu denominasi dan organisasi gereja memiliki manajemen keuangan dalam membiayai dana pensiun para pendetanya. Penelitian ini bertujuan untuk menentukan program dana pensiun para pendeta dalam organisasi Gereja Protestan Maluku menggunakan metode individual level premium, kemudian mengkomparasi hasil penghitungan tersebut dengan program dana pensiun yang dimiliki oleh Gereja Protestan Maluku. Hasil yang diperoleh adalah program dana pensiun menggunakan metode individual level premium lebih optimal dibandingkan program dana pensiun yang dikeluarkan oleh pihak Sinode GPM, karena penghitungan nilai manfaat yang diperoleh setiap peserta menggunakan metode individual level premium sesuai dengan masa kerja, proporsi gaji akhir dan iuran yang dibayarkan oleh para pendeta, sedangkan penghitungan oleh pihak sinode tidak sesuai.
Downloads
Download data is not yet available.
References
[1] Anita, Yuli. (2016). Penghitungan Manfaat Dan Iuran Peserta Program Dana Pensiun Dengan Metode Projected Unit Credit Dan Individual Level Premium. Pdf Skripsi.
[2] Bowers, N.L. et. Al. 1997. Actuarial Mathematics. Schaumburg (DE): The Society of Actuaries.
[3] Farrimond, William & Mayer, Duane L. (1999). Actuarial Cost Methods. Arlington: American Society of Pension Actuaries.
[4] Promislow, S. David. (2015). Fundamentals of Acturial Mathematics. 3rd. Ed. United Kingdom: John Wiley & Son, Ltd.
[5] Setiadi, A.(1995). dana Pensiun Sebagai Badan Hukum. Bandung: PT. Citra
Aditya Bakti.
[6] Winklevoss, Howard E. 1993. "Pension Mathematics with Numerical Illustrations". Pension Research Council, The University Of Pennsylvania, Philadelphia.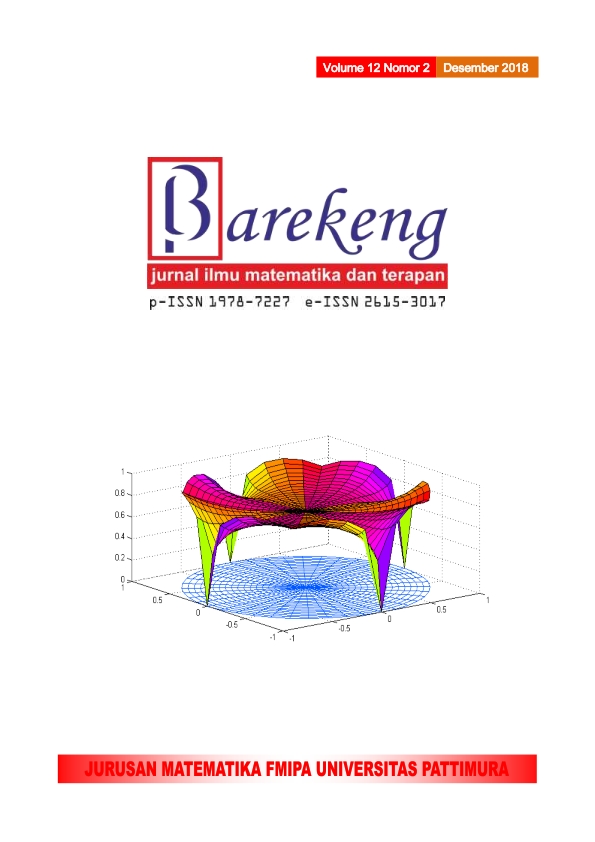 How to Cite
[1]
L. Sinay, D. Pattireuw, and A. Wattimena, "PENENTUAN PROGRAM DANA PENSIUN PADA GEREJA PROTESTAN MALUKU MENGGUNAKAN METODE INDIVIDUAL LEVEL PREMIUM", BAREKENG, vol. 12, no. 2, pp. 117-126, Dec. 2018.