PENERAPAN TEORI BILANGAN UNTUK MENENTUKAN KONGRUENSI PADA LAMPU LALU LINTAS
Rizal Dwi Wardani

https://orcid.org/0000-0001-7392-5790

Muhammad Shobri Kurniawan

Jurusan Informatika, Fakultas Ilmu Komputer, Universitas AMIKOM Yogyakarta
Keywords:
Kongruensi, lampu lalu lintas, teorema euclidean, teori bilangan.
Abstract
Dalam kehidupan sehari-hari teori bilangan sering digunakan untuk memecahkan masalah. Dalam paper ini akan membahas penerapan teori bilangan dalam menguji kesesuaian lampu lalu lintas. Pengujian menggunakan teorema Euclidean yang merupakan bagian dari teori bilangan. Teori bilangan sebagai dasar teoritis untuk paparan kongruensi lampu lalu lintas. Paper ini menyajikan perhitungan dari persimpangan lalu lintas untuk menentukan kesesuaian pada lampu persimpangan lalu lintas. Hasil dalam paper ini menunjukkan bahwa jika persimpangan lalu lintas memiliki kongruensi antara lampu lalu lintas.
Downloads
Download data is not yet available.
References
G. Hadi, "Apa yang dimaksud dengan penelitian eksperimental", 8 Agustus 2017. [Online]. Available: https://www.dictio.id/t/apa-yang-dimaksud-dengan-penelitian-eksperimental/8896. [Accessed 3 November 2018].
Hayun A, Anggara Sundari , "Penentuan Waktu Penyalaan Lampu Lalu Lintas yang Optimal : Kasus Persimpangan Buah Batu Lingkar Selatan", 2005.
J. J. SIANG, "Logika Matematika", Yogyakarta : Andi Yogyakarta, 2013.
Nurjanah, Amalia, "Sang Pembelajar", 18 May 2013. [Online]. Available: https://amalianurjannah.wordpress.com/. [Accessed 19 January 2019].
Virgo, NR, "NR_Share", Blogger, 12 March 2014. [Online]. Available: http://nhoerjanah94.blogspot.com/2014/03. [Accessed 19 January 2019].
Wibowo, Ferry Wahyu, "Matematika Diskrit", Universitas AMIKOM Yogyakarta, Yogyakarta, 2017.
Wirahaji, Ida Bagus, "Geriya Agung," 3 January 2014. [Online]. Available: http://gustu107.blogspot.com/2014/01. [Accessed 19 January 2019].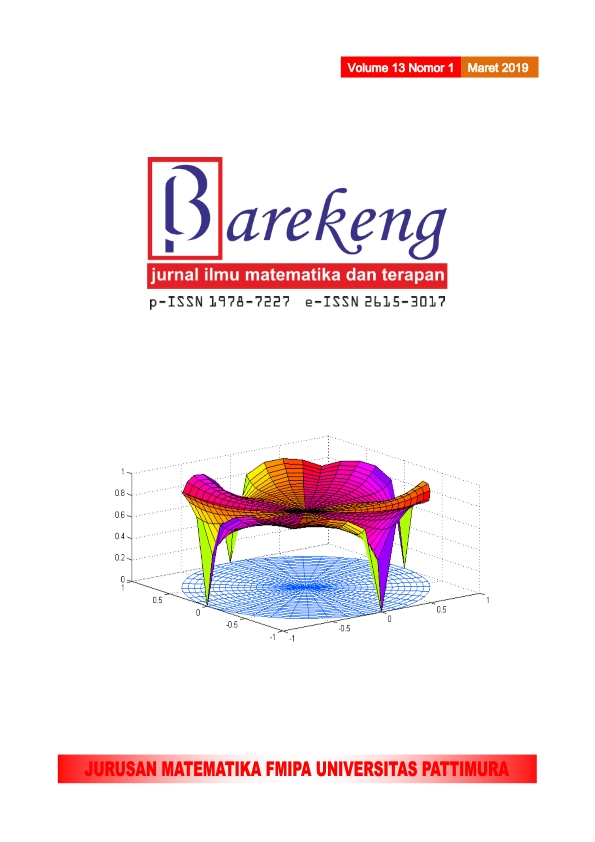 How to Cite
[1]
R. Wardani and M. Kurniawan, "PENERAPAN TEORI BILANGAN UNTUK MENENTUKAN KONGRUENSI PADA LAMPU LALU LINTAS", BAREKENG, vol. 13, no. 1, pp. 047-052, Mar. 2019.
Copyright (c) 2019 BAREKENG: Jurnal Ilmu Matematika dan Terapan
This work is licensed under a Creative Commons Attribution-NonCommercial-ShareAlike 4.0 International License.