ETNOMATEMATIKA: KRISTALISASI BUDAYA DALAM MODEL PEMBELAJARAN 3R CORE
Feny Rita Fiantika

UNIVERSITAS NUSANTARA PGRI KEDIRI

D. Darsono

Pendidikan Matematika, FKIP, Universitas Nusantara PGRI Kediri

Ika S.

Pendidikan Matematika, FKIP, Universitas Nusantara PGRI Kediri
Keywords:
Ethnomathematic, learning model, learning model 3R Core, culture, thinking proses, spatial thinking, geometry
Abstract
The 3R learning model is a learning model that emphasizes Reading, Writing and Arithmatic based on the context of the 21st century skills. The 3R learning model is translated into life and career skills, learning and innovation skills and information media and technology skills. The 3R learning model provided in cultural-based geometry learning that is intended for elementary students. Traditional houses in Indonesia are used as a form of cultural crystallization which is explored by geometric elements attached to the object. This research begins with designing learning devices and 3R Core media and valid learning devices then applied in the School. The purpose of this study is to describe spatial thinking of students through geometry concepts which were explored through observations on 3R Core learning media as form of ethnic's cristalization. The subjects of this study were grade 5th elementary school students and the results showed the teacher's ability to manage learning in good categories, and students' interest in using 3R in good categories. The results of the study were tested for validity by using data credibility test using time triangulation, member check and extension of observation. The subject found several geometric concepts in the learning process, namely using the concept of flat wake, congruence, symmetry and scale in the geometry problem solving process given through 3R Core learning media.
Downloads
Download data is not yet available.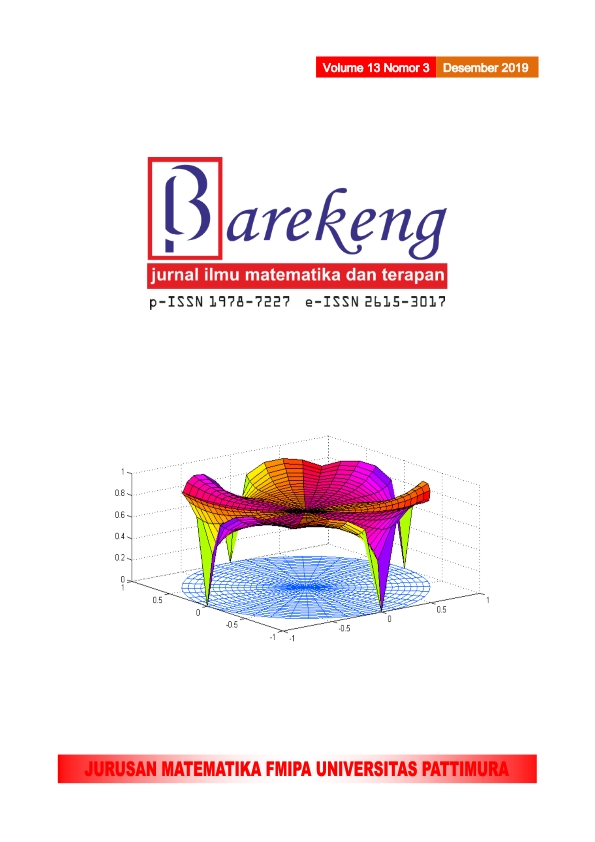 How to Cite
[1]
F. Fiantika, D. Darsono, and I. S., "ETNOMATEMATIKA: KRISTALISASI BUDAYA DALAM MODEL PEMBELAJARAN 3R CORE", BAREKENG, vol. 13, no. 3, pp. 205-214, Oct. 2019.
Copyright (c) 2019 Feny Rita Fiantika, Darsono, Ika S
This work is licensed under a Creative Commons Attribution-NonCommercial-ShareAlike 4.0 International License.