PENGARUH PENGGUNAAN MEDIA KOMIK DAN MOTIVASI BELAJAR TERHADAP HASIL BELAJAR MATEMATIKA SISWA SMP
Widya Putri Ramadhani

Universitas Pattimura
Abstract
This research is a quasi-experimental research with an experimental design aimed at: 1) know the influence of the presentation of material in the form of comic media and without comic media on student mathematics learning outcomes; 2) know the interaction of the presentation of the material with learning motivation towards student mathematics learning outcomes; 3) find out whether the results of learning mathematics students who have high learning motivation and are taught by presenting material in the form of comic media is higher than without using comic media; 4)find out whether the results of learning mathematics students who have low learning motivation and are taught by presenting material in the form of comic media is higher than without using comic media. This research involved all SMP in Kab. Gowa. Determination of the sample is done by selecting an A accredited school, while determining the class as a sampling unit using the Purposive Sampling technique with the selected class having more dominant reading interest. So that class VIIIA was chosen at SMP Neg. 1 Sungguminasa as an experimental class and Class VIIIB in SMP Neg. 4 Sungguminasa as a control class. Variables consist of free variables and bound variables. Free variables presented in the form of a comic media and learning motivation while bound variables using the student maths result. The learning tools developed consists of students book (comic media), students worksheet book (comic media) and lesson plan. The data collected in this study were students 'learning motivation obtained using the learning motivation questionnaire instrument and students' mathematics learning outcomes were obtained using the mathematics learning achievement test instrument. Analysis of student mathematics learning outcomes test results using descriptive analysis and inferential analysis namely ANAVA and independent sample t-test. The results that:1) there is an influence between the presentation of material in the form of comic media and the presentation of material without using comic media on student mathematics learning outcomes; 2) there is no interaction of the presentation of the material with learning motivation on student mathematics learning outcomes; 3) mathematics learning outcomes of students who have high learning motivation and are taught by presenting material in the form of comic media are higher than without using comic media; 4) mathematics learning outcomes of students who have low learning motivation and are taught by presenting material in the form of comic media are higher than without using comic media
Downloads
Download data is not yet available.
References
Agunistari, Bevira. (2012). Media Pembelajaran Berbasis E-Komik pada Mata Pelajaran Teknologi Informasi dan Komunikasi. Tesis. Program Pascasarjana Universitas Pendidikan Indonesia.
Arsyad, Azhar. (2011). Media Pembelajaran. Jakarta: Rajawali Pers.
Asdar, Ahsanul Khair. (2013). Pengembangan Perangkat Asessmen Alternatif pada Pembelajaran Dimensi Tiga Setting Kooperatif pada Siswa Kelas XI SMK. Tesis. Program Pascasarjana Univ. Negeri Makassar.
Darmawan, Deni. (2013). Metode Penelitian Kuantitatif. Bandung: PT. Remaja Rosda Karya.
Fatra, Maifalinda. (2008). Penggunaan KOMAT (Komik Matematika) Pada Pembelajaran Matematika di MI. Jurnal Pendidikan Matematika FITK UIN Jakarta, 3(1), 1-15.
JPPI New Indonesia. (2018). Bank Dunia: Kualitas Pendidikan Indonesia Masih Rendah. https://new-indonesia.org/bank-dunia-kualitas-pendidikan-indonesia-masih-rendah/# (Online). Diakses 25 Oktober 2019.
Kanreguru. (2009). Model Pengajaran Langsung (Direct Istruction), (http:/kanreguru.wordpress.com/2009/09/12/57/, Diakses tanggal 27 Februari 2011).
Mahfuddin. (2012). Menumbuhkan Minat Belajar Siswa dalam Pembelajaran Seni Rupa (Online), (http://mahfudin.guru-indonesia.net/artikel_detail-23663.html, Diakses 18 Januari 2013).
Novianti, R. D. & Syaichudin, M. (2010). Pengembangan Media Komik Pembelajaran Matematika untuk Meningkatkan Pemahaman Bentuk Soal Cerita Bab Pecahan pada Siswa Kelas V SDN Ngembung. Jurnal Teknologi Pendidikan UNS, (Online), Vol. 10, No. 1 (www.tp.ac.id, Diakses 17 Januari 2013).
Nurkancana, W & Sumartana. (1983). Evaluasi Pendidikan. Surabaya: Usaha Nasional
Sudjana, Nana & Rivai, Ahmad. (2001). Media Pengajaran. Bandung: Sinar Baru Algesindo.
Usman, Uzer. (2008). Menjadi Guru Profesional. Bandung: Remaja Rosdakarya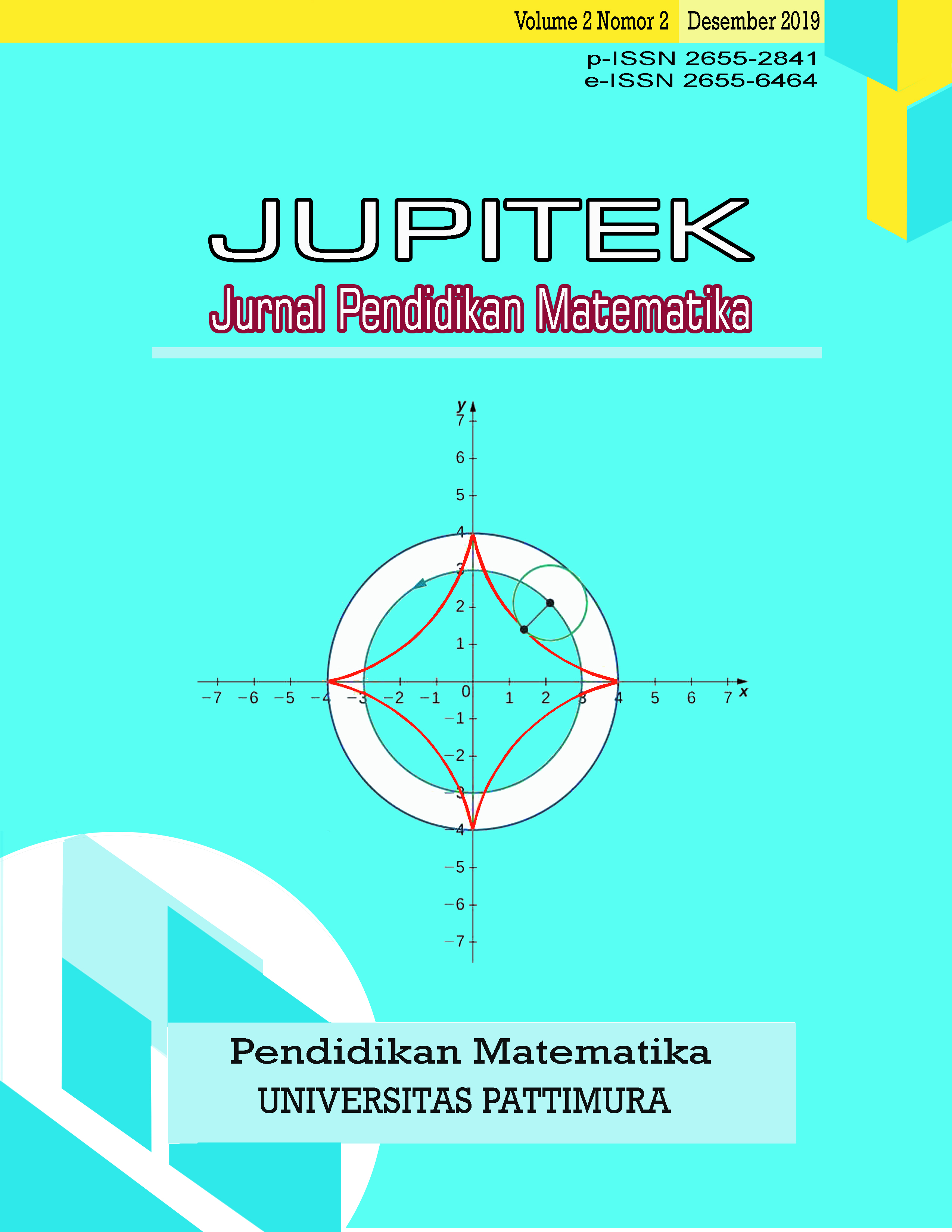 How to Cite
Ramadhani, W. (2020). PENGARUH PENGGUNAAN MEDIA KOMIK DAN MOTIVASI BELAJAR TERHADAP HASIL BELAJAR MATEMATIKA SISWA SMP. Jurnal Pendidikan Matematika (JUPITEK), 2(2), 77-86. https://doi.org/10.30598/jupitekvol2iss2pp77-86
Copyright (c) 2020 Widya putri ramadhani
This work is licensed under a Creative Commons Attribution-NonCommercial-ShareAlike 4.0 International License.
License and Copyright Agreement
In submitting the manuscript to the journal, the authors certify that:
They are authorized by their co-authors to enter into these arrangements.
The work described has not been formally published before, except in the form of an abstract or as part of a published lecture, review, thesis, or overlay journal. Please also carefully read Jurnal Pendidikan Matematika (Jupitek) Posting Your Article Policy.
That it is not under consideration for publication elsewhere,
That its publication has been approved by all the author(s) and by the responsible authorities – tacitly or explicitly – of the institutes where the work has been carried out.
They secure the right to reproduce any material that has already been published or copyrighted elsewhere.
They agree to the following license and copyright agreement.
Copyright
Authors who publish with Jurnal Pendidikan Matematika (Jupitek) agree to the following terms:
Authors retain copyright and grant the journal right of first publication with the work simultaneously licensed under a Creative Commons Attribution License (CC BY-NC-SA 4.0) that allows others to share the work with an acknowledgment of the work's authorship and initial publication in this journal.
Authors are able to enter into separate, additional contractual arrangements for the non-exclusive distribution of the journal's published version of the work (e.g., post it to an institutional repository or publish it in a book), with an acknowledgment of its initial publication in this journal.
Authors are permitted and encouraged to post their work online (e.g., in institutional repositories or on their website) prior to and during the submission process, as it can lead to productive exchanges, as well as earlier and greater citation of published work.