ANALISIS KEMAMPUAN SISWA DALAM MENYELESAIKAN SOAL UJIAN NASIONAL MATEMATIKA SMP/MTs BERDASARKAN PERSPEKTIF HIGHER ORDER THINKING SKILLS (HOTS)
Yohanis Ndapa Deda

Universitas Timor

Astry H Ratu

Universitas Timor

Stanislaus Amsikan

Universitas Timor

Oktovianus Mamoh

Universitas Timor
Keywords:
mathematical ability, national exams, hots
Abstract
This study aims to analyze the ability of mathematics junior high school students in resolving the mathematics HOTS in the national exam (UN).  The methodology used is a descriptive qualitative study. The subject of study is six students of ninth grade consisting of two capable, two people are low capacity, and two others high-profile. Data collection in this research using interviews and test one package the exam every year from 2016-2018, then been validated by the expert, who is elected seven items of about which include an item in 2016, two items of the year 2017, and four items of the year 2018. An instrument used is an enlightenment interview and the national exam in HOTS categorize. The result showed that students low capable with only able to solve the item number-1 and number-4 wich including in HOTS level-4 and 5, and students who are capable of being able to solve problems HOTS have similarities with students who are highly capable of being able to solve the questions number 1, 2, 3, 4, and 7 with HOTS levels 4, 5, and 6
Downloads
Download data is not yet available.
References
Ahmad & Sukiman, 2019. Analisis Higher Order Thinking Skills (HOTS) Pada Soal Ujian Akhir Siswa Kelas 6 Kmi Dalam Kelompok Mata Pelajaran Dirosah Islamiyah Di Pondok Modern Tazakka Batang. Jurnal Pendidikan Agama Islam, 16 (2), 137-164.
Anderson, Lorin. W & David R. Krathwohl (Eds). 2010. Kerangka Landasan untuk Pembelajaran, Pengajaran, dan Asesmen: Revisi Taksonomi Pendidikan Bloom. Terjemahan oleh Agung Prihantoro. Yogyakarta: Pustaka Pelajar.
Basuki & Hariyanto, 2016. Asesmen Pembelajaran. Bandung: PT Remaja Rosdakarya.
Gais, Z & Afriansyah, E.A. 2017. Analisis Kemampuan Siswa Dalam Menyelesaikan Soal High Order Thinking Ditinjau Dari Kemampuan Awal Matematis Siswa. Jurnal "Mosharafaâ€, 6(2), Mei 2017. (online), https://media.neliti.com/media/publications/226677-analisis-kemampuan-siswa-dalam-menyelesa-e86fba01.pdf
HDI. 2016. Human Development for Everyone Briefing note for countries on the 2016 Human Development Report. http://www.id.undp.org/content/dam/indonesia/2017/doc/INSIndonesia_Country%20Explanatory%20Note_HDR2016.pdf
Heong, YM, Yunos, J. Md., Othman, W., Hassan, R, Kiong, T.T., Mohamad, M.M. 2012. The needs analysis of learning higher order thinking skills for generating ideas. Procedia - Social and Behavioral Sciences 59 (2012): 197 – 203.
Kusuma, M. D., Rosidin, U., & Suyatna, A. 2017. The Development of Higher Order Thinking Skill HOTS Intrument Assesment in Physics Study. IORS Journal of Research & Method in Education , 7 (1), 26-32.
Nugroho, & R., Arifin. 2018. HOTS, Kemampuan Berpikir Tingkat Tinggi, Konsep, Pembelajran, Penilaian dan Soal-soal. Jakarta: PT Gramedia.
Permendiknas No. 63 Tahun 2009 Tentang Sistem Penjaminan Mutu Pendidikan.
Pusat Penelitian Pendidikan (Puspendik). 2019. Laporan Hasil Ujian Nasional SMP Tahun Ajaran 2018/2019. Jakarta: Kemdikbud.
Qoni'ah, L. 2017. Analisis Soal Ujian Nasional Matematika Tingkat Smp/Mts Tahun 2013-2015 Berdasarkan Perspektif Higher Order Thinking Skill (Hots) : skripsi
Wang, S & Wang, H. 2014. Teaching and Learning High Order Thinking. International Journal of Arts & Sciences, 07(02):179–187.
Morteza Teimourtash & Massood Yazdani Moghaddam. 2017. On the Plausibility of Bloom's Higher Order Thinking Strategies on Learner Autonomy: The Paradigm Shift. Asian-Pacific Journal of Second and Foreign Language Education, DOI 10.1186/s40862-017-0037-8.
Syarbaini, S. 2016. Kesadaran Berbangsa Dan Bernegara. http://ueu5483.weblog.esaunggul.ac.id/2016/05/page/2/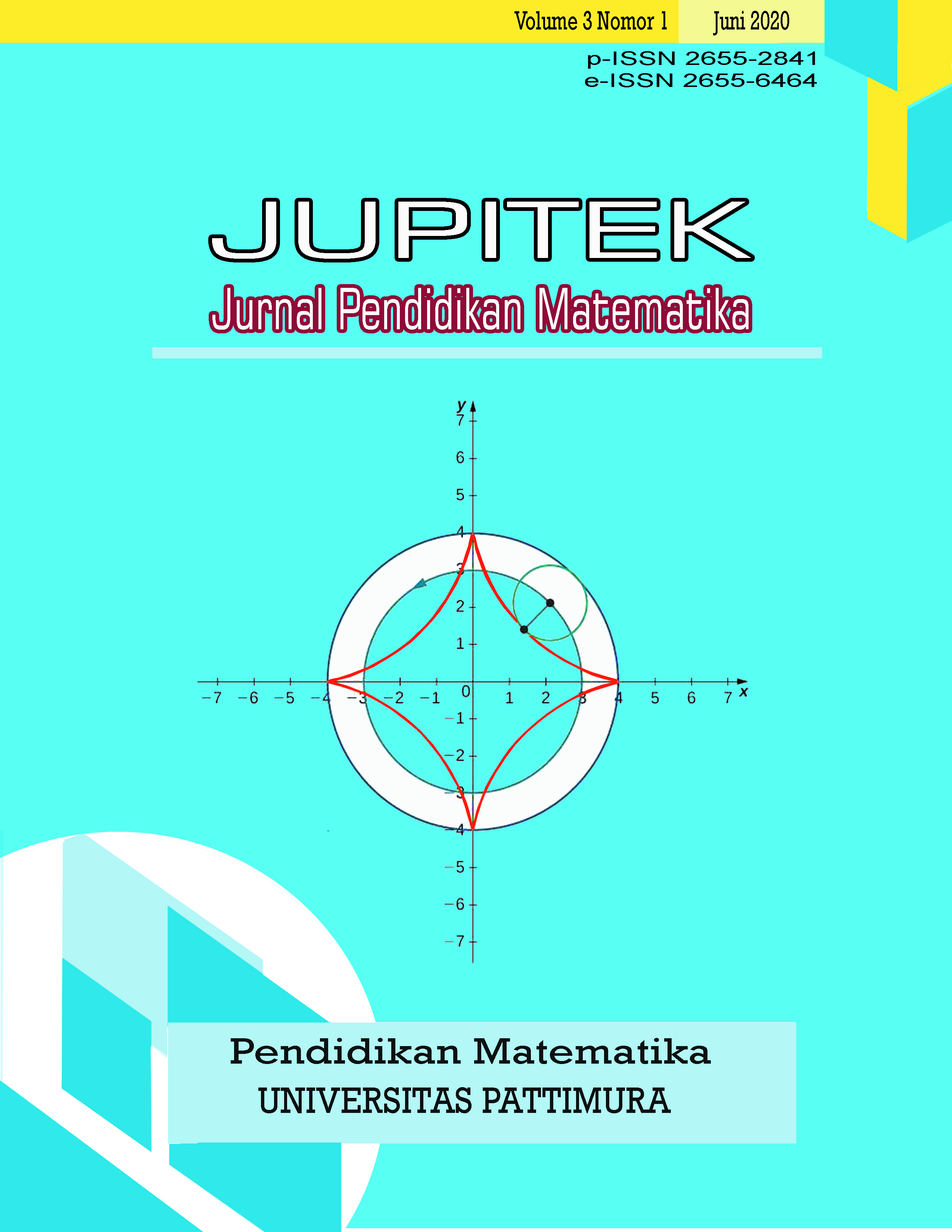 How to Cite
Deda, Y., Ratu, A., Amsikan, S., & Mamoh, O. (2020). ANALISIS KEMAMPUAN SISWA DALAM MENYELESAIKAN SOAL UJIAN NASIONAL MATEMATIKA SMP/MTs BERDASARKAN PERSPEKTIF HIGHER ORDER THINKING SKILLS (HOTS). Jurnal Pendidikan Matematika (JUPITEK), 3(1), 1-6. https://doi.org/10.30598/jupitekvol3iss1pp1-6
Copyright (c) 2020 Yohanis Ndapa Deda, Astry H Ratu, Stanislaus Amsikan, Oktovianus Mamoh
This work is licensed under a Creative Commons Attribution-NonCommercial-ShareAlike 4.0 International License.
License and Copyright Agreement
In submitting the manuscript to the journal, the authors certify that:
They are authorized by their co-authors to enter into these arrangements.
The work described has not been formally published before, except in the form of an abstract or as part of a published lecture, review, thesis, or overlay journal. Please also carefully read Jurnal Pendidikan Matematika (Jupitek) Posting Your Article Policy.
That it is not under consideration for publication elsewhere,
That its publication has been approved by all the author(s) and by the responsible authorities – tacitly or explicitly – of the institutes where the work has been carried out.
They secure the right to reproduce any material that has already been published or copyrighted elsewhere.
They agree to the following license and copyright agreement.
Copyright
Authors who publish with Jurnal Pendidikan Matematika (Jupitek) agree to the following terms:
Authors retain copyright and grant the journal right of first publication with the work simultaneously licensed under a Creative Commons Attribution License (CC BY-NC-SA 4.0) that allows others to share the work with an acknowledgment of the work's authorship and initial publication in this journal.
Authors are able to enter into separate, additional contractual arrangements for the non-exclusive distribution of the journal's published version of the work (e.g., post it to an institutional repository or publish it in a book), with an acknowledgment of its initial publication in this journal.
Authors are permitted and encouraged to post their work online (e.g., in institutional repositories or on their website) prior to and during the submission process, as it can lead to productive exchanges, as well as earlier and greater citation of published work.