COMPARATIVE LITERARY WORKS, LANGUAGE LEARNING AND CHARACTER BUILDING OF LEARNERS
Samuel Jusuf Litualy

Universitas Pattimura

Henderika Serpara

Universitas Pattimura
Keywords:
comparative literary works, language learning, character building, learners
Abstract
This paper aims to express efforts to use comparative literary works as a medium in language learning, and at the same time as a means for the formation of the character of learners. The benefits of comparative literature, among others: (1) as the basis of the study of cross-cultural literary works, (2) as the basis or basis of language skills learning (Sprachfertigkeiten) namely: listening (HÓ§rverstÓ"ndnis-Sprechfertigkeit), reading-writing (LeseverstÓ"ndnis-Schreibfertigkeit), (3) as a means of strengthening character education. As the basis for cross-cultural text studies, comparative literary works can be used to compare cultures between nations. As the basis of language learning, comparative literary works, has a uniqueness that is not possessed by other linguistic teaching materials, because the language of literary works has a connotative characteristic (figurative), contains majas, and prioritizes the characteristics of narrative discourse. Language in literary works prioritizes its main function, which is communicative function and suitable to be used to teach language skills. Furthermore, as a means of strengthening character education, literary works are worthful, which can be used to provide value strengthening for learners as the future generation of the nation.
Downloads
Download data is not yet available.
References
Birus, Hendrik, (1993) Allgemeine und Vergleichende Literaturwissenschaft (Komparatistik), tersedia dalam situs:http:www.komparatistik.uni-muenchen.de/sites/studienfuehrer/html/KleinerKomparatist.htm(24/3/ 2008).
Budiatna, Melani, dkk., Membaca Sastra (Pengantar Memahami Sastra untuk Perguruan Tinggi). Magelang: Indonesia Tera, 2002.
Bungin, H.,M., Burhan, Penelitian Kualitatif (Komunikasi, Ekonomi, Kebijakan Publik, dan Ilmu Sosial Lainnya). Jakarta: Kencana Prenada Media Group, 2008.
Creswell, John, W., Research Design (Qualitative, Quantitative, and Mixed Methods Approaches (second edition). Thousand Oaks-London-New Delhi: Sage Publications, 2003.
Djojosuroto, Kinayati, Analisis Teks Sastra dan Pengajarannya. Yogyakarta: Pustaka, 2006.
Endraswara, Suwardi, Metodologi Penelitian Sastra: Epistemologi, Model, Teori dan Aplikasi. Yogyakarta: Pustaka Widyatama , 2003.
Faruk, Pengantar Sosiologi Sastra (dari Strukturalisme Genetik sampai Post-Modernisme), Yogyakarta: Pustaka Pelajar, 2005.
Kramsch, Claire, Language and Culture, Oxford: Oxford University Press, 1998
Kutha Ratna, Nyoman, Teori, Metode, dan Teknik Penelitian Sastra. Yogyakarta: Pustaka Pelajar, 2004.
--------------, Sastra dan Cultural Studies: Representasi Fiksi dan Fakta. Yogyakarta: Pustaka Pelajar, 2005.
Magnis-Suseno, Frans, Etika Dasar: Masalah-Masalah Pokok Filsafat Moral. Yogyakarta: Penerbit Kanisius, 2007.
Mahayana, Maman S., Bermain dengan Cerpen (Apresiasi dan Kritik Sastra Indonesia). Jakarta: Gramedia Pustaka Utama, 2006.
Matsumoto, David, Pengantar Psikologi Antar Budaya. Yogyakarta: Pustaka Pelajar & Institut for Community Behavioral Change (ICBC), 2004.
Mayring, Philip, "Qualitative Content Analysis" Forum Qualitative Research, Vol 1, No.2-June 2000, tersedia dalam Situs http://www.qualitative research.net/fqs-texte/2-002/2-00mayring-e-htm (20/8/2003).
Nurgiyantoro, Burhan, Teori Pengkajian Fiksi. Yogyakarta: Gadjah Mada University Press, 2005.
Piliang, Yasraf, Amir, Posrealitas: Realitas Kebudayaan dalam Era Posmetafisika. Yogyakarta: Jalasutra, 2004.
Pradopo, Rachmat Djoko, Prinsip-prinsip Kritik Sastra. Yogyakarta: Gadjah Mada University Press, 2007
Pradotokusumo, Partini Sardjono, Pengkajian Sastra. Jakarta: Gramedia Pustaka Utama, 2005.
Saraswati, Ekarini, Sosiologi Sastra: Sebuah Pemahaman Awal. Malang: Bayu Media & UMM Press, 2003.
Semi, M. Atar, Kritik Sastra, Bandung: Angkasa, 1984.
-------------, Anatomi Sastra. Padang: Angkasa Raya, 1988.
-------------, Metode Penelitian Sastra. Bandung: Angkasa, 1993.
Siswantoro, Metode Penelitian Sastra: Analisis Psikologis. Surakarta: Universitas Muhammadyah Press, 2005.
Stanton, Robert, Teori Fiksi (Terjemahan: Sugihastuti dan Rossi Abi Al Irsyad), Yogyakarta: Pustaka Pelajar, 2007.
S. Takdir Alisjahbana, Seni dan Sastra Di tengah-tengah Pergolakan Masyarakat dan Kebudayaan, (Jakarta: PT. Dian Rakyat, 1985).
Sutrisno, Mudji, SJ., Filsafat, Sastra dan Budaya. Jakarta: Penerbit Obor, 1995.
------------, Ide-Ide Pencerahan. Jakarta: Penetbit Obor, 2004.
Suwondo, Tirto, Studi Sastra (Beberapa Alternatif). Yogyakarya: Hanindita Graha Widya, 2003.
Taylor, Richard, Understanding the Element of Literature, New York: Martin's Press, 1981.
Teeuw, Andreas, Sastra dan Ilmu Sastra (Pengantar Teori Sastra). Jakarta: Pustaka Jaya, 1984.
Toer, Pramoedya Ananta, Realisme Sosialis dan Sastra Indonesia, Jakarta: Lentera Dipantara, 2003.
Wellek, Rene & Warren Austin, Teori Kesusasteraan (Diindonesiakan oleh Melani Budiatna). Jakarta: PT. Gramedia, 1990.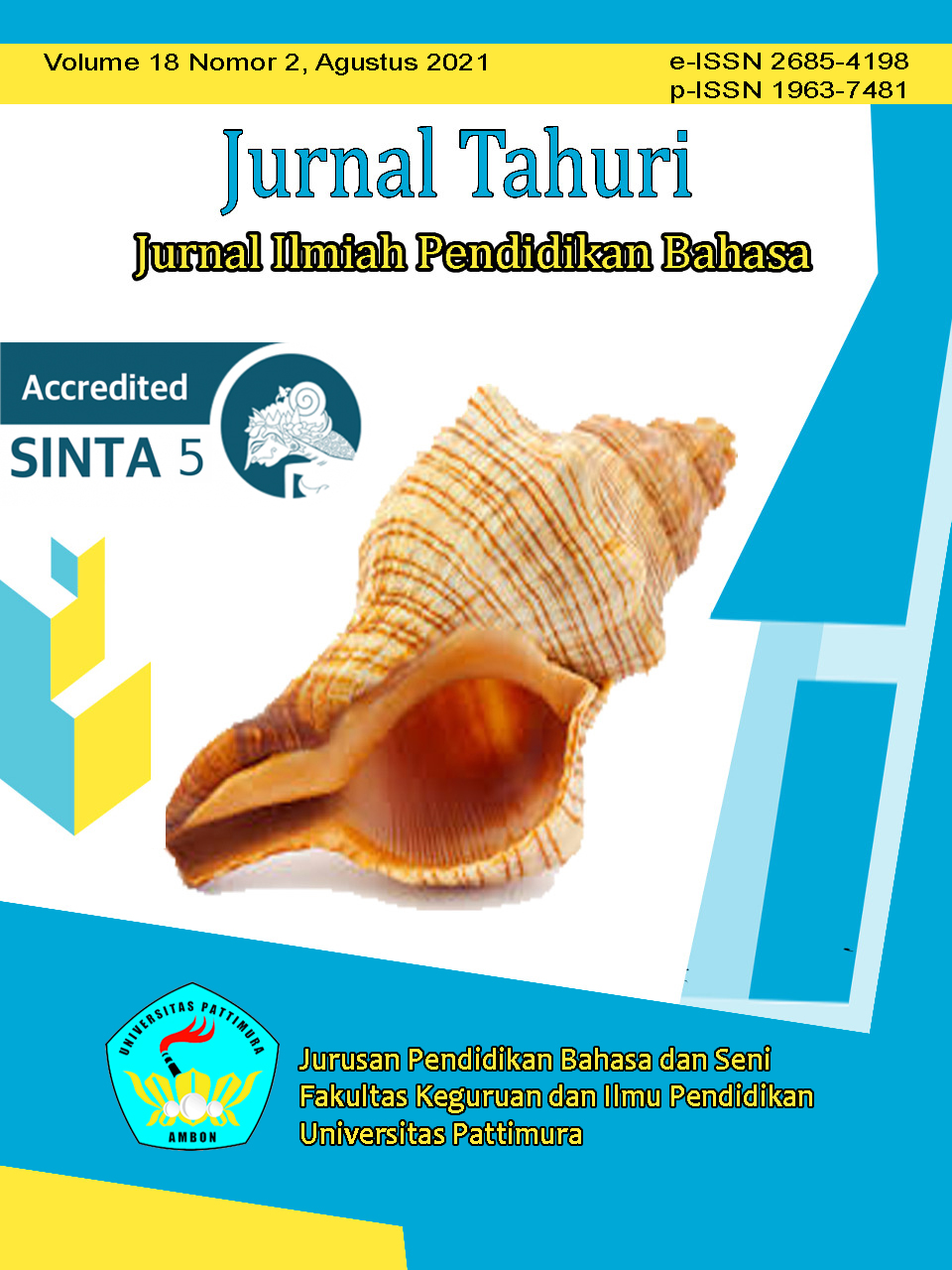 How to Cite
LitualyS., & SerparaH. (2021). COMPARATIVE LITERARY WORKS, LANGUAGE LEARNING AND CHARACTER BUILDING OF LEARNERS. JURNAL TAHURI, 18(2), 14-23. https://doi.org/10.30598/tahurivol18issue2page14-23
Copyright (c) 2021 JURNAL TAHURI
This work is licensed under a Creative Commons Attribution-ShareAlike 4.0 International License.
Dilarang menjiplak atau memperbanyak naskah untuk kepentingan apapun juga, terima kasih