ANALISA SIFAT KIMIA DAN FISIK MODIFIED CASSAVA FLOUR (MOCAF) (VARIETAS LOKAL SANGKOLA) ASAL DESA WAAI, MALUKU TENGAH
Cynthia G C Lopulalan

Jurusan Teknologi Hasil Pertanian, Fakultas Pertanian, Universitas Pattimura

Meitycorfrida Mailoa

Jurusan Teknologi Hasil Pertanian, Fakultas Pertanian, Universitas Pattimura

Halija Pelu

Jurusan Teknologi Hasil Pertanian, Fakultas Pertanian, Universitas Pattimura
Keywords:
mocaf, drying, immersion, fermentation
Abstract
This study aimed to determine the method of making 'Mocaf' (Modified Cassava Flour) flour that was in accordance the quality standards (SNI 01-2997-1992). This study used a Randomized Block Design consisting of one factor, namely was the flouring methos consisting of four treatments: namely drying, water immersion, lime water immersion, and curing. The data were statistically tested using the analysis of variance according to the design used, followed by the Honestly Significant Difference test. Based on the research results, the best treatment of this research was lime water immersion treatment, which produced ash content of 0.74%, carbohydrate content 82.68%, HCN content 0.05% and whiteness 91.32%.
Downloads
Download data is not yet available.
References
Ambarsari, I., Sarjanana, & A. Choliq. 2009. Rekomendasi dan Penetapan Standar Mutu Tepung Ubi Jalar. Balai Pengkajian Teknologi Pertanian (BPTP). Jawa Tengah

Amin, H. 2006. Improvement of quality and self life of kasoami, traditional cassava based food from South East Sulawesi. Forum Pascasarjana 29: 301-319.

AOAC Association of Official Analytical Chemistry. 2005. Official Method of Analysis. Washington.

Askar, S. & Abdurachman. 2002. Pengaruh penambahan zink methianin kedalam simulasi rumen secara in vitro terhadap produksi VFA. Buletin Teknik Pertanian 7: 69-72.

Bogasari. 2006. Referensi Terigu. Diakses pada tanggal 8 Mei 2012 dari http://www.bogasari. com/relfillourhtm.

Buckle, K.A., R.A. Edward, G.H. Fleet, & M. Wooton. 1987. Ilmu Pangan (Diterjemahkan oleh Hari Purnomo dan Adiono). Universitas Indonesia Press. Jakarta.

Djafaar, T.F., S. Rahayu, & M. Gardjito. 2009. Pengaruh blanching dan waktu perendaman dalam larutan kapur terhadap kandungan racun pada umbi dan ceriping gadung. Artikel Penelitian Pertanian Tanaman Pangan 28: 192-198.

Febriyanti, T. 1990. Studi Karakteristik Fisiko Kimia dan Fungsional beberapa Varietas Tepung Singkong. Skripsi. IPB. Bogor.

Hutami, F.D. & Harijono. 2014. Pengaruh penggantian larutan dan konsentrasi NaHCO3 terhadap penurunan kadar sianida pada pengolahan tepung ubi kayu. Jurnal Pangan dan Agroindustri 2: 220-230.

Pandoyo, S.T. 2000. Pembuatan Keripik Pepaya Dengan Vacum Friying, Kajian Dari Lama Perendaman Dalam Larutan CaCl2 dan Lama Pembekuan Terhadap Sifat Fisik Kimia dan Organoleptik. Skripsi. Universitas Brawijaya. Malang.

Rahman, A. 2007. Budidaya Singkong. Diakses pada tanggal 2 Juli 2014 dari http://digilib.unnes.ac.id/gsdl/collect/skripsi/index/assoc/HASH0151/2c111472.dir/doc.pdf

Setyawardhani, D.A., H.S. Alkautsar, & U.R. Fadhilah. 2011. Pengolahan Biji Karet Sebagai Bahan Baku Pembuatan Minyak Pangan (Edible Oil). Simposium Nasional RAPI X FT UMS.

Subagio, A. 2008. Mocal atau Mocaf. Diakses tanggal 3 Maret 2015 dari http://www.wordPress.com.

Sudarmadji S., B. Haryono, & Suhardi. 1989. Kandungan Bahan Organik dalam Bahan Pangan. Departemen Pendidikan Nasional. Yogyakarta.

Uyoh, E.A., V.O. Ntui, & N.N. Udoma. 2009. Effect of local cassava fermentation methods on some physiochemical and sensory properties of fufu. Pakistan Journal of Nutrition 8: 1123-1125.

Winangun, A. 2007. Mocal – Tumpuan Ketahanan Pangan. Diakses pada tanggal 12 Februari 2015 dari http//Tanimerdeka.Com.

Winarno, F.G. 2002. Kimia Pangan dan Gizi. Gramedia Pustaka Utama. Jakarta.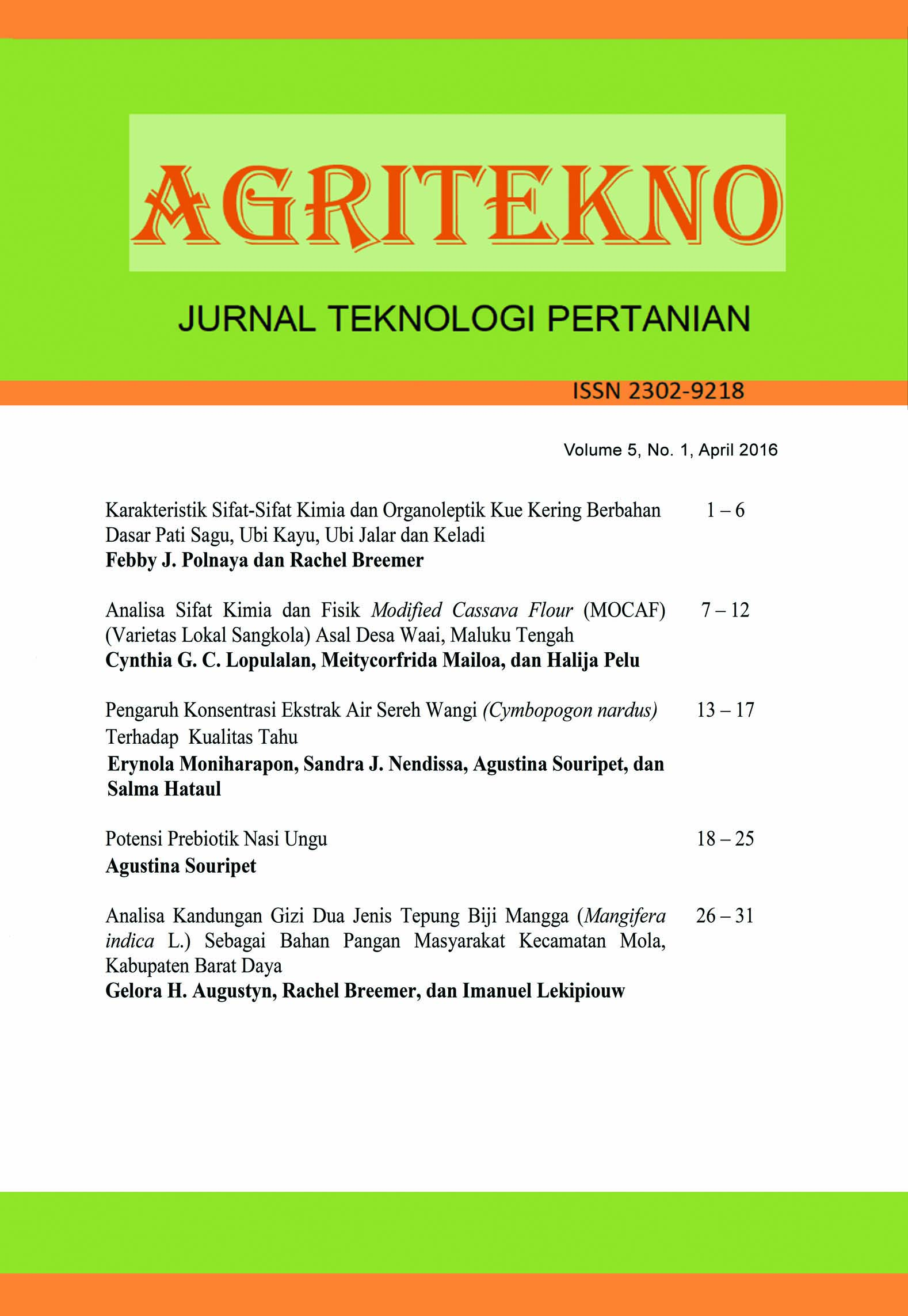 How to Cite
LopulalanC., MailoaM., & PeluH. (2016). ANALISA SIFAT KIMIA DAN FISIK MODIFIED CASSAVA FLOUR (MOCAF) (VARIETAS LOKAL SANGKOLA) ASAL DESA WAAI, MALUKU TENGAH. AGRITEKNO: Jurnal Teknologi Pertanian, 5(1), 7-12. https://doi.org/10.30598/jagritekno.2016.5.1.7
Authors who publish with this journal agree to the following terms:
Authors retain copyright and grant the journal the right of first publication with the work simultaneously licensed under a Creative Commons Attribution License that allows others to share the work with an acknowledgement of the work's authorship and initial publication in this journal.
Authors are able to enter into separate, additional contractual arrangements for the non-exclusive distribution of the journal's published version of the work (e.g., post it to an institutional repository or publish it in a book), with an acknowledgement of its initial publication in this journal.
Authors are permitted and encouraged to post their work online (e.g., in institutional repositories or on their website) prior to and during the submission process, as it can lead to productive exchanges, as well as earlier and greater citation of published work (See The Effect of Open Access).