PENGARUH KONSENTRASI LARUTAN KAPUR (Ca(OH)2) DAN LAMA PEREBUSAN TERHADAP MUTU TORTILLA JAGUNG
Vita Novalina Lawalata

Jurusan Teknologi Hasil Pertanian, Fakultas Pertanian, Universitas Pattimura

Tanudin Tanudin

Jurusan Teknologi Hasil Pertanian, Fakultas Pertanian, Universitas Pattimura

Cynthia G C Lopulalan

Jurusan Teknologi Hasil Pertanian, Fakultas Pertanian, Universitas Pattimura
Keywords:
corn, tortillas, lime, boiling, chemical composition, organoleptic
Abstract
The objective of this study was to analyze the effects of the concentration of caustic lime solution and boiling time on the quality of tortilla corn chips made from mature corn. A completely randomized factorial experimental design was applied in this study. Two factors were assigned including concentration of caustic lime solution (3, 4, and 5%) and boiling time (30, 60, and 90 minutes). Observed variables were both chemical properties (moisture, ash, protein, fat, and carbohydrate). Results showed that the interaction between concentration of caustic lime solution and boiling time did not have significant effect on protein and fat content of the tortilla. The main effect of a single factor boiling time mostly influenced many observed variables particularly the organoleptic properties of the tortilla. The concentration of caustic lime solution of 4% and boiling the corn for 30 minutes was the best interaction to produce tortilla having the best quality with moisture, ash, and carbohydrate contents of 5.53%, 7.59%, and 67.96%, respectively.
Keywords: corn, tortillas, lime, boiling, chemical composition, organoleptic
ABSTRAK
Tujuan penelitian ini adalah untuk menganalisa pengaruh konsentrasi larutan kapur dan lama perebusan terhadap mutu tortilla jagung dari pemanfaatan jagung tua. Rancangan yang digunakan adalah Rancangan Acak Lengkap Faktorial dengan faktor konsentrasi larutan kapur (3%, 4%, dan 5%) dan faktor lama perebusan (30 menit, 60 menit, dan 90 menit). Peubah yang diamati adalah sifat kimia (kadar air, kadar abu, protein, lemak dan karbohidrat by different). Hasil penelitian menunujukan bahwa pengaruh larutan kapur dan lama perebusan menghasilkan kandungan protein dan lemak tidak nyata dalam interaksinya. Perlakuan dengan lama perebusan tortilla jagung lebih mempengaruhi peubah-peubah yang diamati terutama pada uji organoleptik rasa tortilla jagung. Interaksi terbaik pada konsentrasi larutan kapur 4% dan lama perebusan 30 menit, menghasilkan mutu tortilla jagung dengan kadar air 5,53%, kadar abu 7,59% dan kadar karbohidrat by different 67,96%.
Kata kunci: jagung, tortilla, kapur, perebusan, komposisi kimia, organoleptik
Downloads
Download data is not yet available.
References
Andarwulan, N., F. Kusnandar, dan D. Herawati. 2011. Analisa Pangan. Dian Rakyat. Jakarta.

AOAC. 2007. Official Methods of Analysis Association 18th Ed. Gaithersburg.

Cahyani, W. 2010. Subtitusi Jagung (Zea mays) dengan Jail (Coix Lacryma -jobi L.) pada Pembuatan Tortilla: Kajian Karakteristik Kimia dan Sensorik. Skripsi. Fakultas Pertanian Universitas Sebelas Maret. Surakarta.

Febrianto, A., Basito, dan C. Anam. 2014. Kajian karakteristik fisikokimia dan sensoris tortilla corn chips dengan variasi larutan alkali pada proses nikstamalisasi jagung. Teknosains Pangan 3: 22-34.

Histifarina, D. 2010. Teknologi Aneka Makanan Olahan Jagung dan Cabai. BPTP. Jawa Barat.

Jacoeb, A.M., N.W. Cakti, dan Nurjanah. 2008. Perubahan komposisi protein dan asam amino daging udang ronggeng (Harpiosquilla raphidea) akibat perebusan. Buletin Teknologi Hasil Protein 11: 1-10.

Santoso, H. 2008. Kerupuk. Kanisius. Yogyakarta.

Sundarsih, dan Y. Kurniaty. 2009. Pengaruh Lama dan Suhu Perendaman Kedelai pada Tingkat Kesempurnaan Ekstraksi Protein Dalam Proses Pembuatan Tahu. Makalah Penelitian. Jurusan Teknik Kimia Fakultas Teknik, Universitas Diponogoro. Semarang.

Sugito dan A. Hayati. 2006. Penambahan daging ikan gabus dan aplikasi pembekuan pada pembuatan pempek gluten. Jurnal Ilmu-Ilmu Pertanian Indonesia 8: 147-151.

USDA. 2009. National Nutrient Database for Standard Reference. Nutrient Data Laboratory diakses pada tanggal 12 Juni 2014 dari http://www.nal.usda.gov.

Valderrama-Bravo, C., A. Rojas-Molina, E. Gutiérrez-Cortez, I. Rojas-Molina, A. Oaxaca-Luna, E. De la Rosa-Rincón, and M.E. Rodrigues-García. 2010. Mechanism of calcium uptake in corn kernels during the traditional nixtamalization process: Diffusion, accumulation and percolation. Journal of Food Engineering 98: 126-132.

Winarno, F.G. 1997. Kimia Pangan dan Gizi. PT. Gramedia Pustaka Utama. Jakarta.

Winarno, F.G. 2004. Keamanan Pangan. M BRIO Press. Bogor.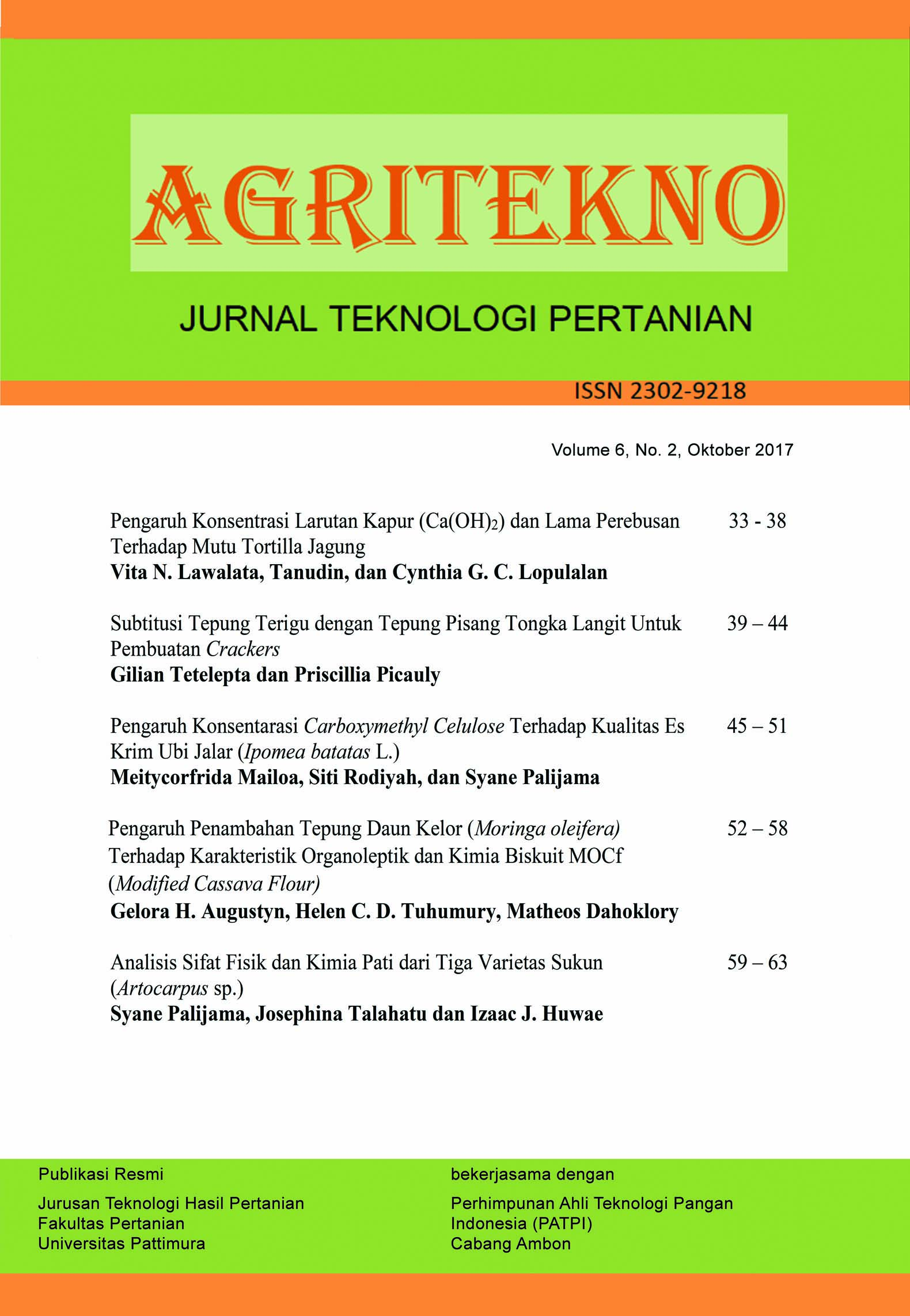 Copyright (c) 2017 AGRITEKNO, Jurnal Teknologi Pertanian
This work is licensed under a Creative Commons Attribution-ShareAlike 4.0 International License.