DEGRADATION MODEL OFPOLYETHYLENE TEREPHTHALATE BY ESCHERCHIA COLI BACTERIA
Taufan Talib

Universitas Halmahera
Keywords:
e-coli bacteria, degradation, pet
Abstract
Degradation of Polyethylene Terephthalate (PET) using Escherchia Coli (E-Coli) bacteria in awhole cell biocatalys system. E-Coli bacteria will produce LC-Cutinase enzyme surface of the cell and coupled with PET, so PET can decompose. LC-Cutinase reaction and PET lasts for three days.  Models that are formed already can explains the phenomenon of PET degradation
Downloads
Download data is not yet available.
References
[1] S. Paulo, "Research Enhances Enzyme That Degrades Plastic," www.eurekalert.org. [Online] 2018. Available: https://www.eurekalert.org/pub_release/2018-05/fda-ree052818.php
[2] IGEM,ITB, "ColiPlaster," 2014.igem.org [Online] 2018. Available: http://2014.igem.org/Team:ITB_Indonesia.
[3] T. Talib, "Model Regulasi Pada Biodegradasi Polyethylene Terephthalate (PET)," Jurnal Barekeng FMIPA Unpatti, vol. 10, no. 2, 107-115, 2016.
[4] E.Klipp, R.Herwig,A.Kowald,C.Wierling,H.Lehrach. System Biology in Practice Part II: Standar Model and Approaches in System biology, Michaelis-Menten kinetics, 144-148. Wiley-vch, 2013.
[5] Brauer, Fred. Castillo-Chaves, Carlos. Mathematical Model in Population Biology and Epidemiology, 2nd s.l : Springer, 2010.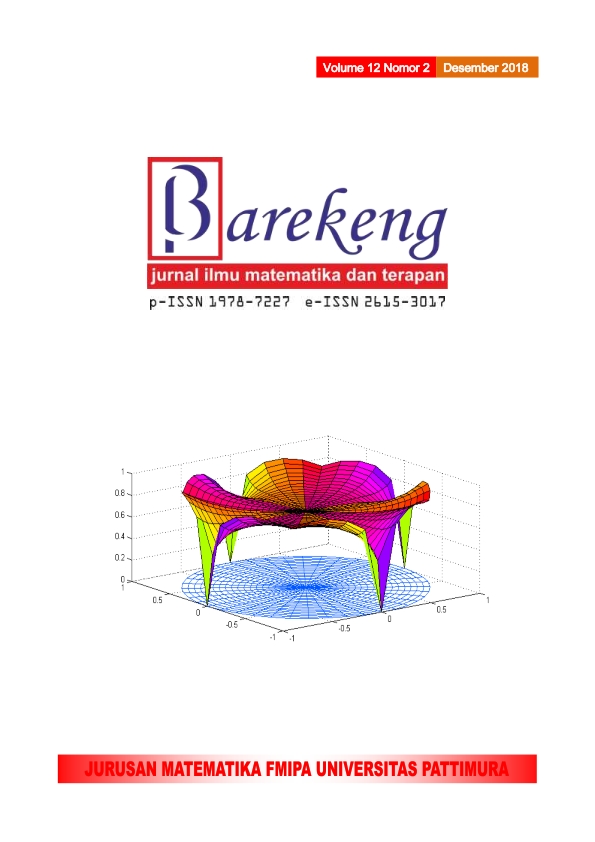 How to Cite
[1]
T. Talib, "DEGRADATION MODEL OFPOLYETHYLENE TEREPHTHALATE BY ESCHERCHIA COLI BACTERIA", BAREKENG, vol. 12, no. 2, pp. 053-060, Dec. 2018.
Copyright (c) 2018 BAREKENG: JURNAL ILMU MATEMATIKA DAN TERAPAN
This work is licensed under a Creative Commons Attribution-NonCommercial-ShareAlike 4.0 International License.