JADWAL PELAYANAN SISTEM ANTREAN 5 SERVER DALAM ALJABAR MAX-PLUS INTERVAL
Sri Rejeki Puri Wahyu Pramesthi

IKIP Widya Darma Surabaya

Fanny Adibah
Keywords:
Aljabar Max-Plus Interval, Antrean, Jadwal Pelayanan.
Abstract
Cukup sering kita melihat beberapa antrean saat berbelanja, saat melakukan pengisian bensin, membeli makanan minuman cepat saji dan lain sebagainya. Semua ini mengakibatkan banyaknya waktu yang tersita bagi kita sebagai pengunjung. Artikel ini akan memperoleh jadwal pelayanan dari sistem antrean 5 server dengan menggunakan aljabar max-plus interval. Tujuan artikel ini agar mempermudah para pengunjung yang mengantre mengetahui kapan waktunya mendapatkan pelayanan dari penyedia layanan tersebut dan dapat memberikan efisiensi waktu. Prosesnya dimulai dengan mengkonstruksi sistem, memperoleh matriks adjasennya dengan lama waktu berupa interval, memperoleh nilai eigen dalam bentuk max-plus interval dan vektor eigen dalam bentuk max-plus interval, dan memperoleh keperiodikan sistem, serta menghasilkan jadwal pelayanan yang periodik yaitu jadwal pelayanan sistem antrean 5 server dalam aljabar max – plus interval. Jadwal pelayanan yang dihasilkan dapat menginformasikan kepada para pengunjung kapan mereka mendapatkan pelayanan.
Downloads
Download data is not yet available.
References
Pramesthi, Sri Rejeki Puri W dan Subiono, "Analisis Sistem Jaringan Antrean Dengan Elemen - Elemen Matriks Adjasen Berupa Interval Dalam Aljabar Max - Plus," Proc. Seminar Nasional Sains dan Pendidikan Sains UKSW, pp. 786 - 791, June 2010.
Rudhito M. Andy dan Suparwanto Ari, "Pemodelan Aljabar Max-Plus dan Evaluasi Kinerja Jaringan Antrian Fork-Join Taksiklik Dengan Kapasitas Penyangga Takhingga," Proc. Seminar Nasional Sains Dan Pendidikan Sains 2008, Fakultas Sains Dan Matematika UKSW, pp. B3-1 – B3-13, Jan 2008.
Subagyo, P, Dasar – dasar Operation Research. Yogyakarta: BPFE,
Subiono,"On classes of min-max-plus systems and their application," Ph.D. dissertation, Technische Universiteit, Delft, Delft, 2000.
Subiono, Aljabar Max-Plus. Surabaya: Institut Teknologi Sepuluh Nopember, 2009.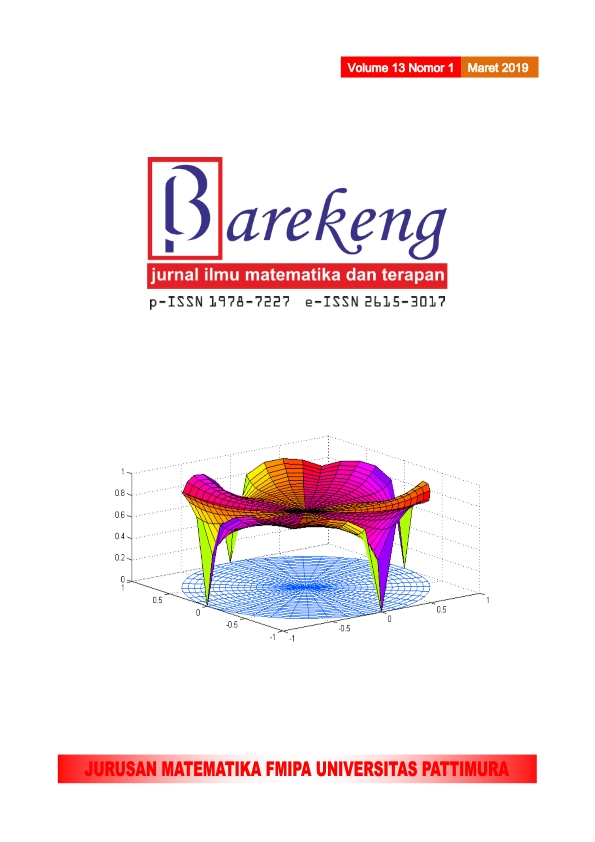 How to Cite
[1]
S. R. Pramesthi and F. Adibah, "JADWAL PELAYANAN SISTEM ANTREAN 5 SERVER DALAM ALJABAR MAX-PLUS INTERVAL", BAREKENG, vol. 13, no. 1, pp. 039-046, Mar. 2019.
Copyright (c) 2019 BAREKENG: Jurnal Ilmu Matematika dan Terapan
This work is licensed under a Creative Commons Attribution-NonCommercial-ShareAlike 4.0 International License.