ANALISIS SIFAT FISIK DAN KIMIA PATI DARI TIGA VARIETAS SUKUN (Artocarpus sp.)
Syane Palijama

Jurusan Teknologi Hasil Pertanian, Fakultas Pertanian, Universitas Pattimura

Josephina Talahatu

Jurusan Teknologi Hasil Pertanian, Fakultas Pertanian, Universitas Pattimura

Izaac Joshua Huwae

Jurusan Teknologi Hasil Pertanian, Fakultas Pertanian, Universitas Pattimura
Keywords:
breadfruit, starch, variety
Abstract
Breadfruit as an agricultural commodity with high carbohydrate content, can be functioned whether as a food reserve or as an alternative food resource. It also can improve diversity among food products and add value to the product as well, when it is being processed into starch. More ever, the process of making breadfruit into starch can reduce number of unused fruits as a result of bad fruit quality and rotten fruit. The starch can be used as a basic ingredient of various processed agricultural products. This research was aimed to analyze physical and chemical of starch contained in three breadfruit varieties. A completely randomized design was applied in this research with three levels of treatments, i.e.: 'batu' breadfruit starch (A1), 'duri' breadfruit starch (A2), and 'kapas' breadfruid starch (A3). Analyzed variables were water content, ash, amylase content, swelling power and solubility. Result indicated that 'batu' breadfruit starch had the highest value on variables of ash content, amylase content and solubility which were 0,09 percent, 19,67 percent and 24,07 percent respectively, while its water content and swelling power which were 3,74 percent and 17'37 g/g was the lowest value among other breadfruit starch. The highest water content and swelling power which were 6,64 percent and 20,01 g/g were found in 'duri' breadfruit starch.
 Keywords: breadfruit, starch, variety
ABSTRAK
Sukun (Artocarpus sp.) sebagai salah satu komoditas pertanian penghasil karbohidrat yang cukup tinggi dan berperan penting sebagai cadangan pangan ataupun sebagai bahan pangan alternatif. Pengolahan sukun menjadi pati dapat meningkatkan diversifikasi produk pangan dan dapat memberi nilai tambah dan mengangkat sukun menjadi komoditas yang bernilai tinggi. Selain itu, pengolahan sukun menjadi pati diharapkan dapat mengurangi jumlah sukun yang terbuang percuma karena rusak ataupun busuk, karena dapat berguna sebagai bahan utama olahan produk pertanian. Penelitian ini bertujuan untuk mengetahui sifat fisik dan kimia dari tiga varietas sukun. Rancangan yang digunakan adalah rancangan acak lengkap yaitu varietas sukun yang terdiri dari tiga perlakuan yaitu: A1 (Pati Sukun Batu), A2 (Pati Sukun Duri), dan A3 (Pati Sukun Kapas). Peubah yang diamati berupa kadar air, kadar abu, kadar amilosa, swelling power dan daya larut. Hasil penelitian ini menunjukkan bahwa; pati sukun batu (A1) memiliki kadar abu, kadar amilosa dan daya larut tertinggi masing-masing sebesar 0,09%, 19,67% dan 24,07% dan memiliki kadar air dan swelling power terendah masing-masing sebesar 3,74% dan 17,37 g/g. Pati sukun duri (A2) memiliki nilai kadaar air dan swelling power tertinggi masing-masing sebesar 6,64% dan 20,01 g/g.
Kata kunci: pati, sukun, varietas
Downloads
Download data is not yet available.
References
Adebowale, K.O., B.I. Olu-Owolabi, E.K. Olawumi, and O.S. Lawal. 2005. Functional properties of native, physically and chemically modified breadfruit (Artocarpus artilis) starch. Industrial Crops and Products 21: 343-351. https://doi.org/10.1016/j.indcrop.2004.05.002

Adebowale, K.O. and O.S. Lawal. 2003. Microstructure, physicochemical properties and retrogradation behaviour of mucuna bean (Mucuna pruriens) starch on heat moisture treatments. Food Hydrocolloids 17: 265-272. https://doi.org/10.1016/S0268-005X(02)00076-0

Angkasa, S. 1994. Sukun dan Keluwih. Penerbit Penebar Swadaya. Jakarta.

[AOAC] Association of Official Analytical Chemist. 1984. Official Methods of Analysis of the Association of Official Analytical

Augustyn, G.H., F.J. Polnaya, dan A. Parinusa. 2007. Karakterisasi beberapa sifat pati ubi kayu (Manihot esculenta, Crantz). Buletin Penelitian BIAM 3: 35-39.
Chemist. 14th ed. AOAC Inc. Arlington. Virginia.

Hendalastuti, H. dan Rojidin. 2006. Karakteristik budidaya dan pengolahan buah sukun: Studi Kasus di Solok dan Kampar. Prosiding Seminar Litbang Hasil Hutan 220-230.

Moorthy, S.N. 2002. Physicochemical and functional properties of tropical tuber starches: A review. Starch/Stärke 54: 559-592.

Peleg, M. 1983. Physical Characteristics of Food Powders. In: Peleg, M. and E.B. Bagley (eds). Physical Properties of Foods.AVI Publishing Company, Inc. Westport, Connecticut.

Pratiwi, D.P., A. Sulaeman, and L. Amalia. 2012. Pemanfaatan tepung sukun (Artocarpus altilis sp.) pada pembuatan aneka kudapan sebagai alternatif makanan bergizi untuk PMT-AS. Jurnal Gizi dan Pangan 7: 175-180.

Purnomo, H. 1995. Aktivitas Air dan Peranannya dalam Pengawetan Pangan. Universitas Indonesia. Jakarta.

Sudarmadji, S., B. Haryono, and Suhardi. 1996. Analisa Bahan Makanan dan Pertanian. Penerbit Liberty. Yogyakarta.

Supriati, Y. 2010. Sukun sebagai sumber pangan alternatif substitusi beras. Iptek Tanaman Pangan 5: 219-231.

Tian, S.J., J.E. Rickard, and J.M.V. Blanshard. 1991. Physicochemical properties of sweet potato starch. Journal of the Science of Food and Agriculture 57:459-491. https://doi.org/10.1002/jsfa.2740570402

Wargiono, J. 1989. Budidaya Ubi Jalar. Bhratara. Jakarta.

Widowati, S. 2003. Prospek Tepung Sukun untuk Berbagai Produk Makanan Olahan dalam Upaya Diversifikasi Pangan. Makalah Falsafah Sains, Program Pasca Sarjana, Institut Pertanian Bogor.

Wu, Y. and P.A. Seib. 1990. Acetylated and hydroxypropylated distarch phospates from waxy barley Paste properties and freeze-thaw stability. Cereal Chemistry 67: 202-208.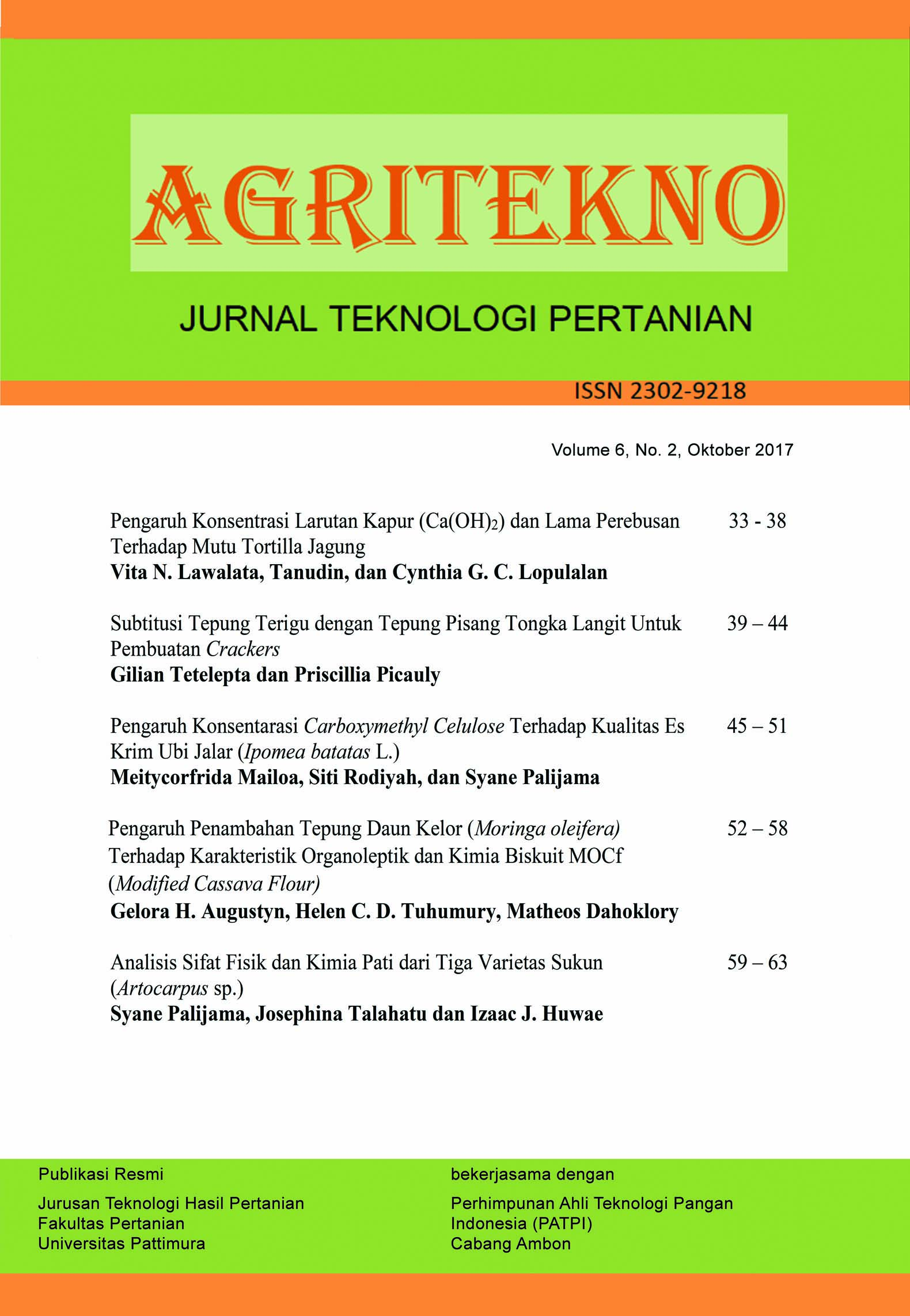 How to Cite
Palijama, S., Talahatu, J., & Huwae, I. (2017). ANALISIS SIFAT FISIK DAN KIMIA PATI DARI TIGA VARIETAS SUKUN (Artocarpus sp.). AGRITEKNO: Jurnal Teknologi Pertanian, 6(2), 59-63. https://doi.org/10.30598/jagritekno.2017.6.2.59
Copyright (c) 2017 AGRITEKNO, Jurnal Teknologi Pertanian
This work is licensed under a Creative Commons Attribution-ShareAlike 4.0 International License.
Authors who publish with this journal agree to the following terms:
Authors retain copyright and grant the journal the right of first publication with the work simultaneously licensed under a Creative Commons Attribution License that allows others to share the work with an acknowledgement of the work's authorship and initial publication in this journal.
Authors are able to enter into separate, additional contractual arrangements for the non-exclusive distribution of the journal's published version of the work (e.g., post it to an institutional repository or publish it in a book), with an acknowledgement of its initial publication in this journal.
Authors are permitted and encouraged to post their work online (e.g., in institutional repositories or on their website) prior to and during the submission process, as it can lead to productive exchanges, as well as earlier and greater citation of published work (See The Effect of Open Access).