PENGARUH TINGKAT KONSENTRASI GULA PADA PROSES PENGOLAHAN MANISAN SALAK TERHADAP VITAMIN C DAN TINGKAT KESUKAAN KONSUMEN
Syane Palijama

Jurusan Teknologi Hasil Pertanian, Fakultas Pertanian, Universitas Pattimura

Josephina Talahatu

Jurusan Teknologi Hasil Pertanian, Fakultas Pertanian, Universitas Pattimura

Priscillia Picauly

Jurusan Teknologi Hasil Pertanian, Fakultas Pertanian, Universitas Pattimura
Keywords:
salacca, sweetener, vitamin C, consumers preference
Abstract
Fruit of zallaca (Salacca edulis Reinw) can be made as food product. One of these products is zallaca sweet by using sugar as sweetener and preservative. The objective of the research was to study and determine sugar concentration level to maintain quality of zallaca sweet product. A complete randomized design was used in the research. A compeletely randomized design was used with eight treatments sugar concentration as follows 25, 30, 35, 40, 45, 50, 55, and 60% of sugar concentration. Result showed that using of 40% sugar could maintain the quality of zallaca sweet with concentration of vitamin C 0.033 mg, moisture content 76.56%, total acid 3.12%, total sugar 18,13% and pH 4.5.
Downloads
Download data is not yet available.
References
AOAC Association of Official Analytical Chemistry. 2002. Official Method of Analysis. Washington. D.C.

Buckle, K.A, R.A. Edwards, G.H. Fleet, and M. Wooton. 2007. Ilmu Pangan. Penerjemah: H. Purnomo dan Adiono. Universitas Indonesia Press. Jakarta.

Kartika, P.N. dan F.C. Nisa. 2015. Studi pembuatan osmodehidrat buah nenas (Ananas comosus L. Merr); kajian konsentrasi gula dalam larutan osmosis dan lama perendaman. Jurnal Pangan dan Agroindustri 3: 1345-1355.

Maulidiah, A., D. Hidayati, dan S. Hastuti. 2014. Analisa karakteristik manisan kering salak (Salacca edulis) dengan lama perendaman dan konsentrasi larutan gula. Jurnal Agrointek 8: 23-31.

Muchtadi, D. 2011. Karbohidrat Pangan dan Kesehatan. Alfabeta. Bandung.

Septya, S., I. Suhaidi, dan Ridwansyah. 2017. Pengaruh konsentrasi gula dan lama penyimpanan terhadap mutu manisan basah batang daun pepaya. Ilmu dan Teknologi Pangan 5: 73-80.

Sohibulloh, I., D. Hidayati, dan Burhan. 2013. Karakteristik manisan nangka kering dengan perendaman gula bertingkat. Jurnal Agrointek 7: 84-89.

Winarno, F.G. 2004. Kimia Pangan dan Gizi. Gramedia Pustaka Utama. Jakarta.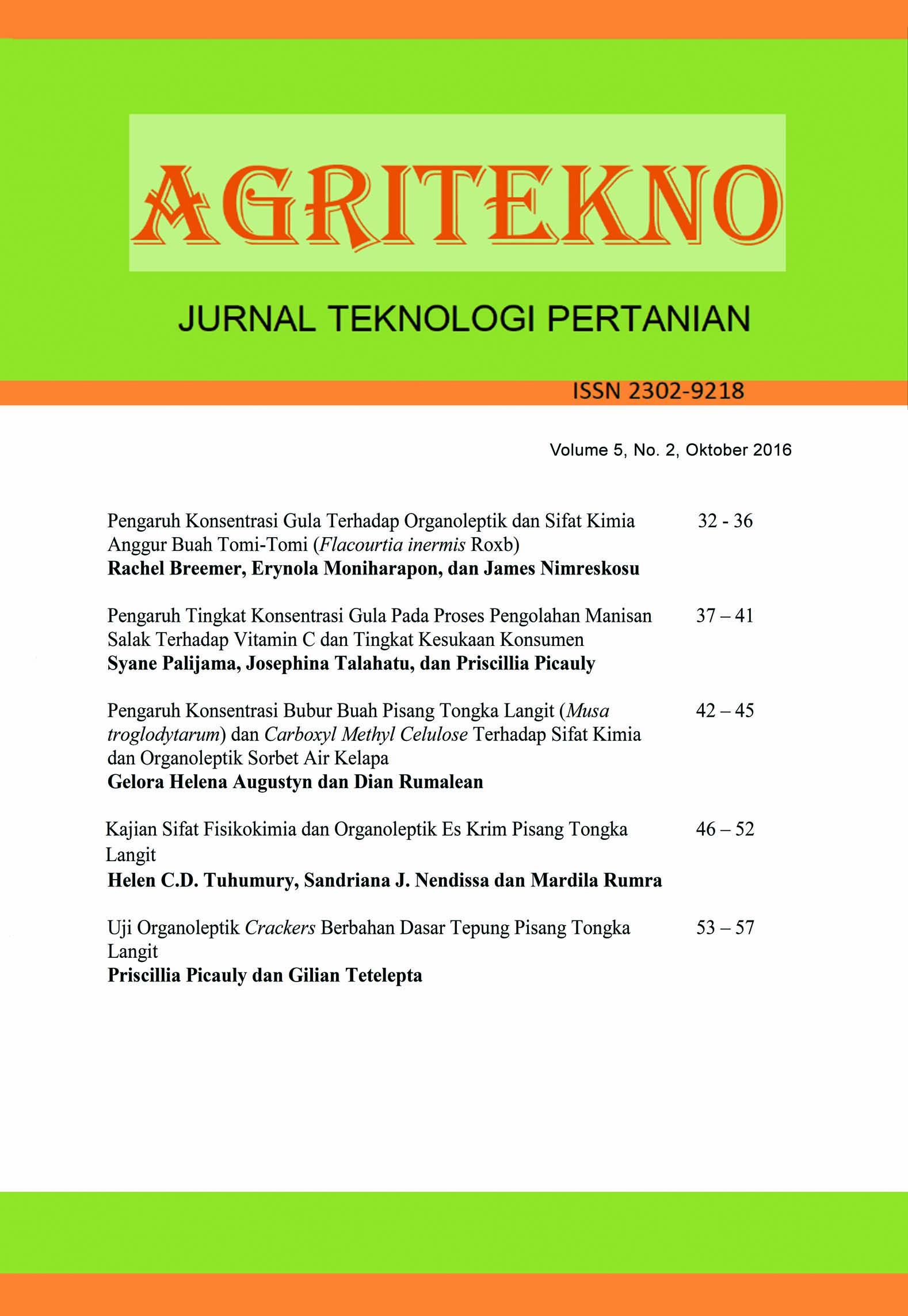 How to Cite
PalijamaS., TalahatuJ., & PicaulyP. (2016). PENGARUH TINGKAT KONSENTRASI GULA PADA PROSES PENGOLAHAN MANISAN SALAK TERHADAP VITAMIN C DAN TINGKAT KESUKAAN KONSUMEN. AGRITEKNO: Jurnal Teknologi Pertanian, 5(2), 37-41. https://doi.org/10.30598/jagritekno.2016.5.2.37
Authors who publish with this journal agree to the following terms:
Authors retain copyright and grant the journal the right of first publication with the work simultaneously licensed under a Creative Commons Attribution License that allows others to share the work with an acknowledgement of the work's authorship and initial publication in this journal.
Authors are able to enter into separate, additional contractual arrangements for the non-exclusive distribution of the journal's published version of the work (e.g., post it to an institutional repository or publish it in a book), with an acknowledgement of its initial publication in this journal.
Authors are permitted and encouraged to post their work online (e.g., in institutional repositories or on their website) prior to and during the submission process, as it can lead to productive exchanges, as well as earlier and greater citation of published work (See The Effect of Open Access).