Pengaruh Cara Pengolahan Terhadap Sifat Fisikokimia Pisang Tongka Langit (Musa troglodytarum)
Gilian Tetelepta

Jurusan Teknologi Hasil Pertanian, Fakultas Pertanian, Universitas Pattimura

Josefina Talahatu

Jurusan Teknologi Hasil Pertanian, Fakultas Pertanian, Universitas Pattimura

Syane Palijama

Jurusan Teknologi Hasil Pertanian, Fakultas Pertanian, Universitas Pattimura
Keywords:
tongka langit banana, tannin, processing
Abstract
Tongka Langit banana (Musa troglodytarum) is one of the banana cultivar which is useful for health and has high nutrient content. It can be eaten raw and can be processed into various products. This research was aimed to study effect of tongka langit banana processing on its tannin content and other physicochemical changes result from those processes. A completely randomized design was used with five levels of treatment, i.e.: no processing, roasted tongka langit banana, fried tongka langit banana, boiled tongka langit banana, steamed tongka langit banana. Results showed that roasted tongka langit banana can reduce tannin content to the lowest of 0.155% and risen respectively by fried of 0.166%, boiled of 0.170%, and steamed banana of 0.171 %. Besides that, roasted tongka langit banana had sugar content of 9.49%, vitamin C of 2.76 mg, moisture content of 76.9%, ash content of 1.58% and pH value 5.2. Among all processing methods applied, roasted tongka langit banana resulted in better physichochemical properties.
Downloads
Download data is not yet available.
References
AOAC. 1998. Official Methods of Analysis of the Association Analytical Chemistry. Inc. Washington D.C.
Ishak, E. 2012. Ilmu dan Teknologi Pangan. Identitas Universitas Hasanudin. Makasar
Ketaren, S. 2008. Pengantar Minyak dan Lemak Pangan. Universitas Indonesia Press. Jakarta.
Khomsan, A. 2002. Mengurangi Susut Gizi. Diambil 13-07-2007 dari http://www.kompas.com/kesehatan/news/0204/23/015943.htm.
Makfoeld, D. 1992. Polifenol. Pusat Antar Universitas Pangan dan Gizi Universitas Gadjah Mada, Yogyakarta.
Samson, E., E. T. Apituley, & D. Wakano. 2013. Analisa Lama Waktu Pemanasan Terhadap Stabilitas Pigmen Karotenoid Buah Pisang Tongka Langit (Musa troglodytarum) Ukuran Panjang. Prosiding FMIPA Universitas Pattimura.
Tuhumury, H.C.D., J. Talahatu, & S.G. Sipahelut. 2008. Penerapan Teknologi Pengolahan Juice Pisang Tongka Langit (Musa fehi) di Dusun Seri Desa Urimessing Kecamatan Nusaniwe Kota Ambon. Laporan Penelitian Fakultas Pertanian UNPATTI.
Winarno, F.G. 2004. Kimia Pangan dan Gizi. Gramedia, Jakarta.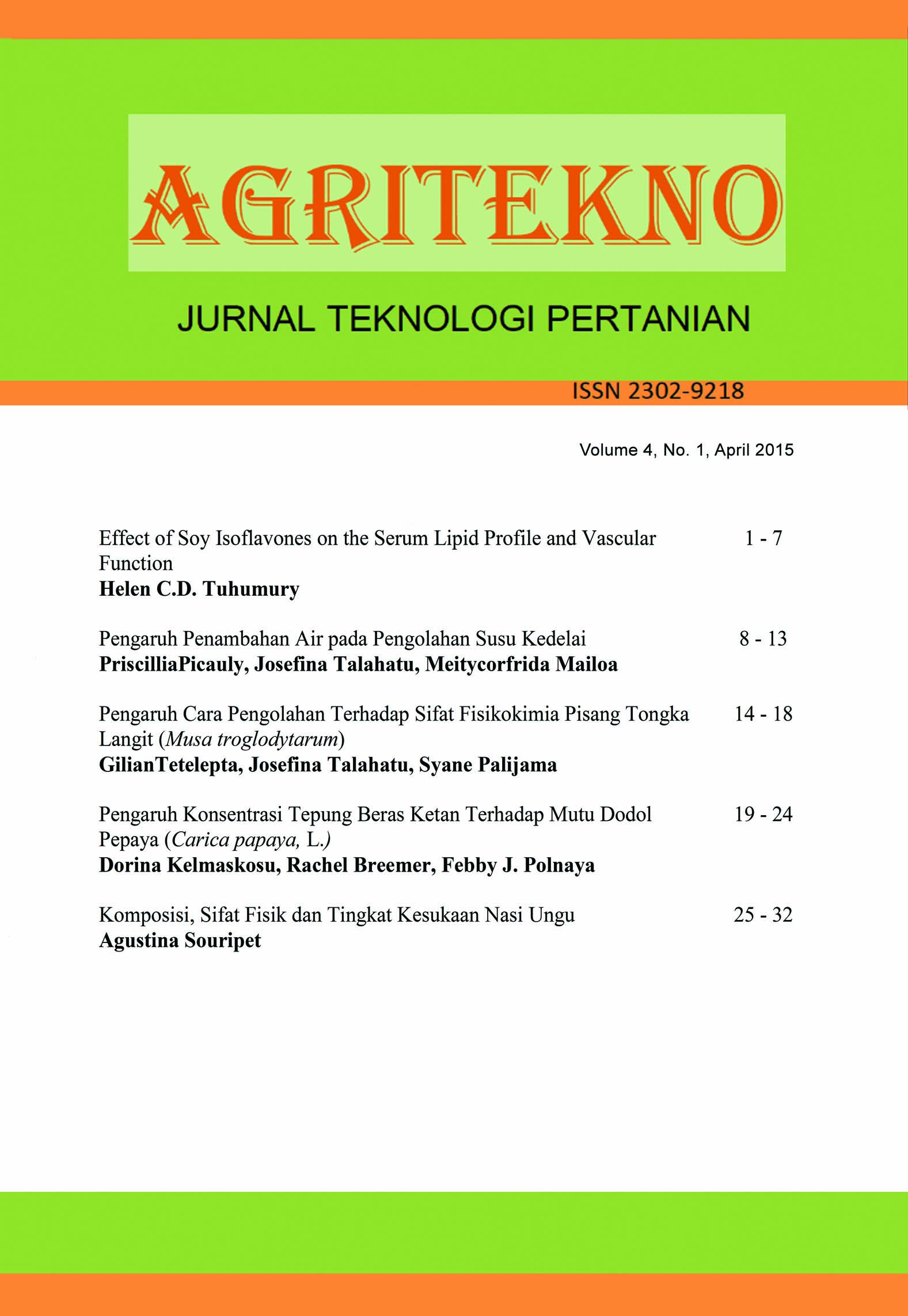 How to Cite
Tetelepta, G., Talahatu, J., & Palijama, S. (2015). Pengaruh Cara Pengolahan Terhadap Sifat Fisikokimia Pisang Tongka Langit (Musa troglodytarum). AGRITEKNO: Jurnal Teknologi Pertanian, 4(1), 14-18. Retrieved from https://ojs3.unpatti.ac.id/index.php/agritekno/article/view/34
Authors who publish with this journal agree to the following terms:
Authors retain copyright and grant the journal the right of first publication with the work simultaneously licensed under a Creative Commons Attribution License that allows others to share the work with an acknowledgement of the work's authorship and initial publication in this journal.
Authors are able to enter into separate, additional contractual arrangements for the non-exclusive distribution of the journal's published version of the work (e.g., post it to an institutional repository or publish it in a book), with an acknowledgement of its initial publication in this journal.
Authors are permitted and encouraged to post their work online (e.g., in institutional repositories or on their website) prior to and during the submission process, as it can lead to productive exchanges, as well as earlier and greater citation of published work (See The Effect of Open Access).