KARAKTERISTIK SIFAT-SIFAT KIMIA DAN ORGANOLEPTIK KUE KERING BERBAHAN DASAR PATI SAGU, UBI KAYU, UBI JALAR DAN KELADI
Febby J Polnaya

Jurusan Teknologi Hasil Pertanian, Fakultas Pertanian, Universitas Pattimura

http://orcid.org/0000-0002-7750-478X

Rachel Breemer

Jurusan Teknologi Hasil Pertanian, Fakultas Pertanian, Universitas Pattimura
Keywords:
types of starch, proximate composition, sensory analysis, cookies
Abstract
The purpose of this research was to characterize chemical and sensory properties (color, texture, taste and liking) of starch-based sago, cassava, sweet potato and cocoyam cookies. Analysis of cookies include moisture content, ash, fat, protein, crude fiber and sensory analysis including color, texture, taste and likeness). The proximate composition indicated that the water content of cookies varied between 1.48 to 2.05%, ash content of 0.65 to 0.72%, 19.23 to 21.76% of fat, crude fiber from 0.41 to 0.71% and 1.33 to 2.42% of total protein. Based on organoleptic tests, the color of cookies was yellow to brownish-yellow, with crispy texture, the taste was sweet and were mostly preferred.
Downloads
Download data is not yet available.
References
[AACC] American Association of Cereal Chemists. 1995. Approved Methods of the American Association of Cereal Chemisty (9th ed.) St. Paul, Minnesota, USA.

Almatsier, S. 2001. Prinsip Dasar Ilmu Gizi. PT Gramedia Pustaka Utama. Jakarta.

Augustyn, G.H., F.J. Polnaya, & A. Parinussa. 2007. Karakterisasi beberapa sifat pati ubi kayu (Manihot esculenta, Crantz). BIAM 8: 35-39.

BSN Badan Standarisasi Nasional. 2011. Biskuit. SNI 2973-2011. Jakarta.

Buckle, K.A., R.A. Edwards, G.H. Fleet, & M. Wooton. 1987. Ilmu Pangan. Penerbit Universitas Indonesia. Cetakan Pertama. Jakarta. Halaman 355-362.

Harris, R.S. 1989. Evaluasi Gizi Pada Pengolahan Bahan Pangan. Penerbit ITB. Bandung.

Hartati, M.E. 2012. Pengaruh penambahan pati jahe hasil samping pembuatan jahe instan pada mutu kue kering. Rekapangan 6: 24-31.

Kifayah, R. & Basori. 2015. Cookies berbasis pati garut (Marantha arundinaceae L.) dengan tepung bekatul dan tepung whole wheat sebagai sumber serat. Nabatia 12: 63-71.

Polnaya, F.J., R. Breemer, G.H. Augustyn, & H.C.D. Tuhumury. 2015. Karakteristik sifat-sifat fisiko-kimia pati ubi jalar, ubi kayu, keladi dan sagu. Agrinimal 5: 37-42.

Priyanto, G. 1988. Teknologi Pengawetan Pangan. PAU UGM. Yogyakarta.

Silfia. 2012. Pengaruh substitusi tepung pisang terhadap mutu kue kering. Jurnal Litbang Industri 2: 43-49.

Whistler, R.L., J.N. BeMiller, & E.F. Paschall. 1984. Starch, Chemistry and Technology. Academic Press Inc. Toronto.

Winarno, F.G. 1989. Enzim Pangan. Gramedia. Jakarta.

Winarno, F.G. 1997. Kimia Pangan dan Gizi. Gramedia. Jakarta.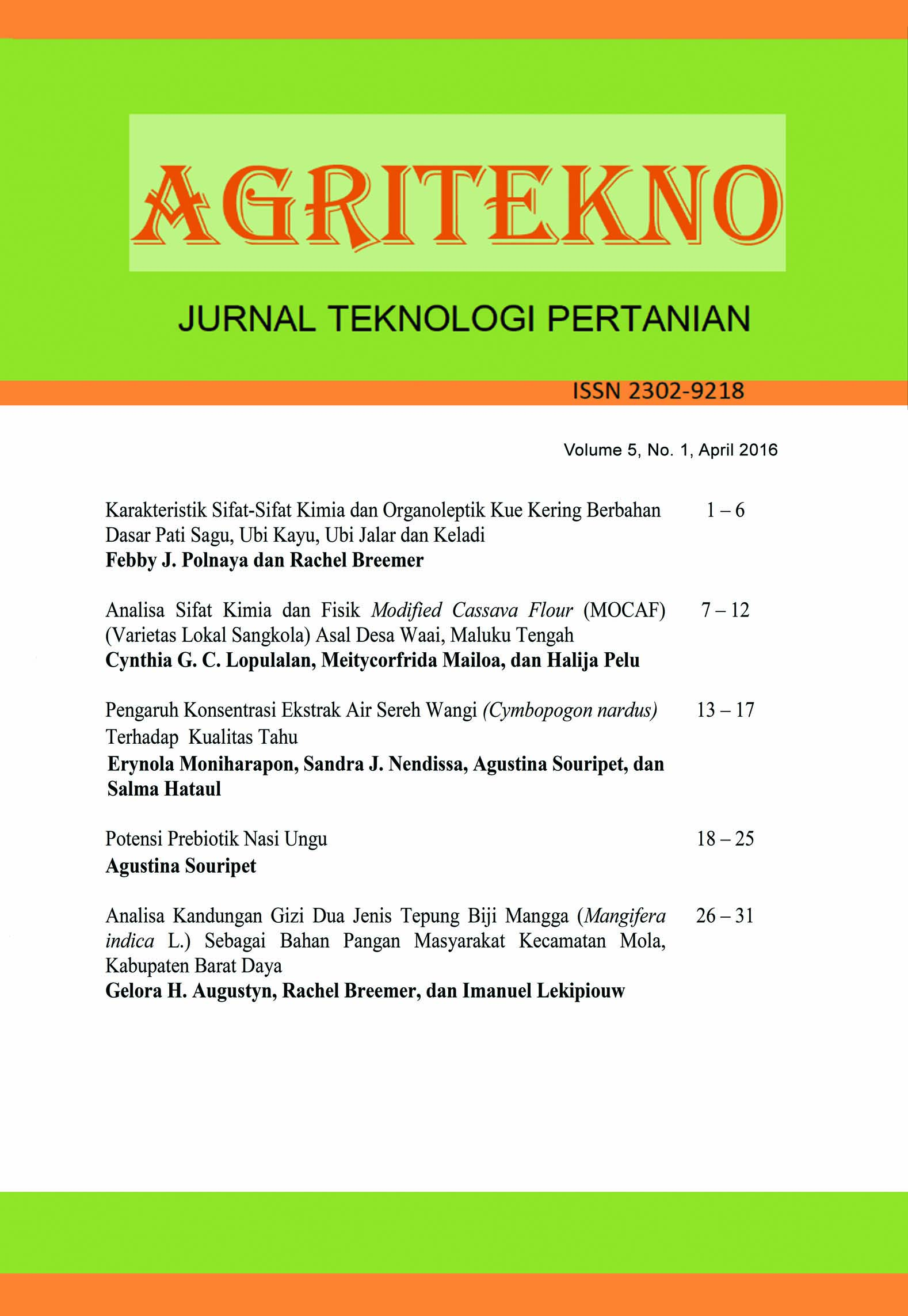 How to Cite
PolnayaF., & BreemerR. (2016). KARAKTERISTIK SIFAT-SIFAT KIMIA DAN ORGANOLEPTIK KUE KERING BERBAHAN DASAR PATI SAGU, UBI KAYU, UBI JALAR DAN KELADI. AGRITEKNO: Jurnal Teknologi Pertanian, 5(1), 1-6. https://doi.org/10.30598/jagritekno.2016.5.1.1
Authors who publish with this journal agree to the following terms:
Authors retain copyright and grant the journal the right of first publication with the work simultaneously licensed under a Creative Commons Attribution License that allows others to share the work with an acknowledgement of the work's authorship and initial publication in this journal.
Authors are able to enter into separate, additional contractual arrangements for the non-exclusive distribution of the journal's published version of the work (e.g., post it to an institutional repository or publish it in a book), with an acknowledgement of its initial publication in this journal.
Authors are permitted and encouraged to post their work online (e.g., in institutional repositories or on their website) prior to and during the submission process, as it can lead to productive exchanges, as well as earlier and greater citation of published work (See The Effect of Open Access).