PENGARUH KONSENTRASI GULA TERHADAP ORGANOLEPTIK DAN SIFAT KIMIA ANGGUR BUAH TOMI-TOMI (Flacourtia inermis Roxb)
Rachel Breemer

Jurusan Teknologi Hasil Pertanian, Fakultas Pertanian, Universitas Pattimura

Erynola Moniharapon

Jurusan Teknologi Hasil Pertanian, Fakultas Pertanian, Universitas Pattimura

James Nimreskosu

Jurusan Teknologi Hasil Pertanian, Fakultas Pertanian, Universitas Pattimura
Keywords:
fruit grape, sugar concentrate, fermentation, alcohol, tomi-tomi
Abstract
This research was aimed to determine the exact sugar concentration on the organoleptic and chemical properties of tomi-tomi fruit wine. A completely randomized experimental design with three levels sugar concentration 30, 40, and 50% were repeat three times therefore there were a total of nine experimental units. Result showed that 50% sugar concentration had the best organoleptic characteristic that was able to produce wine having 1,27% ethyl alcohol, 21,23% sugar content and a pH of 3,6.
Downloads
Download data is not yet available.
References
Ariyanto, H.D., F. Hidayatulloh, dan J. Murwono. 2013. Pengaruh penambahan gula terhadap produktivitas alkohol dalam pembuatan wine berbahan apel buang (reject) dengan menggunakan Nopkor MZ.11. Jurnal Teknologi Kimia dan Industri 2: 226-232.

[BSN] Badan Standardisasi Nasional. 1999. SNI Anggur Rendah Alkohol No 01-6103-1999.

Gaman, P.M. dan K.B. Sherrington. 1992. Ilmu Pangan: Pengantar Ilmu Pangan Nutrisi dan Mikrobiologi, Edisi Kedua. Diterjemahkan dari Buku The Service of Food, an Introduction to Food Science, Nutrition and Microbiology oleh Murdijati Gardjito, dkk. Gadjah Mada University Press. Yogyakarta

Gunam, I.B.W. dan L.P. Wrasiati. 2009. Pengaruh jenis dan jumlah penambahan gula pada karakteristik wine salak. Agrotekno 15: 12-19.
Kourkoutas, Y., M. Kanellaki, A.A. Koutinas, and C. Tzia. 2006. Effect of storage of immobilized cells at ambient temperature on volatile by-products during wine-making. Journal of Food Engineering 74: 217– 223

Pawignya, H., T.W. Widayati, D. Putra, dan P. Akbar. 2010. Tinjauan Kinetika Pembuatan Rose Wine. Prosiding Seminar Nasional Teknik Kimia "Kejuangan". Universitas Pembangunan Nasional Veteran. Yogyakarta. E07: 1-8.

Rahayu, E.S. dan K.R. Kuswanto. 1988. Teknologi Pengolahan Minuman Beralkohol. PAU Pangan dan Gizi. Universitas Gadjah Mada, Yogyakarta

Rubianty dan B. Kaseger. 1985. Kimia Pangan. Badan Kerja Sama Perguruan Tinggi Negeri Indonesia Bagian Timur. Ujung Pandang.

Said, E.G. 1987. Teknologi Fermentasi. CV Rajawali. Jakarta.

Santi, S.S. 2008. Pembuatan alkohol dengan proses fermentasi buah jambu mete oleh khamir Sacharomices cerevisiae. Jurnal Penelitian Ilmu Teknik 8: 104-111

Wahono, S.K., E. Damayanti, dan V.T. Rosyida. 2011. Laju Pertumbuhan Saccharomyces cereviseae Pada Proses Fermentasi Pembentukan Bioetanol dari Biji Sorgum (Sorghum bicolor L.). Seminar Rekayasa Kimia dan Proses. D-04: 1–6.

Widiastuti, D. dan P. Eska. 2010. Proses Pembuatan Anggur dari Buah Rambutan. Jurusan Teknik Kimia Fakultas Teknik, Universitas Diponegoro. Semarang.

Winarno, F.G. 2002. Kimia Pangan dan Gizi. Gramedia Pustaka Utama. Jakarta.

Winarno F.G. 2004. Kimia Pangan dan Gizi. PT Gramedia Pustaka Utama. Jakarta.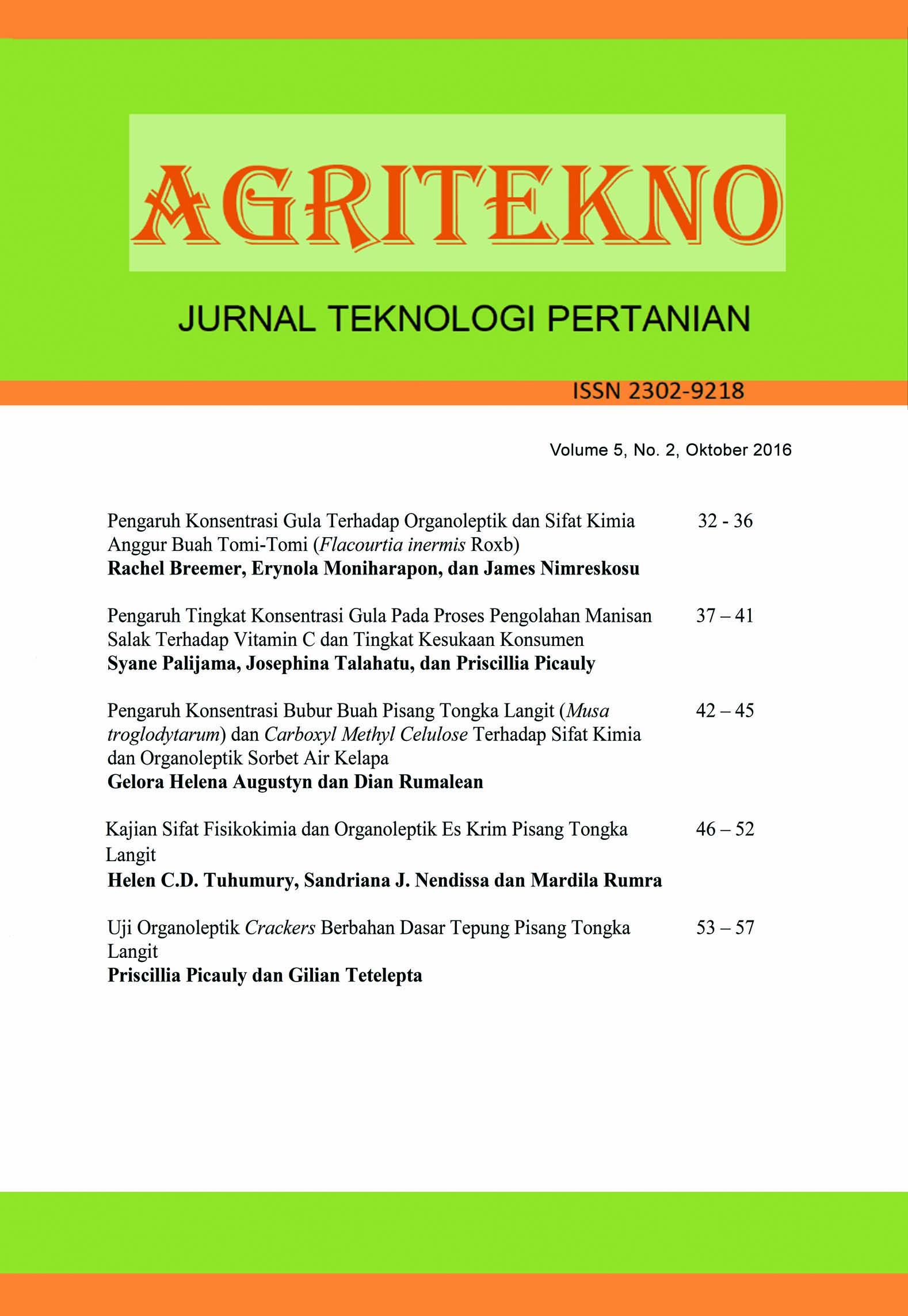 How to Cite
BreemerR., MoniharaponE., & NimreskosuJ. (2016). PENGARUH KONSENTRASI GULA TERHADAP ORGANOLEPTIK DAN SIFAT KIMIA ANGGUR BUAH TOMI-TOMI (Flacourtia inermis Roxb). AGRITEKNO: Jurnal Teknologi Pertanian, 5(2), 32-36. https://doi.org/10.30598/jagritekno.2016.5.2.32
Authors who publish with this journal agree to the following terms:
Authors retain copyright and grant the journal the right of first publication with the work simultaneously licensed under a Creative Commons Attribution License that allows others to share the work with an acknowledgement of the work's authorship and initial publication in this journal.
Authors are able to enter into separate, additional contractual arrangements for the non-exclusive distribution of the journal's published version of the work (e.g., post it to an institutional repository or publish it in a book), with an acknowledgement of its initial publication in this journal.
Authors are permitted and encouraged to post their work online (e.g., in institutional repositories or on their website) prior to and during the submission process, as it can lead to productive exchanges, as well as earlier and greater citation of published work (See The Effect of Open Access).