PENGARUH KONSENTRASI RAGI Saccharomyces cerevisiae DAN LAMA FERMENTASI TERHADAP KUALITAS CUKA TOMI-TOMI (Flacourtia inermis)
Sandra J Nendissa

Jurusan Teknologi Hasil Pertanian, Fakultas Pertanian, Universitas Pattimura

Rachel Breemer

Jurusan Teknologi Hasil Pertanian, Fakultas Pertanian, Universitas Pattimura

Nikholaus Melamas

Jurusan Teknologi Hasil Pertanian, Fakultas Pertanian, Universitas Pattimura
Keywords:
tomi-tomi, vinegar, yeast Saccharomyces cereviseae, fermentation
Abstract
This objectives of this research were both to study and determine the best level of concentration of yeast Saccharomyces cereviseae and period of fermentation on the quality of tomi-tomi vinegar (Flacourtia inermis). A completely randomized experimental design with two factors of treatment was applied in this research. The first factor was concentration of yeast S. cereviseae having four levels of tretament, i.e.: without the addition of yeast 0.5, 1 and 1.5 g yeast. The second factor was period fermentation with 1, 2, 3, 4, and 5 weeks. The result indicated that the concentration of yeast S. cereviseae 1.5 g and period fermentation 5 week produced a good tomi-tomi vinegar with total acids 51.22%, total dissolved solids 8.35, total sugar 8.07% and pH 5.40.
Downloads
Download data is not yet available.
References
(BSN) Badan Standarisasi Nasional. 1996. Cuka Fermentasi. Jakarta (ID) : SNI 01-4371-1996.
Anton. 2000. Usaha Cuka Apel. Gramedia. Jakarta.
AOAC. 1998. Official Methods of Analysis of the Association Analytical Chemistry. Washington: Association of Official Analytical Chemistry.
AOAC. 2002. Official Methods of Analysis of the Association Analytical Chemistry. Washington: Association of Official Analytical Chemistry.
Buckle, K.A., A. Edward, G.H. Fleet & M. Wootton. 1987. Ilmu Pangan. Universitas Indonesia Press. Jakarta.
Efendi, K. 2002. Pusat Penelitian Holtikultura dan Aneka Tanaman. Jakarta.
Hui, Y.H. & E. Ö. Evranuz. 2012. Handbook of Animal Based Fermented Food and Beverage Technology-Second Edition. CRC Press. New York
Muljono, J. & A.A. Daewis. 1990. Teknologi Fermentasi. Pusat Antara Universitas Bioteknologi. Institut Pertanian Bogor. Bogor.
Naidu, A.S. 2000. Natural Food Antimicrobia Systems. CRC Press, USA.
Purbaya, J.R. 2002. Mengenal dan Memanfaatkan Khasiat Madu Alami. Pionir Jaya. Bandung
Rahman, A. 1992. Teknologi Fermentasi. Penerbit Arcan, Jakarta.
Reed, G. & T.W. Nagodawithana. 1991. Yeast Technology-Second Edition. University Michigan. Avi publisher.
Sukarini, I.A.M. 2006. Produksi dan Komposisi Air Susu Kambing Peranakan Etawah yang Diberi Tambahan Konsentrat Pada Awal Laktasi. Majalah Ilmiah Peternakan ISSN: 0853-8999.
Tarigan, J. 1990. Pengantar Mikrobiologi. P2LPTK. Jakarta.
Waites, M.J., N.L. Morgan, J.S. Rockey & H. Gary. 2001. Industrial Microbiology: An Introduction. Blackwell science. USA.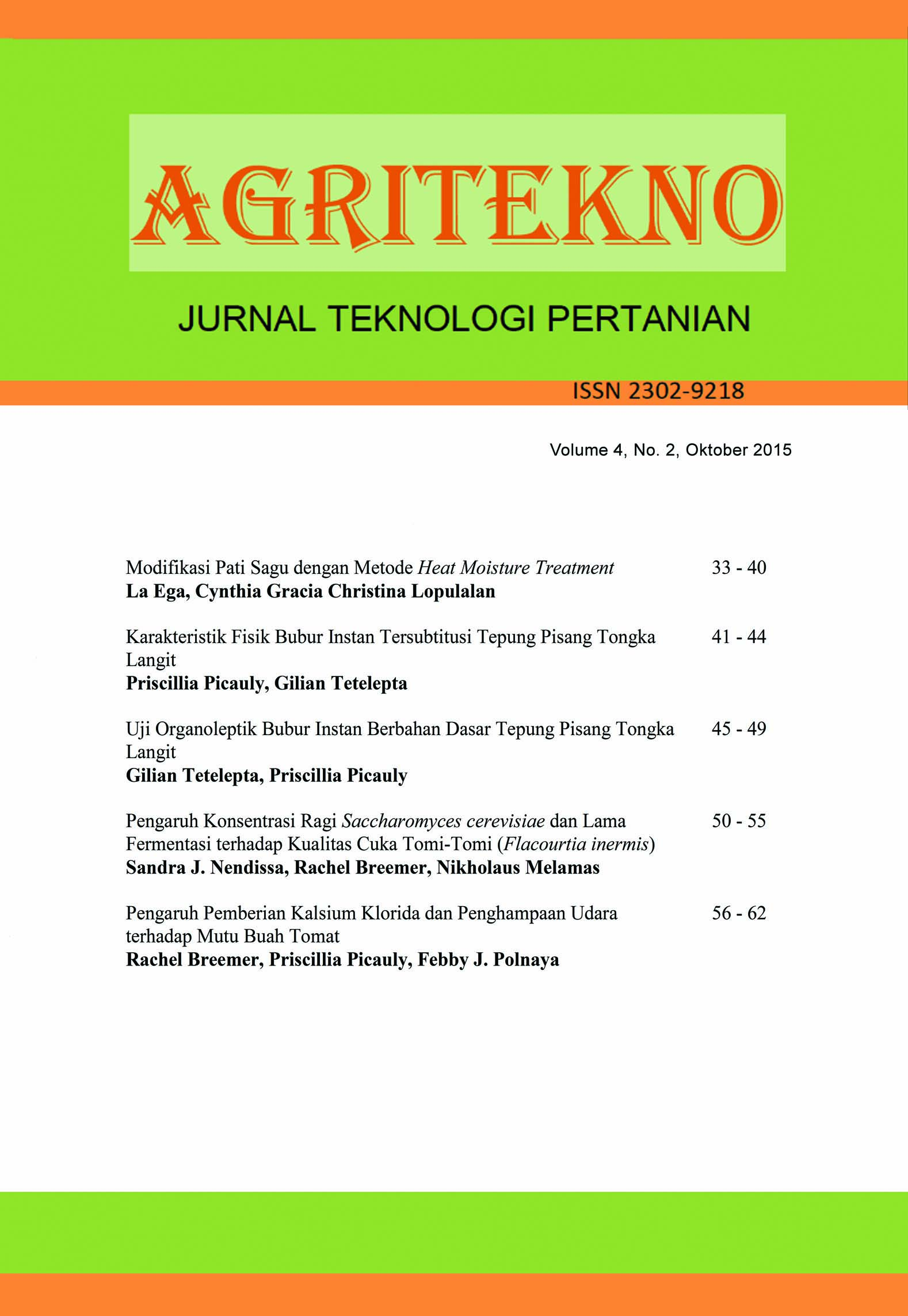 How to Cite
Nendissa, S., Breemer, R., & Melamas, N. (2015). PENGARUH KONSENTRASI RAGI Saccharomyces cerevisiae DAN LAMA FERMENTASI TERHADAP KUALITAS CUKA TOMI-TOMI (Flacourtia inermis). AGRITEKNO: Jurnal Teknologi Pertanian, 4(2), 50-55. Retrieved from https://ojs3.unpatti.ac.id/index.php/agritekno/article/view/31
Authors who publish with this journal agree to the following terms:
Authors retain copyright and grant the journal the right of first publication with the work simultaneously licensed under a Creative Commons Attribution License that allows others to share the work with an acknowledgement of the work's authorship and initial publication in this journal.
Authors are able to enter into separate, additional contractual arrangements for the non-exclusive distribution of the journal's published version of the work (e.g., post it to an institutional repository or publish it in a book), with an acknowledgement of its initial publication in this journal.
Authors are permitted and encouraged to post their work online (e.g., in institutional repositories or on their website) prior to and during the submission process, as it can lead to productive exchanges, as well as earlier and greater citation of published work (See The Effect of Open Access).