ANALISA KANDUNGAN GIZI DUA JENIS TEPUNG BIJI MANGGA (Mangifera indica L) SEBAGAI BAHAN PANGAN MASYARAKAT KECAMATAN MOLA, KABUPATEN MALUKU BARAT DAYA
Gelora H Augustyn

Jurusan Teknologi Hasil Pertanian, Fakultas Pertanian, Universitas Pattimura

Rachel Breemer

Jurusan Teknologi Hasil Pertanian, Fakultas Pertanian, Universitas Pattimura

Imanuel Lekipiouw

Jurusan Teknologi Hasil Pertanian, Fakultas Pertanian, Universitas Pattimura
Keywords:
seed manggo, manggo flour, quality
Abstract
Manggo (Mangifera indica) seed is one of the high yield carbohydrate source and can be functioned both as food and as an alternative food source. Processing of mango seed into flour can not only improve food diversification but also can made it to be classified as high valued commodities. In addition flour made from mango seed are meant to reduce the number of spoiled seed as well as discarded seed, and it can also be used as basic ingreditent for various processed product. This research was aimed both to study and to know the nutritional content two types of mango seed flours. A Completely Randomized Experimental Design (CRD) with types of mango seed as treatment was applied. The levels of the treatment including "Madu†mango seed flour and "Arummanis†mango seed flour. Observed variables were moisture, ash, carbohydrate, protein, colour and aroma. Result showed that flour made from different type of mango seed had difference multitional content. Flour from "Madu†mango seed had the moisture, ash, carbohydrate, and protein content of 15.00, 1.06, 48.11, and 3.48%, respectively. Whereas flour from "Arummanis†seed had the respected values of 12.34, 0.97, 52.74, and 3.40%, consectively. The colour of the flour was found to be white (2.75) and it had the aroma of mango imparted (2.71).
Downloads
Download data is not yet available.
References
[AOAC] Official Method of Analysis. 1995. Association of Official Analytical Chemistry. Washington.

Antarlina, S.S. & J.S. Utomo. 1999. Jenis-jenis Ubi Jalar. Diakses pada tanggal 11 Januari 2016 dari http://simonbwidjanarko.files. wordpress.com/2008/06/ubijalar/-22.pdf.

Apandi, M. 1984. Teknologi Buah dan Sayur. Penebar Swadaya. Jakarta.

Desroiser, W. 1998. Teknologi Pengawetan Pangan. Universitas Indonesia. Jakarta.

Fardiaz, S. 1989. Mikrobiologi Pangan I dan Pangan Gizi. Penerbit Institut Pertanian Bogor. Bogor.

Orno, B. 2007. Rawan Pangan Tidak Melanda Wilayah–wilayah Terselatan MTB. Maluku. Diakses pada tanggal 11 Januari 2016 dari http://www.kapanlagi.com/2007.

Padmawinata, K. 1997. Kimia Makanan. Edisi Kedua. Penerbit ITB. Bandung.

Purnomo, H. 1995. Akivitas Air dan Peranannya Dalam Pengawetan Pangan. Universitas Indonesia Press. Jakarta.

Soekarto, S.T. 1985. Penilaian Organoleptik Untuk Industri Pangan dan Hasil Pertanian. Bharatara Karya Aksara. Jakarta.

Soemarno. 2003. Rancangan Teknologi Proses Pengolahan Tapioka dan Produk-Produknya. Diakses pada tanggal 11 Januari 2016 dari http://image.soemarno.multiply.com/gttachment.

Sudarmadji, S., B. Haryono, & Suhardi. 1996. Analisis Bahan Makanan dan Pertanian. Liberty Yogyakarta bekerja sama dengan Pusat antar Universitas Pangan dan Gizi. Universitas Gadjah Mada. Yogyakarta.

Satuhu, S. 2006. Bertanam Mangga dan Pascapanen Mangga. Penerbit Kanisius. Jakarta.

Wardani, L.A. 2012. Validasi Metode Analisis dan Penentuan Kadar Vitamin C pada Minuman Buah Kemasan dengan Spektrofotometri UV Visible. Skripsi. FMIPA UI. Jakarta.

Widjanarko, S. 2008. Tepung dan Komposisi Kimianya. Diakses pada tanggal 11 Januari 2016 dari http://simonbwidjanarko. wordpress.com.

Widowati, S, N. Richana, P.R. Suarni, & I.G.P. Sarasutha. 2001. Studi Potensi dan Peningkatan Dayaguna Sumber Pangan Lokal Untuk Penganekaragaman Pangan di Sulawesi Selatan. Laporan Hasil Penelitian. Puslitbangtan, Bogor.

Winarno, F.G. 2004. Kimia Pangan dan Gizi. PT. Gramedia Pustaka Utama. Jakarta.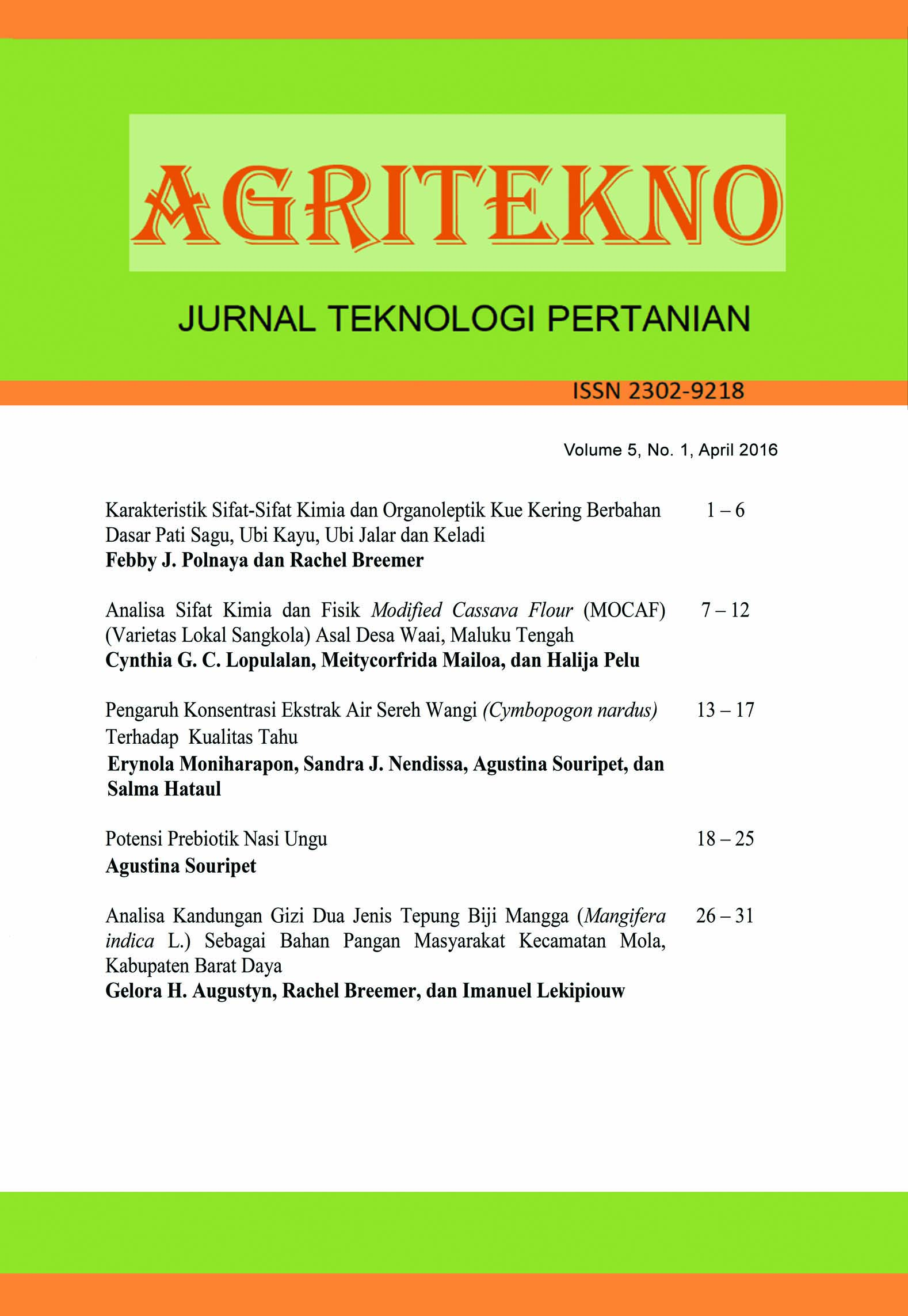 How to Cite
AugustynG., BreemerR., & LekipiouwI. (2016). ANALISA KANDUNGAN GIZI DUA JENIS TEPUNG BIJI MANGGA (Mangifera indica L) SEBAGAI BAHAN PANGAN MASYARAKAT KECAMATAN MOLA, KABUPATEN MALUKU BARAT DAYA. AGRITEKNO: Jurnal Teknologi Pertanian, 5(1), 26-31. https://doi.org/10.30598/jagritekno.2016.5.1.26
Authors who publish with this journal agree to the following terms:
Authors retain copyright and grant the journal the right of first publication with the work simultaneously licensed under a Creative Commons Attribution License that allows others to share the work with an acknowledgement of the work's authorship and initial publication in this journal.
Authors are able to enter into separate, additional contractual arrangements for the non-exclusive distribution of the journal's published version of the work (e.g., post it to an institutional repository or publish it in a book), with an acknowledgement of its initial publication in this journal.
Authors are permitted and encouraged to post their work online (e.g., in institutional repositories or on their website) prior to and during the submission process, as it can lead to productive exchanges, as well as earlier and greater citation of published work (See The Effect of Open Access).