KARAKTERISTIK FISIK BUBUR INSTAN TERSUBTITUSI TEPUNG PISANG TONGKA LANGIT
Priscillia Picauly

Jurusan Teknologi Hasil Pertanian, Fakultas Pertanian, Universitas Pattimura

Gilian Tetelepta

Jurusan Teknologi Hasil Pertanian, Fakultas Pertanian, Universitas Pattimura
Keywords:
tongka langit banana, instant porridge, bulk density, water absorption index, water solubility index
Abstract
Instant porridge is sereal-based food that can be combined with fruits so it will contain better nutrition. To improve the nutrition value of instant porridge then substitute of one kind of banana originally from Maluku is Tongka langit banana. A good quality of instant porridge has a high nutrition and a best physical property. This research aims to characterize of the physical properties instant porridge that are substituted by Tongka langit banana flour and the rice flour. The design that is applied is completely randomized design with four levels of treatment in comparing the substitution between Tongka langit banana flour and the rice flour as follow 20%, 40%, 60% and 80%. According to the result of this research, the physical characteristic of instant porridge that are substituted by Tongka langit banana flour are bulk density (0.84-0.89 g/mL), water absorption index (3.49-4.05%), and water solubility index (0.02-0.04%).
Downloads
Download data is not yet available.
References
Anderson, R.A., H.F. Conway, V.F. Peifer & E.L. Griffin. 1969. Roll and extrusion cooking of grain sorghum grain. Journal of Cereal Science 14: 372-375.
Condro, N. 2010. Studi Daya Cerna Protein Bubur Instan Berbahan Baku Sorgum Lokal Varietas Coklat (Sorghum bicolor L. moench) Terfermentasi. [Tesis]. Universitas Brawijaya. Malang.
Ding, Q.B., P. Ainsworth, G. Tucker & H. Marson. 2005. The effect of extrusion conditions on the physicochemical conditions and sensory characteristics of rice-expanded snack. Journal of Food Engineering 66: 283-289.
Gandhi, N., B. Singh., K. Priya & A. Kaur. 2013. Development of mango flavoured instant porridge using extrusion technology. Journal of Food Technology 11: 44-51.
Gandhi, N. & B. Singh. 2015. Study of extrusion behaviour and porridge making characteristics of wheat and guava blends. Journal of Food Science Technology 52: 3030-3036.
Larrea, M.A., Y.K. Chang & F.M. Bustos. 2005. Some functional properties of extruded orange pulp and its effect on the quality of cookies. LWT - Food Science and Technology 38: 213-220.
Loypimai, P. & A. Moongngarm. 2015. Utilization of pregelatinized banana flour as a functional ingredient in instant porridge. LWT - Food Science and Technology 52: 311–318.
Okaka, J.C. & N.N. Potter. 1979. Physicochemical and functional properties of cowpea powders processed to reduce beany flavour. Journal of Food Science 44: 1235-1240.
Picauly, P. & G. Tetelepta. 2015. Karakteristik kimia bubur instan tersubtitusi tepung pisang tongka langit. Jurnal Agroforestri 10: 122-126.
Rayas-Duarte, P., K. Majewska & C. Doetkott. 1998. Effect of extrusion process parameters on the quality of buckwheat flour mixes. Ceral Chemistry 75: 338-345.
Samson, E., F.S. Rondonuwu & H. Semangun. 2011. Kajian kandungan karatenoid buah pisang tongka langit (Musa troglodytarum). Prosiding Teknologi berkelanjutan, Desa Digital Menuju Kedaulatan dan Kesejahteraan Masyarakat. Hal. 105-110.
Singh, B., K.S. Sekhon & N. Singh. 2007. Effect of moisture, temperature and level of pea grits on extrusion behavior and product characteristics of rice. Food Chemistry 100: 198-202.
Srikaeo, K. & P.A. Sopade. 2010. Functional properties and starch digestibility of instant jasmine rice porridges. Carbohydrate Polymers 82:952–957.
Wang, Y., M. Zhang & A.S. Mujumdar. 2012. Influence of green banana flour substitution for cassava starch on the nutrition, color, texture and sensory quality in two types of snacks. LWT - Food Science and Technology 47: 175-182.
Wirakartakusumah, M.A., D. Hermanianto & N. Andarwulan. 1989. Prinsip Teknik Pangan. PAU Pangan dan Gizi IPB. Bogor.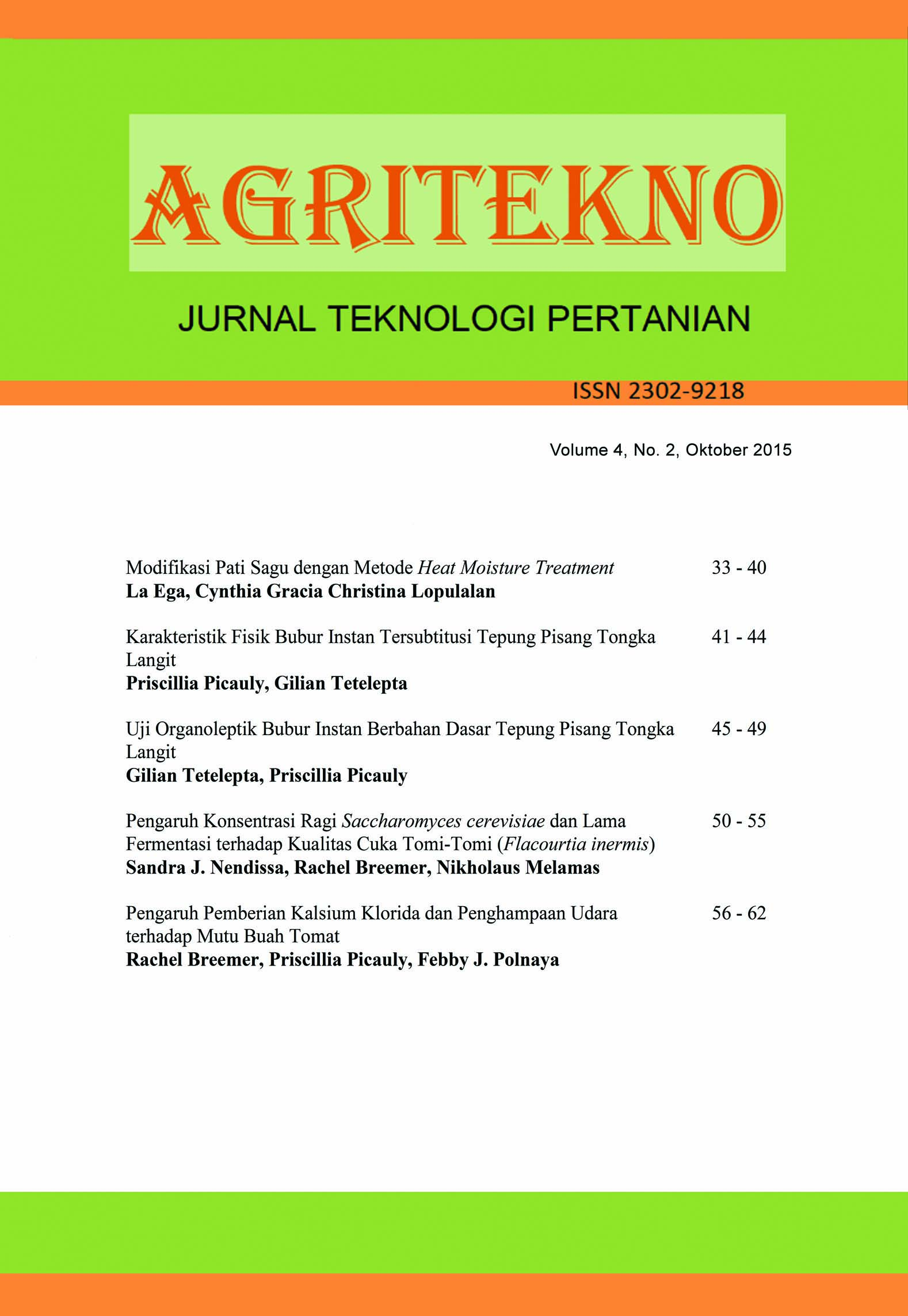 How to Cite
Picauly, P., & Tetelepta, G. (2015). KARAKTERISTIK FISIK BUBUR INSTAN TERSUBTITUSI TEPUNG PISANG TONGKA LANGIT. AGRITEKNO: Jurnal Teknologi Pertanian, 4(2), 41-44. Retrieved from https://ojs3.unpatti.ac.id/index.php/agritekno/article/view/30
Authors who publish with this journal agree to the following terms:
Authors retain copyright and grant the journal the right of first publication with the work simultaneously licensed under a Creative Commons Attribution License that allows others to share the work with an acknowledgement of the work's authorship and initial publication in this journal.
Authors are able to enter into separate, additional contractual arrangements for the non-exclusive distribution of the journal's published version of the work (e.g., post it to an institutional repository or publish it in a book), with an acknowledgement of its initial publication in this journal.
Authors are permitted and encouraged to post their work online (e.g., in institutional repositories or on their website) prior to and during the submission process, as it can lead to productive exchanges, as well as earlier and greater citation of published work (See The Effect of Open Access).