SUBTITUSI TEPUNG TERIGU DENGAN TEPUNG PISANG TONGKA LANGIT UNTUK PEMBUATAN CRACKERS
Gilian Tetelepta

Jurusan Teknologi Hasil Pertanian, Fakultas Pertanian, Universitas Pattimura

Priscillia Picauly

Jurusan Teknologi Hasil Pertanian, Fakultas Pertanian, Universitas Pattimura
Keywords:
crackers, tongka langit banana
Abstract
Tongka langit banana contain high nutrients including pro vitamin A and a total of carotene. However, it is also a perishable product, and would deteriorate if not processed or not completely consumed. Therefore, this banana should be processed into diverse products. It can be processed into intermediate product such as flour, which can be further applied in crackers making. This research was conducted in two stages. First stage was the making of tongka langit banana flour and the second was crackers making. The crackers were made from tongka langit banana flour and wheat flour having different ratios, i.e. 20 %: 80 %; 40 %: 60 %; 60 %: 40 %; 80 %: 20 %. Variables observed on crackers including moisture, ash, protein, fat, dietary fiber and carbohydrate contents, as well as organoleptic properties of taste, aroma, colour, texture and overall likeness. Results showed that ratio of banana flour to wheat flour of 40%:60% produced crackers with moisture, ash, protein, fat, fiber, and carbohydrate contents of 4.60%, 4.46%, 6.64%, 17.54%, 1.18% and 4.60%, respectively. In addition, organoleptic test revealed that crackers made from 40% banana flour and 60% wheat flour were mostly liked by panelists in terms of taste, colour, aroma, texture and overall likeness.
Keywords: crackers, tongka langit banana
ABSTRAK
Pisang tongka langit kaya akan kandungan gizi antara lain mengandung provitamin A dan total karotenoid yang sangat tinggi. Namun pisang tongka langit mudah mengalami kerusakan jika tertunda pengolahannya atau tidak habis dikonsumsi, oleh karena itu perlu dilakukan upaya diversifikasi terhadap pisang tongka langit. Pisang tongka langit dapat diolah menjadi bahan setengah jadi berupa tepung yang dapat diaplikasikan menjadi produk crackers. Penelitian ini dilakukan dalam dua tahap, tahap I adalah pembuatan tepung pisang tongka langit dan tahap II adalah pembuatan crackers dari tepung pisang tongka langit dan tepung terigu dengan empat taraf perlakuan perbandingan subtitusi tepung pisang tongka langit dan tepung terigu yaitu masing-masing 20 %: 80 %; 40 %: 60 %; 60 %: 40 %; 80 %: 20 %. Pengamatan yang dilakukan pada crackers yaitu analisa kadar air, abu, protein, lemak, serat pangan, karbohidrat dan uji organoleptik yang meliputi rasa, aroma, warna, tekstur dan tingkat kesukaan secara keseluruhan. Hasil penelitian menunjukkan bahwa formula crackers tepung pisang tongka langit 40% : 60% memiliki nilai kadar air berkisar antara 4,60%, kadar abu 4,46%, protein 6,64%, lemak 17,54%, serat 1,18% dan karbohidrat 4,60%. Sedangkan uji organoleptik menunjukkan bahwa crackers tepung pisang tongka langit 40% : tepung terigu 60% memiliki rasa, warna, aroma, tekstur dan tingkat penerimaan secara keseluruhan yang disukai panelis.
Kata Kunci: crackers, pisang tongka langit
Downloads
Download data is not yet available.
References
Afianti, F. dan V. Indrawati. 2015. Pengaruh penambahan tepung ikan gabus (Ophiocephalus striatus) dan air terhadap sifat organoleptik crackers. E-journal Boga 4: 46-55.

AOAC. 2000. Official methods of analysis. Association of Official Analytical Chemist International 17th Ed, AOAC International, Gaithersburg.

Choo, C.L. and N. A. Aziz. 2010. Effects of banana flour and β-glucan on the nutritional and sensory evaluation of noodles. Food Chemistry 119: 34-40. https://doi.org/10.1016/j.foodchem.2009.05.004

David, O., E. Arthur, S.O. Kwadwo, E. Badu, and P. Sakyi. 2015. Proximate composition and some functional properties of soft wheat flour. International Journal of Innovative Research in Science, Engineering and Technology 4: 753-758. DOI: 10.15680/IJIRSET.2015.0402097

Loypimai, P. and A. Moongngarm. 2015. Utilization of pregelatinized banana flour as a functional ingredient in instant porridge. Food Science Technology 52: 311–318.

Manley, D. 2011. Manley's Technology of Biscuits, Crackers, and Cookies. Fourth Editon. Cambrigde: Woodhead Publishing Limited.

Mir, S.A., S.J. Don Bosco, M.A. Shah, S. Santhalakshmy, and M.M. Mir. 2017. Effect of apple pomace on quality characteristics of brown rice based cracker. Journal of the Saudi Society of Agricultural Science 16: 25-32. https://doi.org/10.1016/j.jssas.2015.01. 001

Owusu, D., I. Oduro, and W.O. Ellis. 2011. Development of crackers from cassava and sweetpotato flours using Moringa oliefera and Ipomoea batatas leaves as fortificant. American Journal of Food and Nutrition 1: 114-122. doi:10.5251/ajfn.2011.1.3.114.122

Passos, M.E.A.d., C.F.F. Moreira, M.T.B. Pacheco, I. Takase, M.L.M. Lopes, and V.L. Valente-Mesquita. 2013. Proximate and mineral composition of industrialized biscuits. Food Science and Technology 33: 323-331. https://dx.doi.org/10.1590/S0101-20612013005000046

Picauly, P. dan G. Tetelepta. 2015. Karakteristik kimia bubur instan tersubtitusi tepung pisang tongka langit. Agroforestri 10: 122-126.

Picauly, P. dan G. Tetelepta. 2016. Uji organoleptik crackers pisang tongka langit. Agritekno 5: 53-57. https://doi.org/10.30598/jagritekno.2016.5.2.53.

Samson, E., E.T. Apituley, dan D. Wakano. 2013. Analisa Lama Waktu Pemanasan Terhadap Stabilitas Pigmen Karotenoid Buah Pisang Tongka Langit (Musa troglodytarum) Ukuran Panjang. Prosiding FMIPA Universitas Pattimura.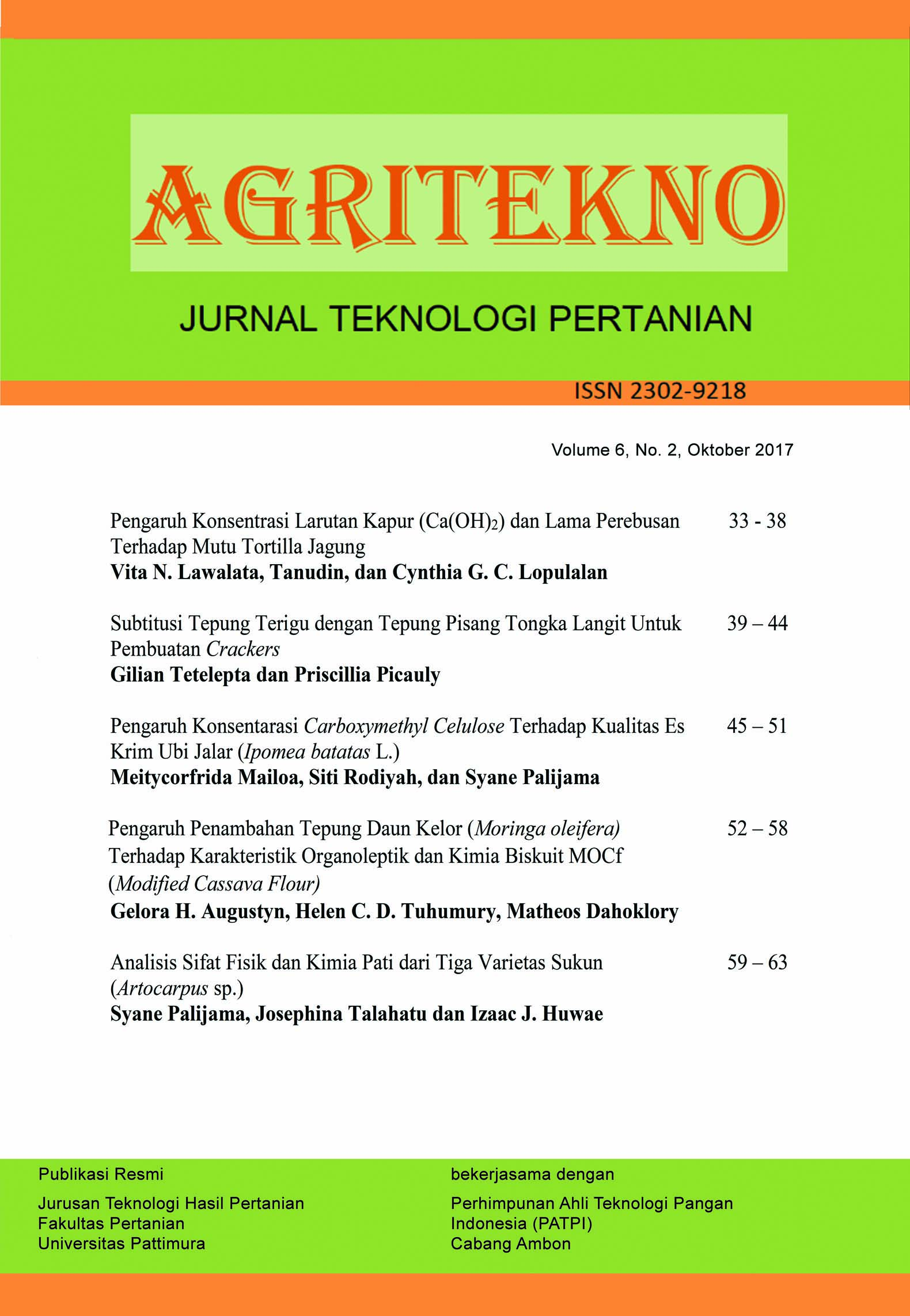 How to Cite
Tetelepta, G., & Picauly, P. (2017). SUBTITUSI TEPUNG TERIGU DENGAN TEPUNG PISANG TONGKA LANGIT UNTUK PEMBUATAN CRACKERS. AGRITEKNO: Jurnal Teknologi Pertanian, 6(2), 39-44. https://doi.org/10.30598/jagritekno.2017.6.2.39
Copyright (c) 2017 AGRITEKNO, Jurnal Teknologi Pertanian
This work is licensed under a Creative Commons Attribution-ShareAlike 4.0 International License.
Authors who publish with this journal agree to the following terms:
Authors retain copyright and grant the journal the right of first publication with the work simultaneously licensed under a Creative Commons Attribution License that allows others to share the work with an acknowledgement of the work's authorship and initial publication in this journal.
Authors are able to enter into separate, additional contractual arrangements for the non-exclusive distribution of the journal's published version of the work (e.g., post it to an institutional repository or publish it in a book), with an acknowledgement of its initial publication in this journal.
Authors are permitted and encouraged to post their work online (e.g., in institutional repositories or on their website) prior to and during the submission process, as it can lead to productive exchanges, as well as earlier and greater citation of published work (See The Effect of Open Access).