UJI ORGANOLEPTIK BUBUR INSTAN BERBAHAN DASAR TEPUNG PISANG TONGKA LANGIT
Gilian Tetelepta

Jurusan Teknologi Hasil Pertanian, Fakultas Pertanian, Universitas Pattimura

Priscillia Picauly

Jurusan Teknologi Hasil Pertanian, Fakultas Pertanian, Universitas Pattimura
Keywords:
tongka langit banana, instant porridge, organoleptic
Abstract
Pisang tongka langit (Musa troglodytarum) mempunyai manfaat kesehatan serta kandungan gizi yang tinggi. Buah pisang tongka langit dapat dijadikan bahan setengah jadi berupa tepung yang dapat disubtitusi dengan tepung beras menjadi bubur instan. Bubur instan merupakan makanan berbasis sereal yang dapat dikombinasikan dengan buah agar memiliki nilai gizi yang lebih baik. Bubur instan dengan kualitas yang baik harus memiliki nilai gizi yang tinggi, bermanfaat bagi kesehatan, dan dapat diterima secara sensorik. Penelitian ini bertujuan untuk mendapatkan produk bubur instan dengan mutu organoleptik yang dapat diterima oleh masyarakat. Rancangan yang digunakan yaitu rancangan acak lengkap dengan empat taraf perlakuan perbandingan subtitusi tepung pisang tongka langit dan tepung beras yaitu 20%:80%, 40%:60%, 60%:40%, 80%:20%. Berdasarkan hasil penelitian bubur instan tersubtitusi pisang tongka langit 60%:40% menunjukkan rasa, warna, aroma, tekstur dan tingkat penerimaan secara keseluruhan yang disukai panelis.
Downloads
Download data is not yet available.
References
Apriyantono. 2000. Analisis Kimia. IPB Press. Bogor.
Condro, N. 2010. Studi Daya Cerna Protein Bubur Instan Berbahan Baku Sorgum Lokal Varietas Coklat (Sorghum bicolor l. Moench) Terfermentasi. [Tesis]. Fakultas Teknologi Pertanian. Universitas Brawijaya. Malang.
Gandhi, N. & B. Singh. 2014. Study of extrusion behaviour and porridge making characteristics of wheat and guava blends. LWT - Food Science and Technology 10: 1007-13197.
Loypimai, P. & A. Moongngarm. 2015. Utilization of pregelatinized banana flour as a functional ingredient in instant porridge. LWT - Food Science and Technology 52: 311-318.
Ovando-Martinez, M., S. Sayago-Ayerdi, E. Agama-Acevedo, I. Goni & L.A. Bello-Perez. 2009. Unripe banana flour as an ingredient to increase the undigestible carbohydrates of pasta. Food Chemistry 113: 121-126.
Ploetz, R.C., A.K. Kepler, J. Daniells & S.C. Nelson. 2007. Banana and plantain-an overview wirh emphasis on pasific island cultivars, musaceae (banana family). Species profiles for pacific Island Agroforesty 1: 1-27.
Samson, E., F.S. Rondonuwu & H. Semangun. 2011. Kajian kandungan karotenoid buah pisang tongkat langit (Musa troglodytarum). Prosiding Teknologi berkelanjutan, Desa Digital Menuju Kedaulatan dan Kesejahteraan Masyarakat. Hal. 105-110.
Srikaeo, K. & P.A. Sopade. 2010. Functional properties and starch digestibility of instant jasmine rice porridges. Carbohydrate Polymer 82: 952-957.
Yunita, O., S. Saifuddin & U. Najamudin. 2014. Analisis daya terima bubur bekatul instan pada anak obesitas usia sekolah dasar di Makassar tahun 2014. Program Studi Ilmu Gizi Fakultas Kesehatan Masyarakat Universitas Hasanudin. Hal. 1-10.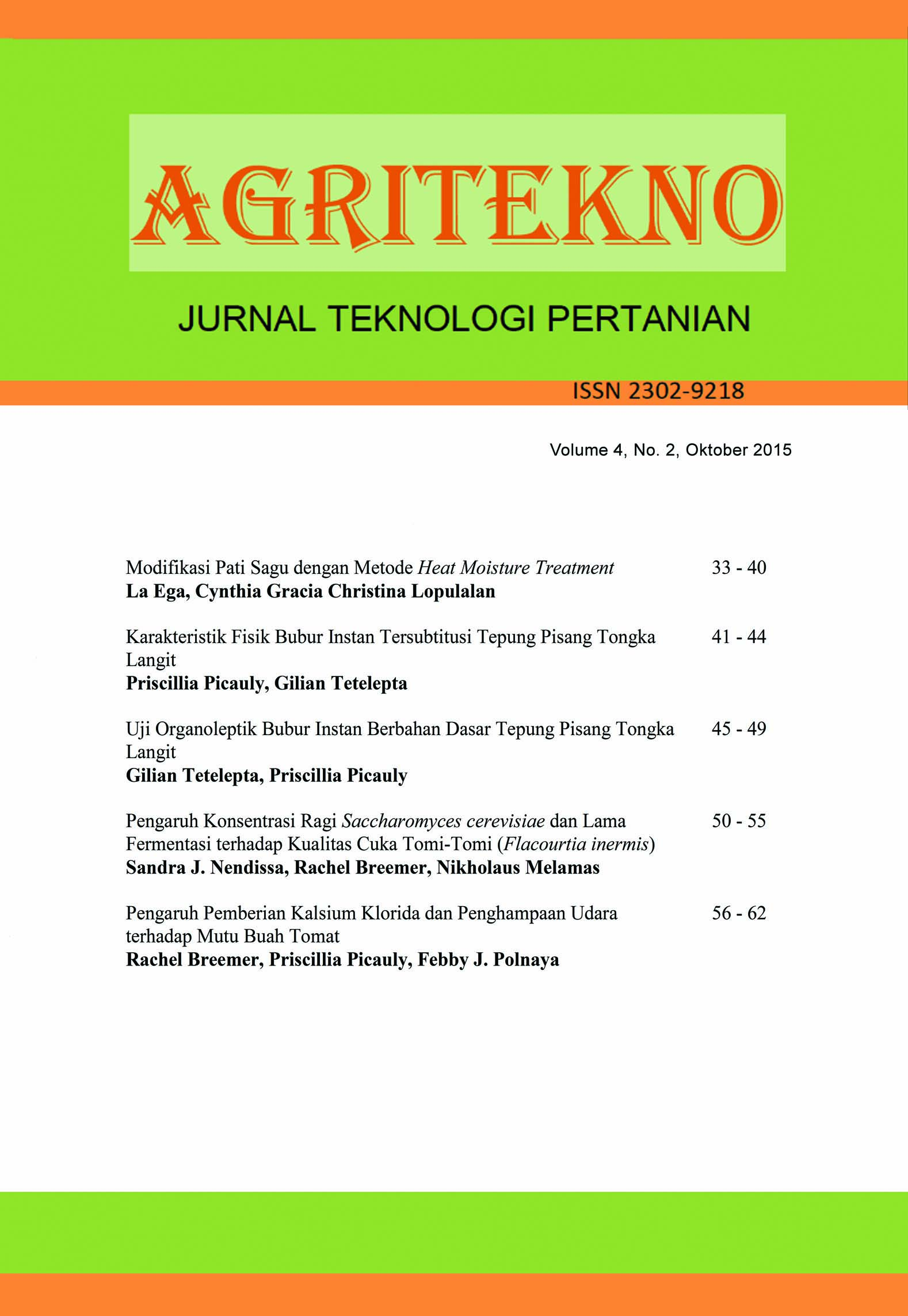 How to Cite
Tetelepta, G., & Picauly, P. (2015). UJI ORGANOLEPTIK BUBUR INSTAN BERBAHAN DASAR TEPUNG PISANG TONGKA LANGIT. AGRITEKNO: Jurnal Teknologi Pertanian, 4(2), 45-49. Retrieved from https://ojs3.unpatti.ac.id/index.php/agritekno/article/view/27
Authors who publish with this journal agree to the following terms:
Authors retain copyright and grant the journal the right of first publication with the work simultaneously licensed under a Creative Commons Attribution License that allows others to share the work with an acknowledgement of the work's authorship and initial publication in this journal.
Authors are able to enter into separate, additional contractual arrangements for the non-exclusive distribution of the journal's published version of the work (e.g., post it to an institutional repository or publish it in a book), with an acknowledgement of its initial publication in this journal.
Authors are permitted and encouraged to post their work online (e.g., in institutional repositories or on their website) prior to and during the submission process, as it can lead to productive exchanges, as well as earlier and greater citation of published work (See The Effect of Open Access).