DETEKSI FORMALIN PADA IKAN TERI (Stolephorus sp.) ASIN KERING YANG DIJUAL DI PASAR TRADISIONAL KOTA AMBON
-
Sherly Lewerissa

Universitas Pattimura

Jusuf Leiwakabessy

FAKULTAS PERIKANAN DAN ILMU KELAUTAN,UNIVERSITAS PATTIMURA

Esterlina Nanlohy

fakultas perikanan dan ilmu kelautan Universitas pattimura

Meigy Nelce Mailoa

Fakultas Perikanan dan Ilmu kelautan Universitas Pattimura
Keywords:
preservative, formaldehyde, qualitative test
Abstract
Background: A traditional processed product that is popular and very popular in Indonesia, namely salted fish, but public knowledge about salted fish that is safe and good for consumption is still lacking. This is proven by the fact that there are still many salted fish containing formaldehyde circulating and being consumed by the public. Many manufacturers or sellers add chemical additives or preservatives to get around this situation, one of which is formaldehyde. Based on the data, there is still a lot of use of dangerous food additives (formalin) in salted fish in several traditional and modern markets in cities in Indonesia. This happens due to the lack of knowledge of producers and sellers regarding food safety in the manufacturing process. For this reason, it is necessary to conduct research to detect formaldehyde in dried salted anchovies in Ambon.
Methods : This research was conducted in June 2022 with the sampling location at the Ambon City Traditional Market and sample analysis was carried out at the Fisheries Product Technology laboratory, FPIK Unpatti. The explorative method used to reveal reality is in accordance with the facts on the ground
Results: Qualitative formalin testing found 2 samples of salted anchovies sold in a traditional market in Ambon City were detected positive for containing formalin and 8 samples of salted anchovies were negative (no formalin detected).
Conclusion: salted anchovies that are detected positive for containing formalin are declared not to meet the health requirements set by PERMENKES RI No. 1168/Menkes/Per/X/1999 so it is not safe for consumption
Downloads
Download data is not yet available.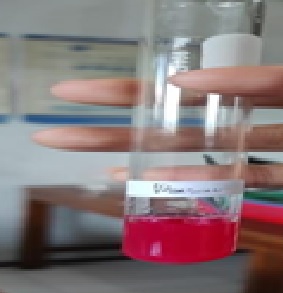 How to Cite
Lewerissa, S., Leiwakabessy, J., Nanlohy, E., & Mailoa, M. (2023). DETEKSI FORMALIN PADA IKAN TERI (Stolephorus sp.) ASIN KERING YANG DIJUAL DI PASAR TRADISIONAL KOTA AMBON. BIOPENDIX: Jurnal Biologi, Pendidikan Dan Terapan, 9(2), 237-241. https://doi.org/10.30598/biopendixvol9issue2page237-241
Copyright (c) 2023 BIOPENDIX: Jurnal Biologi, Pendidikan dan Terapan
This work is licensed under a Creative Commons Attribution-ShareAlike 4.0 International License.