PERBEDAAN HASIL BELAJAR SISWA KELAS X SMA MENGGUNAKAN MODEL PEMBELAJARAN KOOPERATIF TIPE STUDENT FACILITATOR AND EXPLAINING (SFE) DAN MODEL PEMBELAJARAN KONVENSIONAL PADA MATERI TRIGONOMETRI
Stela Ruhulessin

Universitas Pattimura

Tanwey Gerson Ratumanan

Universitas Pattimura

Hanisa Tamalene

Universitas Pattimura
Keywords:
learning outcomes, cooperative learning model type student facilitator and explaining (SFE), conventional learning models, trigonometry
Abstract
This study aims to determine whether there are differences in learning outcomes of class X students of SMA 12 Ambon using cooperative learning model Student Facilitator and Explaining (SFE) and conventional learning models on trigonometric material. The type of research is experimental research (Experimental Research) with the Post-Test Only Control Group Design. The analysis technique is descriptive statistical analysis and inferential test statistics consisting of normality test data, homogeneity test and hypothesis test. The data are processed using SPSS version 20.0. The results of this study are (1) there are differences in learning outcomes using the cooperative learning model Student Facilitator and Explaining and conventional learning models, which shows that the value of  t_hitung  3.1128 is greater than the value of t_tabel  2.0003 and the value of Sig. (2-tailed) smaller than the value of alpha 0.05 which is 0.002; (2) learning outcomes of students who use the cooperative learning model Student Facilitator and Explaining type are better when compared to those using conventional learning models
Downloads
Download data is not yet available.
References
Andriani, T, Suastika. K, & Sesanti, N. R. (2017). Analisis Kesalahan Konsep Matematika Siswa Dalam Menyelesaikan Soal Trigonometri Kelas X TKJ SMK N 1 Gempol Tahun Pelajaran 2016/2017. Mathematics Education Journal, Vol 1. 35-37.
Jingga. A. A, Mardiyana, & Setiawan, R. (2017). Analisis Kesalahan Siswa Dalam Menyelesaikan Soal Identitas Trigonometri Kelas X Semester 2 SMA Negeri 1 Kartasura Tahun Ajaran 2015/2016. Jurnal Pendidikan Matematika dan Matematika, Vol I. No.5: 54-57.
Kholik. (2011). Pembelajaran Konvensional. http://www.metodepembelajaran. com (diakses tanggal 04 Maret 2019)
Ratumanan, T. G. 2015. Belajar dan Pembelajaran. Yogyakarta: Pensil Komunika.
Ratumanan, T. G & Theresia Laurens. 2016. Analisis Penguasaan Objek Matematika (Kajian pada Lulusan SMA di Provinsi Maluku). Jurnal Pendidikan Matematika Raflesia. Vol. 1 No. 2 Desember 2016.
Ratumanan, T. G., & Christy Matitaputty. 2018. Belajar dan Pembelajaran Matematika. Bandung: Alfabeta.
Ratumanan, T. G., & Carolina S. Ayal. 2018. Problem Solving Based Learning Model Alternative Model of Developing High Order Thinking. International Journal of Health Medicine and Current Research Vol. 3, Issue 02, pp.857-865, June, 2018.
Ratumanan, T. G. 2019. Model Pembelajaran Interaktif dengan Setting Kooperatif (Model PISK). Bandung: Alfabeta.
Rusman. (2011). Model-Model Pembelajaran Mengembangkan Profesionalisme Guru. Jakarta : PT Raja Grafindo Persada
Shoimin, A. (2016). 68 Model Pembelajaran Inovatif dalam Kurikulum 2013. Yogyakarta: Ar-Ruzz Media
Suprijono, A. (2009). Cooperative Learning. Yogyakarta: Pustaka Belajar.
Susanto, A. (2014). Teori Belajar dan Pembelajaran di Sekolah Dasar. Jakarta
Zahra. C, Widyawati. S, & Ningsih, E. F. (2016). Eksperimentasi Model Pembelajaran Kooperatif Tipe Student Facilitator and Explaining (SFE) Berbantuan Alat Peraga Kotak Imajinasi Ditinjau Dari Kecerdasan Spasial. Jurnal Ilmiah Pendidikan Matematika, Vol 2. 97-98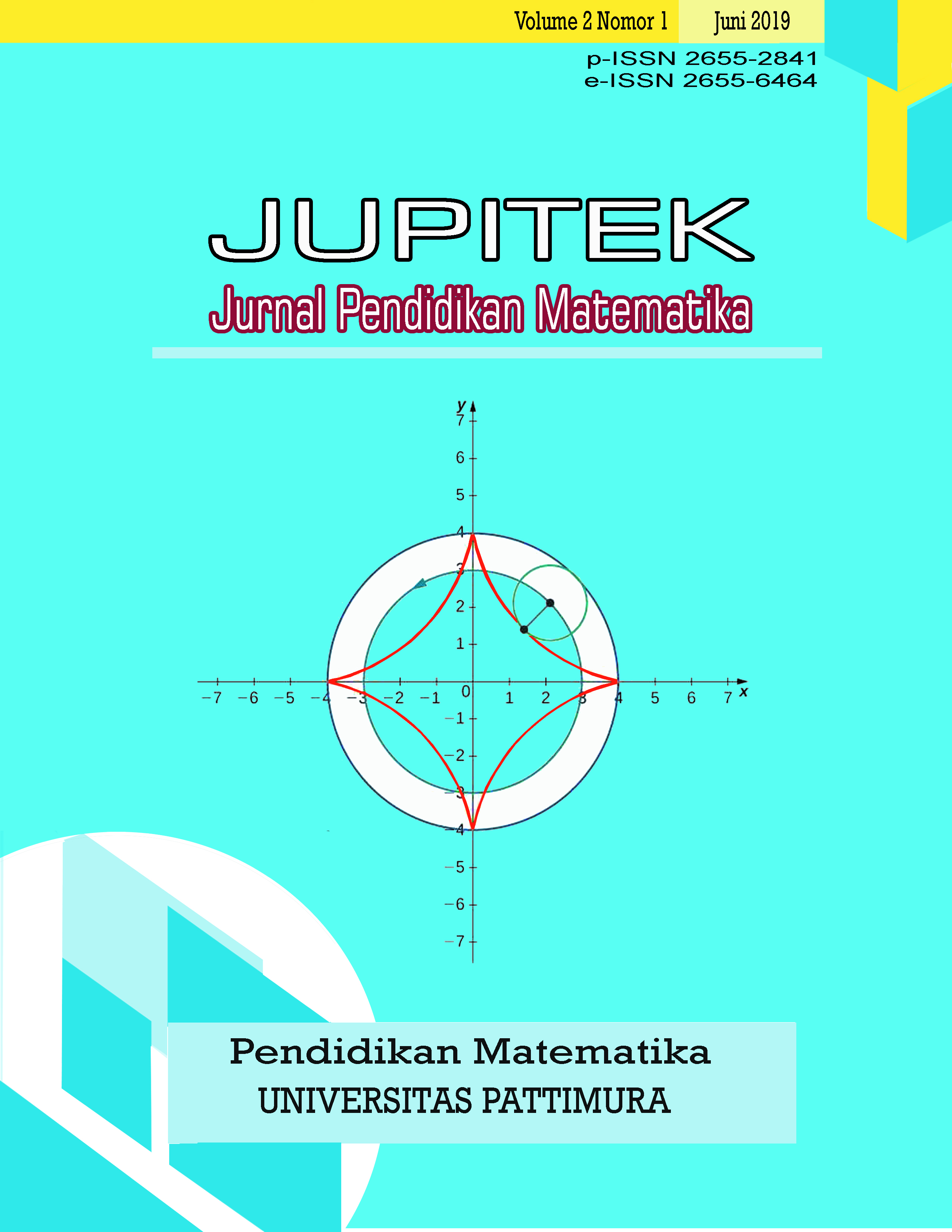 How to Cite
Ruhulessin, S., Ratumanan, T., & Tamalene, H. (2019). PERBEDAAN HASIL BELAJAR SISWA KELAS X SMA MENGGUNAKAN MODEL PEMBELAJARAN KOOPERATIF TIPE STUDENT FACILITATOR AND EXPLAINING (SFE) DAN MODEL PEMBELAJARAN KONVENSIONAL PADA MATERI TRIGONOMETRI. Jurnal Pendidikan Matematika (Jupitek), 2(1), 1-6. https://doi.org/10.30598/jupitekvol2iss1pp1-6
Copyright (c) 2019 Stela Ruhulessin, Tanwey Gerson Ratumanan, Hanisa Tamalene
This work is licensed under a Creative Commons Attribution-NonCommercial-ShareAlike 4.0 International License.
License and Copyright Agreement
In submitting the manuscript to the journal, the authors certify that:
They are authorized by their co-authors to enter into these arrangements.
The work described has not been formally published before, except in the form of an abstract or as part of a published lecture, review, thesis, or overlay journal. Please also carefully read JUPITEK Jurnal Pendidikan Matematika Posting Your Article Policy.
That it is not under consideration for publication elsewhere,
That its publication has been approved by all the author(s) and by the responsible authorities – tacitly or explicitly – of the institutes where the work has been carried out.
They secure the right to reproduce any material that has already been published or copyrighted elsewhere.
They agree to the following license and copyright agreement.
Copyright
Authors who publish with JUPITEK Jurnal Pendidikan Matematika agree to the following terms:
Authors retain copyright and grant the journal right of first publication with the work simultaneously licensed under a Creative Commons Attribution License (CC BY-NC-SA 4.0) that allows others to share the work with an acknowledgment of the work's authorship and initial publication in this journal.
Authors are able to enter into separate, additional contractual arrangements for the non-exclusive distribution of the journal's published version of the work (e.g., post it to an institutional repository or publish it in a book), with an acknowledgment of its initial publication in this journal.
Authors are permitted and encouraged to post their work online (e.g., in institutional repositories or on their website) prior to and during the submission process, as it can lead to productive exchanges, as well as earlier and greater citation of published work.