PENDEKATAN PERMAINAN TRADISIONAL MUTEL UNTUK MENINGKATKAN HASIL BELAJAR TENTANG LINGKARAN
Syami Ajawaila

universitas pattimura

Wilmintjie Mataheru

universitas pattimura

Darma Andreas Ngilawajan

universitas pattimura
Keywords:
circle, marbles, traditional game approach
Abstract
This study aims to improve student learning outcomes about circles topics in mathematics through the traditional game namely marbles. The research has been conducted using experiments method with Posttest Only Control Group Design.  Students of grade eight in SMP Negeri 2 Nusalaut, Central Maluku Regency were subject, where students in class VIII1 as an experiment class and using marbles while students at class VIII2 as a conventional class.  Data were collected from the essay test and it was analyzed by descriptive statistics and inferential statistics. The results showed that the average of students learning outcomes in the class experiment is 74.43 and the average of learning outcomes of class control is 64.50. It means that the learning outcomes of students who taught by using approach the traditional game marbles increase compared with the learning outcomes of students taught by conventional approaches
Downloads
Download data is not yet available.
References
Ajawaila, J. W. 2005. Dinamika Budaya Orang Maluku. Dalam Maluku Menyambut Masa Depan. Ambon: Lembaga Kebudayaan Daerah Maluku.
Aunurrahman. 2014. Belajar dan Pembelajaran. Bandung: Alfabeta
Febriyanti, Ch., Kencanawaty, G., & Irawan, A. 2019. Etnomatematika permainan kelereng. Jurnal Matematika dan Pembelajaran, Vol 7, No.1, Juni 2019.
Fradi, L., Laurens, T., & Mataheru, W. (2019). Etnomatematika Dalam Transaksi Jual Beli Yang Dilakukan Pedagang Di Pasar Tradisional Kabupaten Kaimana. JUMADIKA: Jurnal Magister Pendidikan Matematika, 1(1), 1-8. https://doi.org/10.30598/jumadikavol1iss1year2019page1-8
Laurens, Th. 2016. Analisis Etnomatematika dan Penerapannya dalam Meningkatkan Kualitas Pembelajaran. Dalam Jurnal Penilitian Pendidikan Matematetematika Lemma, Vol. III, No. 1, 2016:86-96
Musdalipah, I. & Yulianto, E. 2015. Pengembangan Desain Pembelajaran Matematika Untuk Siswa SD Berbasis Aktivitas Budaya dan Permainan Tradisional Masyarakat Kampung Naga. Dalam Jurnal Siliwangi Seri Pendidikan, Vol. 1, No. 1, 2015:63-74.
Nuraeni, R. & Luritawaty, I. P. 2017. Perbandingan Kemampuan Pemahaman Matematis Siswa Antara Yang Menggunakan Pembelajaran Inside-Outsidecircle Dengan Konvensional. Jurnal Mosharafa, Vol. VI, No. 3, September 2017.
Nuraeni, Z. 2013. Permainan Anak Untuk Matematika. Prosiding Seminar Nasional Matematika dan Pendidikan Matematika. 9 November 2013.
Octizasari, G., & Haji, S. 2018. Penerapan Model Pembelajaran Rme Berbasis Ethnomatematika Untuk Meningkatkan Kemampuan Pemecahan Masalah Mahasiswa Calon Guru Pendidikan Matematika Fkip Universitas Bengkulu. JUPITEK: Jurnal Pendidikan Matematika, 1(1), 1-7. https://doi.org/10.30598/jupitekvol1iss1pp1-7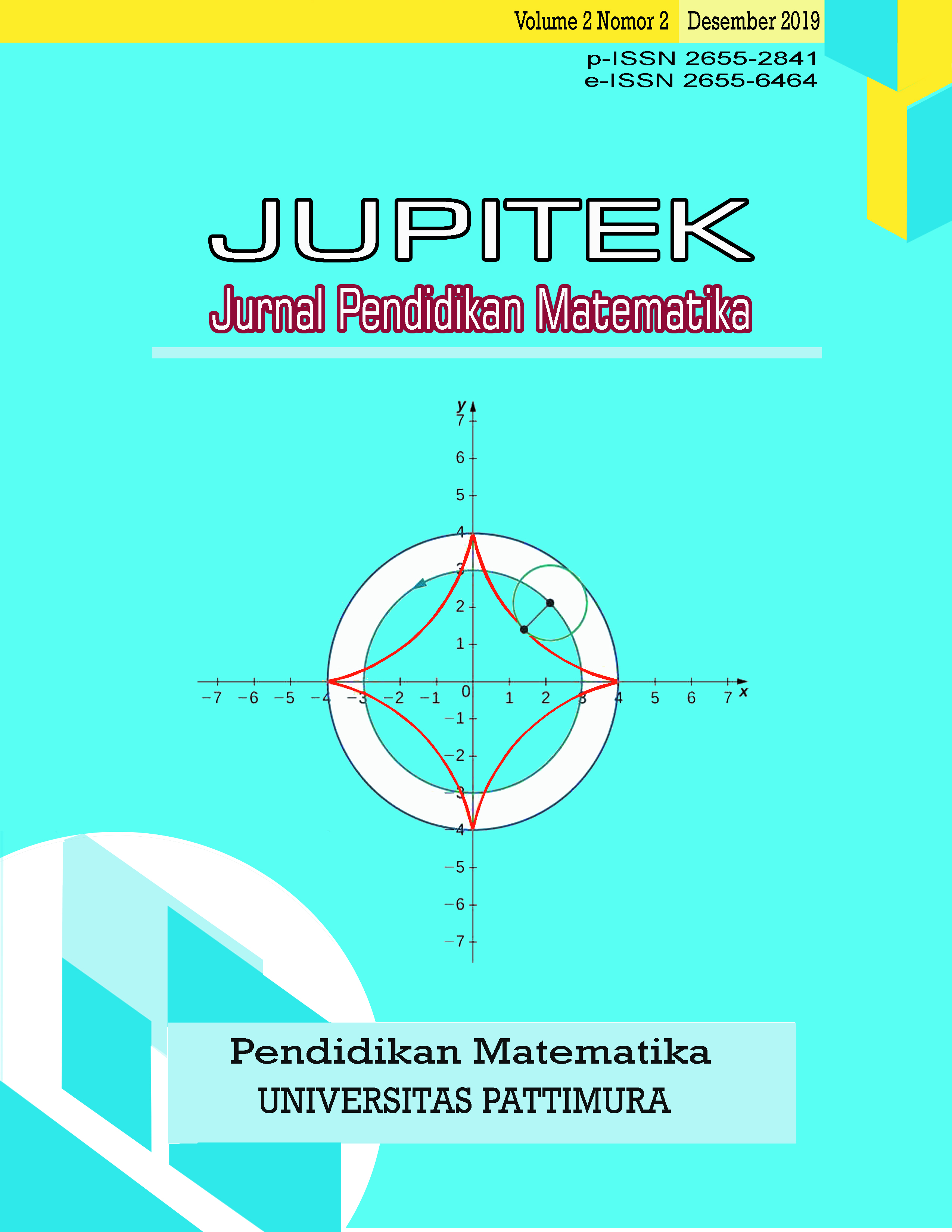 How to Cite
Ajawaila, S., Mataheru, W., & Ngilawajan, D. (2020). PENDEKATAN PERMAINAN TRADISIONAL MUTEL UNTUK MENINGKATKAN HASIL BELAJAR TENTANG LINGKARAN. Jurnal Pendidikan Matematika (JUPITEK), 2(2), 55-60. https://doi.org/10.30598/jupitekvol2iss2pp55-60
Copyright (c) 2020 Syami Ajawaila, Wilmintjie Mataheru, Darma Andreas Ngilawajan
This work is licensed under a Creative Commons Attribution-NonCommercial-ShareAlike 4.0 International License.
License and Copyright Agreement
In submitting the manuscript to the journal, the authors certify that:
They are authorized by their co-authors to enter into these arrangements.
The work described has not been formally published before, except in the form of an abstract or as part of a published lecture, review, thesis, or overlay journal. Please also carefully read Jurnal Pendidikan Matematika (Jupitek) Posting Your Article Policy.
That it is not under consideration for publication elsewhere,
That its publication has been approved by all the author(s) and by the responsible authorities – tacitly or explicitly – of the institutes where the work has been carried out.
They secure the right to reproduce any material that has already been published or copyrighted elsewhere.
They agree to the following license and copyright agreement.
Copyright
Authors who publish with Jurnal Pendidikan Matematika (Jupitek) agree to the following terms:
Authors retain copyright and grant the journal right of first publication with the work simultaneously licensed under a Creative Commons Attribution License (CC BY-NC-SA 4.0) that allows others to share the work with an acknowledgment of the work's authorship and initial publication in this journal.
Authors are able to enter into separate, additional contractual arrangements for the non-exclusive distribution of the journal's published version of the work (e.g., post it to an institutional repository or publish it in a book), with an acknowledgment of its initial publication in this journal.
Authors are permitted and encouraged to post their work online (e.g., in institutional repositories or on their website) prior to and during the submission process, as it can lead to productive exchanges, as well as earlier and greater citation of published work.