PENINGKATAN HASIL BELAJAR MATEMATIKA SISWA MELALUI PENERAPAN MODEL PEMBELAJARAN KOOPERATIF TIPE MAKE A MATCH (Suatu Kajian Pada Siswa Kelas VIII SMP Negeri 15 Ambon)
Thasya Juliet Titahena

Program Studi Pendidikan Matematika FKIP Universitas Pattimura

Maggy Gaspersz

Program Studi Pendidikan Matematika FKIP Universitas Pattimura

Darma Andreas Ngilawajan

Universitas Pattimura
Keywords:
Hasil belajar, model pembelajaran kooperatif tipe Make a Match.
Abstract
Penelitian ini bertujuan untuk mengetahui peningkatan hasil belajar siswa dengan menggunakan model pembelajaran kooperatif tipe Make a Match dalam mempelajari materi sistem persamaan linier dua variabel di kelas VIII SMP. Subjek dalam penelitian ini adalah siswa kelas VIII SMP Negeri 15 Ambon yang berjumlah 24 orang siswa. Penelitian ini merupakan penelitian tindakan kelas dan guru berperan sebagai pengajar dengan berlangsung dalam 2 siklus. Pengumpulan data dilakukan dengan menggunakan tes dan format observasi. Teknik analisis yang digunakan adalah teknik analisis kualitatif dan teknik analisis data kuantitatif. Hasil belajar siswa pada siklus I menunjukkan bahwa 12 orang siswa memperoleh hasil yang kurang dari KKM (<73) dan 12 orang siswa yang hasil belajarnya mencapai KKM ( ). Sedangkan pada siklus II, jumlah siswa yang mencapai KKM ( ) sebanyak 17 orang dan yang tidak mencapai KKM sebanyak 7 orang. Dari siklus I ke siklus II, terjadi peningkatan hasil belajar dari 5 orang siswa (20,83%) yang sebelumnya tidak mencapai KKM pada siklus I. Dengan demikian, penerapan model pembelajaran kooperatif tipe Make a Match dapat meningkatkan hasil belajar siswa pada materi sistem persamaan linier dua variabel di kelas VIII SMP Negeri 15 Ambon.
Downloads
Download data is not yet available.
References
N. S. Wakhyuningsih, "Model Pembelajaran Kooperatif Tipe Make a Match dalam Pembelajaran Matematika Sebagai Upaya Meningkatkan Motivasi dan hasil belajar matematika Siswa Kelas VIII SMP Negeri 9 Yogyakartaâ€. Skripsi, Jurusan Pendidikan Matematika FMIPA Universitas Negeri Yogyakarta, 2010.
R. Soedjadi, "Kiat Pendidikan Matematika di Indonesiaâ€, Direktorat Jenderal Pendidikan Tinggi Departemen Pendidikan Nasional, 2000.
Slamento, "Belajar dan Faktor-faktor Yang Mempengaruhinyaâ€. Jakarta: PT Rineka Cipta, 2010.
Sugiyono, "Metode Penelitian Kuantitatif, Kualitatif Dan R & Dâ€. Bandung: Alfabeta, 2011.
Susilofy, "Hakikat Belajar, Prestasi Belajar, dan Aktivitas Belajarâ€, 2010.
http://susilofy.wordpress.com/2010/09/28/hakikat-belajar-prestasi-belajar-dan-aktivitas-belajar/amp. [Diakses 29 juni 2018]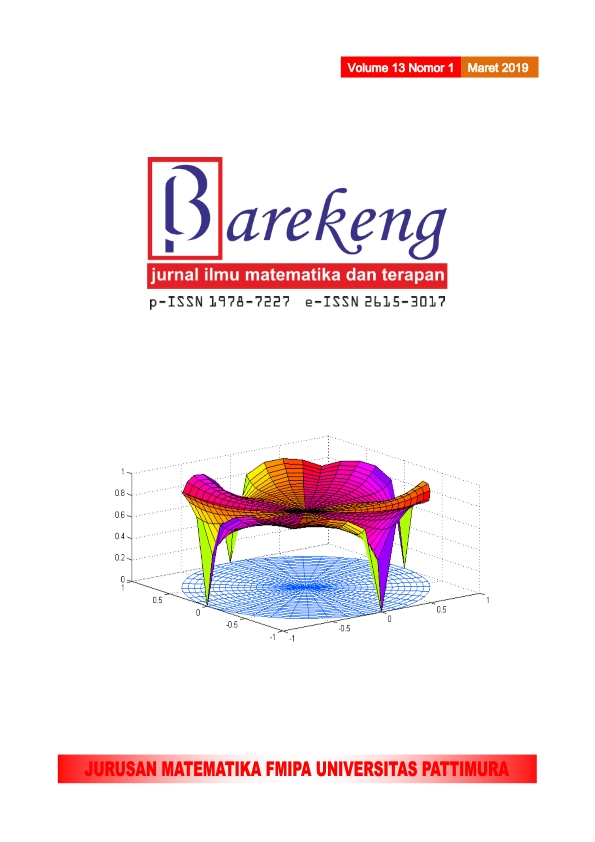 How to Cite
[1]
T. Titahena, M. Gaspersz, and D. Ngilawajan, "PENINGKATAN HASIL BELAJAR MATEMATIKA SISWA MELALUI PENERAPAN MODEL PEMBELAJARAN KOOPERATIF TIPE MAKE A MATCH (Suatu Kajian Pada Siswa Kelas VIII SMP Negeri 15 Ambon)", BAREKENG: J. Math. & App., vol. 13, no. 1, pp. 001-008, Mar. 2019.
Authors who publish with this Journal agree to the following terms:
Author retain copyright and grant the journal right of first publication with the work simultaneously licensed under a creative commons attribution license that allow others to share the work within an acknowledgement of the work's authorship and initial publication of this journal.
Authors are able to enter into separate, additional contractual arrangement for the non-exclusive distribution of the journal's published version of the work (e.g. acknowledgement of its initial publication in this journal).
Authors are permitted and encouraged to post their work online (e.g. in institutional repositories or on their websites) prior to and during the submission process, as it can lead to productive exchanges, as well as earlier and greater citation of published works.