KAJIAN NILAI PELUANG DALAM PERMAINAN GICI-GICI SORONG
Darma Andreas Ngilawajan

Universitas Pattimura
Keywords:
Gici-gici Sorong, Peluang
Abstract
Peluang merupakan sebuah konsep dalam matematika, yang diperluas kajiannya dalam bidang statistika sebagai salah satu cabang ilmu dari matematika. Penerapan dari konsep peluang tidak hanya dalam bidang statistika, tetapi juga dapat dijumpai dalam berbagai bidang kehidupan, salah satunya dalam permainan tradisional. Gici-gici sorong adalah salah satu permainan tradisional dari Maluku yang banyak dimainkan oleh anak-anak Maluku sejak masa lampau, meski saat ini sudah sangat jarang dimainkan dan hanya ditemukan pada sebagian tempat terpencil di Maluku. Dalam permainan ini, setiap pemain berusaha mendapatkan rumah atau sarang sebanyak-banyaknya. Setiap pemain memiliki peluang yang sama untuk menang, tergantung keahliannya dalam bermain. Pemain yang memiliki sarang terbanyak yang memenangkan permainan. Metode penelitian yang digunakan dalam penulisan ini adalah studi literatur, yaitu mengkaji teori peluang dan permainan gici-gici sorong dari beberapa buku dan artikel ilmiah yang relevan, kemudian mengaitkannya dengan fokus masalah untuk mengetahui nilai peluang dalam permainan gici-gici sorong. Hasil penelitian menunjukkan bahwa nilai peluang dalam permainan gici-gici sorong semakin bertambah mendekati nilai satu seiring dengan bertambahnya jumlah sarang yang terisi.  
Downloads
Download data is not yet available.
References
A. Hajek, "Interpretations of Probabilityâ€, Stanford Encyclopedia of Philosophy, Versi online dapat diakses di link: https://plato.stanford.edu/entries/probability-interpret/ [diakses 7 Maret 2019]
K. B. Athreya, "What is Probability Theory?â€, Resonance-Journal of Science Education, Vol. 20, Issue 4 (Page 292-310), April, 2015.
E. J. Dudewicz, & S. N. Mishra, "Statistika Matematika Modernâ€, Penerbit: Penerbit ITB, Bandung, 1995.
C, Febriyanti, dkk. "Etnomatematika Pada Permainan Tradisional Engklek dan Gasing Khas Kebudayaan Sundaâ€, Barekeng: Jurnal Ilmu Matematika dan Terapan, Vol. 12 No. 1, pp. 01-06, 2018.
H. Suradi, "Permainan Rakyat Daerah Malukuâ€, Penerbit: Departemen Pendidikan Dan Kebudayaan-Proyek Inventarisasi Dan Dokumentasi Kebudayaan Daerah, Jakarta, 1981.
J. Tanton, "Encyclopedia of Mathematicsâ€, Penerbit: Facts on File Inc, New York, 2005.
L. Debnath, & K. Basu, "A Short History of Probability Theory And its Applicationsâ€, International Journal of Mathematics Education, Vol 46, page 1-22, 2010.
M. J. Campbell, & S. Shantikumar, "Elementary Probability Theoryâ€, Versi online diakses pada link: https://www.healthknowledge.org.uk/public-health-textbook/research-methods/1b-statistical-methods/elementary-probability-theory [diakses 7 Maret 2019].
P. Radke, "Basic Probability Theory and Statisticsâ€, Versi online diakses pada link: https://towarsdatascience.com/basic-probability-theory-and-statistics-3105ab637213 [diakses 10 Maret 2019].
R. E. Walpole, & R. H. Myers, "Ilmu Peluang dan Statistika Untuk Insinyur dan Ilmuwanâ€, Edisi ke-4. Penerbit: Penerbit ITB. Bandung. 1995.
Sugiyono, "Metode Penelitian Pendidikan (Pendekatan Kuantitatif, Kualitatif, dan R&D)â€, Penerbit: CV. Alfabet, Bandung, 2012.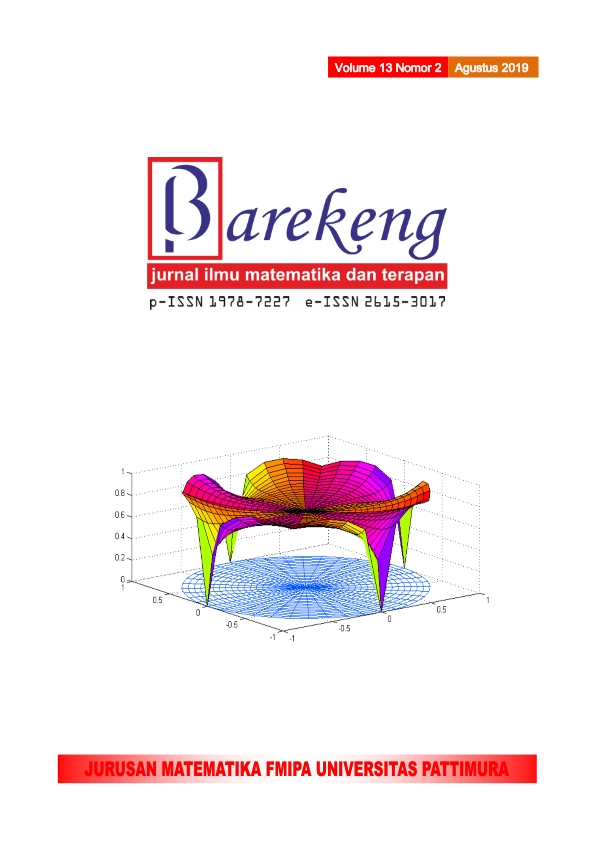 How to Cite
[1]
D. Ngilawajan, "KAJIAN NILAI PELUANG DALAM PERMAINAN GICI-GICI SORONG", BAREKENG: J. Math. & App., vol. 13, no. 2, pp. 113-124, Jul. 2019.
Authors who publish with this Journal agree to the following terms:
Author retain copyright and grant the journal right of first publication with the work simultaneously licensed under a creative commons attribution license that allow others to share the work within an acknowledgement of the work's authorship and initial publication of this journal.
Authors are able to enter into separate, additional contractual arrangement for the non-exclusive distribution of the journal's published version of the work (e.g. acknowledgement of its initial publication in this journal).
Authors are permitted and encouraged to post their work online (e.g. in institutional repositories or on their websites) prior to and during the submission process, as it can lead to productive exchanges, as well as earlier and greater citation of published works.