PENINGKATAN HASIL BELAJAR SISWA KELAS XI SMA NEGERI 4 AMBON PADA MATERI IRISAN KERUCUT DENGAN MENGGUNAKAN MODEL PEMBELAJARAN KOOPERATIF MELALUI MEDIA PEMBELAJARAN CAI (COMPUTER ASSISTED INSTRUCTION) BERBANTUAN SOFTWARE GEOGEBRA
John Lekitoo

Universitas Pattimura

La Moma

Universitas Pattimura

Darma Andreas Ngilawajan

Universitas Pattimura
Keywords:
Learning Activities; Learning independence; direct influence; Indirect influence; Structural Equation Model (SEM)
Abstract
Theaims of this study is to improve the learning outcomes of grade XI students of SMA Negeri4 Ambon in cone slice material using a cooperative learning model through CAI (Computer Assisted Instruction) learning media  assisted by geogebrasoftware. Students divided into small groups (3 groups) with each groups consist of 5-6 students who have varied abilities. The results showed that by using the cooperative learning model throughlearning media CAI (Computer Assisted Instruction)assisted by geogebrasoftware, there was an increase in the learning outcomes of grade XI MIA students at SMA Negeri 4 Ambon
Downloads
Download data is not yet available.
References
Minarto.2017. Penggunaan Aplikasi Geogebra Sebagai Media Pembelajaran Dalam Upaya Meningkatkan Prestasi Belajar Matematika Pada Materi Fungsi Kuadrat. Bayuwangi: e-Jurnal Mitra Pendidikan. Vol. 1, No. 3.Hal.1-10.
Ratumanan, T. G. 2015. Inovasi Pembelajaran (Mengembangkan Kompetensi Peserta Didik Secara Optimal). Yogyakarta: Penerbit Ombak.
Rohani. 2010. Pengolahan Pengajaran. Jakarta: PT Rineka Cipta.
Rusman. 2012. Belajar dan Pembelajaran Berbasis Komputer. Bandung: Penerbit Alfabeta.
Siregar, N. C dan Marsigit.2015. Pengaruh Pendekatan Discovery Yang Menekankan Aspek Analogi Terhadap Prestasi Belajar, Kemampuan Penalaran, Kecerdasan Emosional Spiritual.Yogyakarta:Jurnal Riset Pendidikan Matematika,Vol 2. No 2, Hal. 224-234.
Syahbana, A. 2016.Belajar Menguasai Geometri: Program Aplikasi Pembelajaran Matematika. Palembang: Noerfikri Offset.
Tutuhatunewa, E dan Laurens, T. 2016. Penelitian Tindakan Kelas. Yogyakarta: Pensil Komunika
Tanudjaja, M, 2011. Aku Cerdas Karena Tidak Bisa Matematika. Jakarta: Pt. Gramedia Pustaka Utama.
Yamin, 2010.Strategi Pembelajaran Berbasis Kompetensi. Jakarta: Press..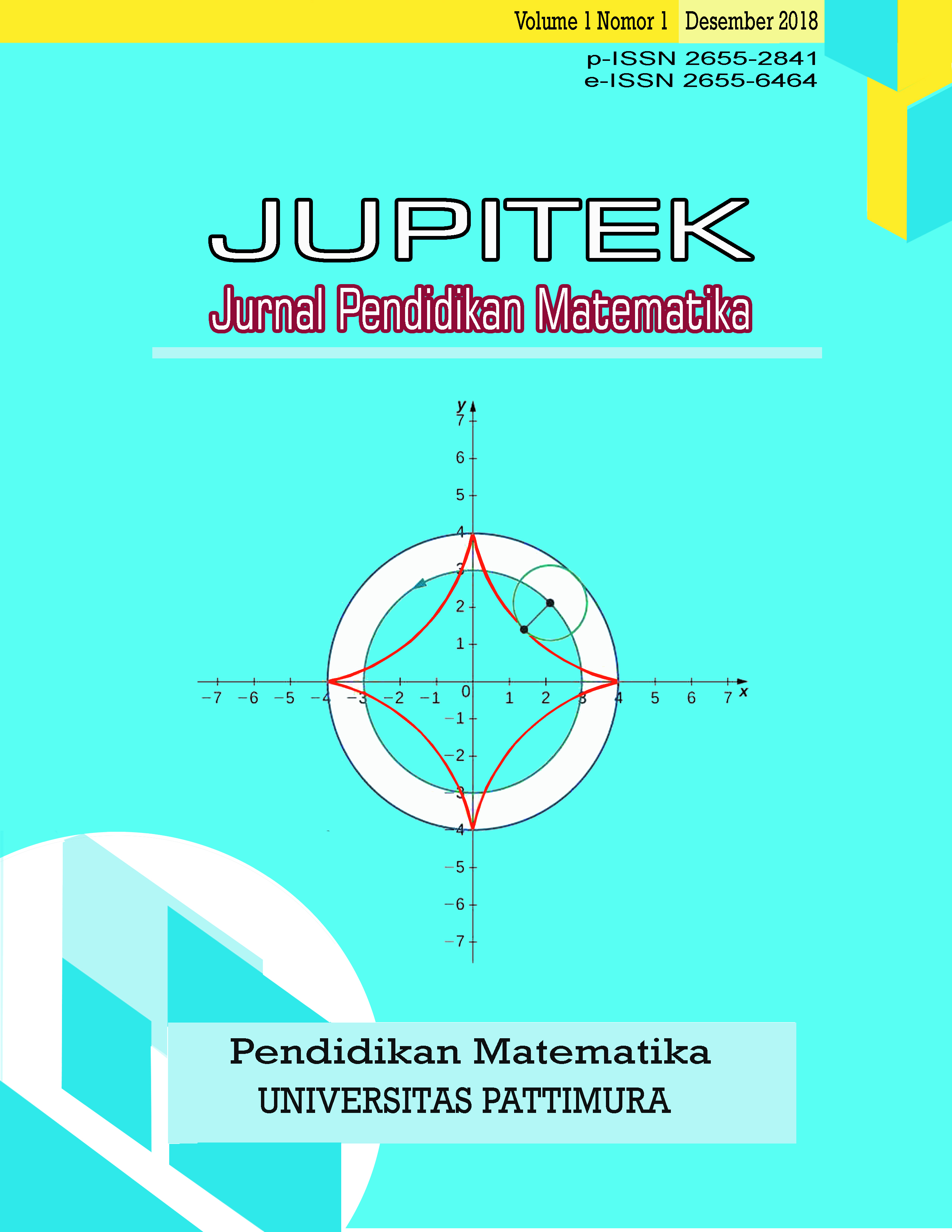 How to Cite
Lekitoo, J., Moma, L., & Ngilawajan, D. (2018). PENINGKATAN HASIL BELAJAR SISWA KELAS XI SMA NEGERI 4 AMBON PADA MATERI IRISAN KERUCUT DENGAN MENGGUNAKAN MODEL PEMBELAJARAN KOOPERATIF MELALUI MEDIA PEMBELAJARAN CAI (COMPUTER ASSISTED INSTRUCTION) BERBANTUAN SOFTWARE GEOGEBRA. Jurnal Pendidikan Matematika (JUPITEK), 1(1), 41-46. https://doi.org/10.30598/jupitekvol1iss1pp41-46
Copyright (c) 2018 John Lekitoo, La Moma, Darma Andreas Ngilawajan
This work is licensed under a Creative Commons Attribution-NonCommercial-ShareAlike 4.0 International License.
License and Copyright Agreement
In submitting the manuscript to the journal, the authors certify that:
They are authorized by their co-authors to enter into these arrangements.
The work described has not been formally published before, except in the form of an abstract or as part of a published lecture, review, thesis, or overlay journal. Please also carefully read Jurnal Pendidikan Matematika (Jupitek) Posting Your Article Policy.
That it is not under consideration for publication elsewhere,
That its publication has been approved by all the author(s) and by the responsible authorities – tacitly or explicitly – of the institutes where the work has been carried out.
They secure the right to reproduce any material that has already been published or copyrighted elsewhere.
They agree to the following license and copyright agreement.
Copyright
Authors who publish with Jurnal Pendidikan Matematika (Jupitek) agree to the following terms:
Authors retain copyright and grant the journal right of first publication with the work simultaneously licensed under a Creative Commons Attribution License (CC BY-NC-SA 4.0) that allows others to share the work with an acknowledgment of the work's authorship and initial publication in this journal.
Authors are able to enter into separate, additional contractual arrangements for the non-exclusive distribution of the journal's published version of the work (e.g., post it to an institutional repository or publish it in a book), with an acknowledgment of its initial publication in this journal.
Authors are permitted and encouraged to post their work online (e.g., in institutional repositories or on their website) prior to and during the submission process, as it can lead to productive exchanges, as well as earlier and greater citation of published work.