PENINGKATAN HASIL BELAJAR SISWA PADA MATERI PROGRAM LINIER DENGAN MENGGUNAKAN MODEL PEMBELAJARAN PROBLEM BASED LEARNING
KAJIAN PADA SISWA KELAS XI SMA NEGERI 1 SAPARUA
Ivone de HAAS

Universitas Pattimura

Juliana Selvina Molle

Universitas Pattimura

Darma Andreas Ngilawajan

Universitas Pattimura
Keywords:
learning outcome, problem based learning, linear programing
Abstract
The purpose of this research is to improve students' learning outcome on the topic liniear programing by using Problem Based Learning. This research is conducted in 11th grade students of senior high school 1 Saparua in academic year 2019/ 2020. Total number students on experiment grup is 25. This research took 2 cycles in order to achieve passing grade by most students. Every cycle consists of two class meeting. Data collected by using essay tests on each cycle and observation sheet. Further more, data analyzed by using qualitative nd quantitative analysis. The results show that students' achievement on cycle I which reached passing grade is 56% of total number students. Meanwhile, students' achievement which reached passing grade on cycle II is 80% of total number of students. There can be concluded that students' learning outcome has improved 24% through Problem Based Learning
Downloads
Download data is not yet available.
References
Ajawaila, S. Dkk (2019). Pendekatan Permainan Tradisional Mutel Untuk Meningkatkan Hasil Belajar Tentang Lingkaran. JUPITEK: Jurnal Pendidikan Matematika, Volume 2 Nomor 2, Desember 2019 (Hal 55-60). Program Studi Pendidikan Matematika FKIP Universitas Pattimura.
Arends, R. I. (2008). Learning To Teach (Belajar untuk mengajar). Edisi Ketujuh Buku Dua. Yogyakarta: Pustaka Belajar.
Bili M.R & Ate, D. (2018). Penerapan Model Pembelajaran Problem Based Learning pada Materi Program Linier untuk Meningkatkan Hasil Belajar Siswa. Jurnal Penelitian dan pengkajian Ilmu Pendidikan: e-Saintika 1(2), (hal: 81-86).
Ngilawajan, D. A. (2013). Proses Berpikir Siswa SMA Dalam Memecahkan Masalah Matematika Materi Turunan Ditinjau Dari Gaya Kognitif Field Independent dan Field Dependent. Jurnal Pedagogia, Volume 2 Nomor 1, Februari 2013 (hal 71-83). Universitas Muhammadiyah Sidoarjo.
Niak, Y., dkk (2018). Perbedaan Hasil Belajar Siswa Pada Model Pembelajaran Kooperatif Tipe CIRC dan Model Pembelajaran Konvensional. Journal of Honai Math, Volume 1 Nomor 2, Oktober 2018 (hal 67-80). Universitas Papua.
Ratumanan, T. G & Matitaputty, C. (2017). Belajar dan Pembelajaran Matematika. Bandung: Alfabeta
Rusman, Model-Model Pembelajaran Mengembangkan Profesionalisme Guru, (Jakarta: Rajawali pers, 2013).
Suryosubroto. (2009). Proses Belajar Mengajar Di Sekolah. Jakarta: PT Rineka Cipta.
Susanto, A. 2013. Teori Belajar dan Pembelajaran. Jakarta: Prenada Media Group.
Titahena, T. J, dkk. (2019). Peningkatan Hasil Belajar Siswa Melalui Penerapan Model Pembelajaran Kooperatif Tipe Make A Match. Barekeng: Jurnal Ilmu Matematika dan Terapan, Volume 13 Nomor 1. Maret 2019. (Hal: 001-008). Jurusan Matematika FMIPA Universitas Pattimura.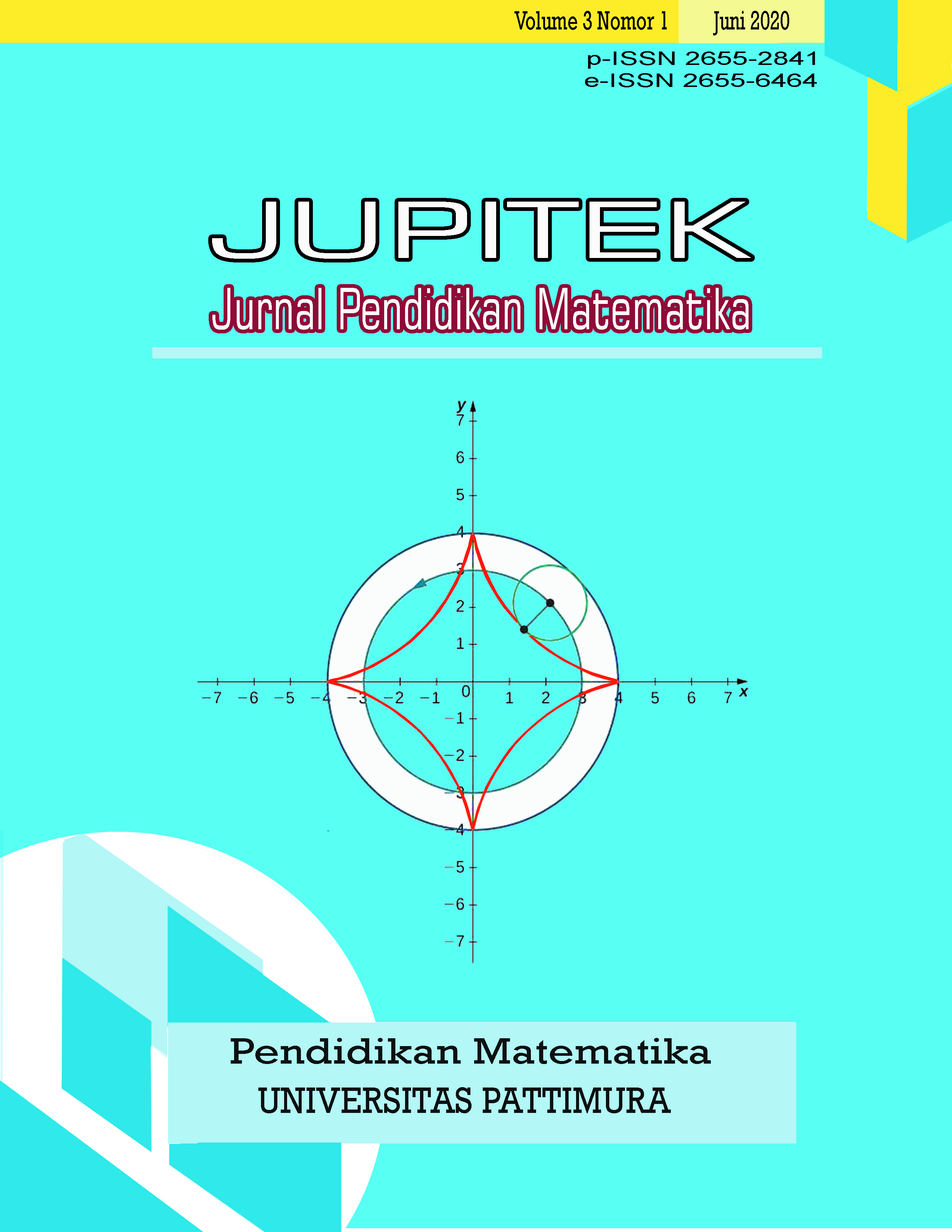 How to Cite
de HAAS, I., Molle, J., & Ngilawajan, D. (2020). PENINGKATAN HASIL BELAJAR SISWA PADA MATERI PROGRAM LINIER DENGAN MENGGUNAKAN MODEL PEMBELAJARAN PROBLEM BASED LEARNING. Jurnal Pendidikan Matematika (JUPITEK), 3(1), 7-12. https://doi.org/10.30598/jupitekvol3iss1pp7-12
Copyright (c) 2020 Ivone de HAAS, Juliana Selvina Molle, Darma Andreas Ngilawajan
This work is licensed under a Creative Commons Attribution-NonCommercial-ShareAlike 4.0 International License.
License and Copyright Agreement
In submitting the manuscript to the journal, the authors certify that:
They are authorized by their co-authors to enter into these arrangements.
The work described has not been formally published before, except in the form of an abstract or as part of a published lecture, review, thesis, or overlay journal. Please also carefully read Jurnal Pendidikan Matematika (Jupitek) Posting Your Article Policy.
That it is not under consideration for publication elsewhere,
That its publication has been approved by all the author(s) and by the responsible authorities – tacitly or explicitly – of the institutes where the work has been carried out.
They secure the right to reproduce any material that has already been published or copyrighted elsewhere.
They agree to the following license and copyright agreement.
Copyright
Authors who publish with Jurnal Pendidikan Matematika (Jupitek) agree to the following terms:
Authors retain copyright and grant the journal right of first publication with the work simultaneously licensed under a Creative Commons Attribution License (CC BY-NC-SA 4.0) that allows others to share the work with an acknowledgment of the work's authorship and initial publication in this journal.
Authors are able to enter into separate, additional contractual arrangements for the non-exclusive distribution of the journal's published version of the work (e.g., post it to an institutional repository or publish it in a book), with an acknowledgment of its initial publication in this journal.
Authors are permitted and encouraged to post their work online (e.g., in institutional repositories or on their website) prior to and during the submission process, as it can lead to productive exchanges, as well as earlier and greater citation of published work.