PENGEMBANGAN PERANGKAT PEMBELAJARAN MATERI PERSEGI DAN PERSEGI PANJANG MENGGUNAKAN STRATEGI REACT
Maiviyani Maiviyani

Universitas Pattimura

Theresia Laurens

Universitas Pattimura

Christi Matitaputty

Universitas Pattimura
Keywords:
REACT Strategy, CBSA, Learning Device Development
Abstract
Education in the present has become a necessity, the need for knowledge gained through the learning process both in school and learning from the environment of residence. Mathematical skills are important for everyday life, when students work in activities that are based on everyday life situations; they see ways of applying the mathematical skills they are learning to the real world. Thelearning strategy REACT is one of the learning strategies that use the environment as a source of learning. Besides the teaching learning process with active student learning methods (CBSA) the teacher must be more active in preparing lesson material, planning the process to be carried out such as RPP, preparing evaluation such as LKS and follow-up. From the results of the study the development of learning tools for student activities reached 91.25% and the success rate of students reached 70%. Thus the development of a square and rectangular learning device using theREACTstrategy has a good effect on student activity and student learning outcomes
Downloads
Download data is not yet available.
References
Ahmadi,K.Iif& Sofan Amri,2014.Pengembangan & Model Pembelajaran Tematik Integratif. Jakarta :Prestasi Pustaka
Crawford, L. Michael. 2011. Teaching Contextually, Research, Rationale, And Techniques for Improving Students Motivation and Achievement in Mathematics and science.Cord.Oktober 2001. (diakses pada 22 januari 2018).
Firda dkk.2016.Penerapan Strategi REACT (Relating, Experiencing, Applying, Cooperating, Transfering) untuk Meningkatkan Kemampuan Koneksi Matematika Siswa pada Pokok Bahasan Bangun Datar dikelas VII-2 SMP Negeri 47 Jakarta. (diakses 11 februari 2018).http://jurnal.unj.ac.id/unj/index.php/jrpms/article/download/3029/2190
Joyce bruce, dkk . 2009. Models of Teaching Model-Model Pembelajaran.Yogyakarta : Pustaka Pelajar
Muschla,A. Judith dan Gary Robert Muschla.2009.Pedoman Praktis Tugas-Tugas Matematika dengan Aplikasi Kehidupan Nyata Sehari-Hari.Jakarta : PT Indeks
Laurens T, Laamena C dan Mattitaputty C. 2014. Delopment A Set of Instructional Learning Based Realistic Mathematics Education and Local Wisdon. Prosiding1st ISIM-MED 2014. EP 571-576. Nopember 26-30 2014.
Thobroni Muhammad & Arif Mustafa.2012. Belajar dan pembelajaran Pengembangan wacana dan Praktik Pembelajaran dalam pembagunan nasional. Jogjakarta: Ar-Ruzz Media
Uno,B. Hamzah. 2007. Model Pembelajaran Menciptakan Proses Belajar Mengajar yang Kreatif dan Efektif.Jakarta : PT Bumi Aksara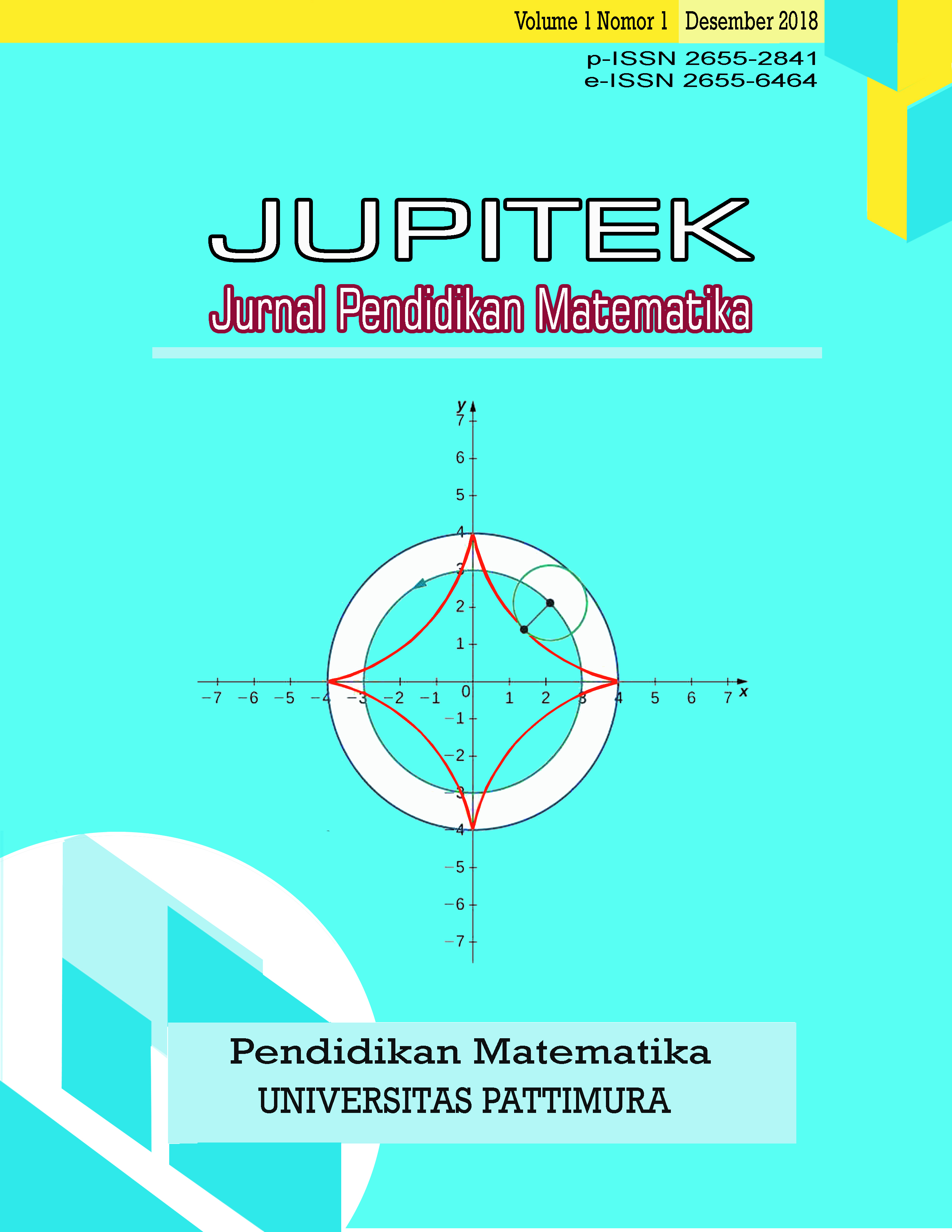 How to Cite
Maiviyani, M., Laurens, T., & Matitaputty, C. (2018). PENGEMBANGAN PERANGKAT PEMBELAJARAN MATERI PERSEGI DAN PERSEGI PANJANG MENGGUNAKAN STRATEGI REACT. Jurnal Pendidikan Matematika (JUPITEK), 1(1), 47-53. https://doi.org/10.30598/jupitekvol1iss1pp47-53
Copyright (c) 2018 Maiviyani Maiviyani, Theresia Laurens, Christi Matitaputty
This work is licensed under a Creative Commons Attribution-NonCommercial-ShareAlike 4.0 International License.
License and Copyright Agreement
In submitting the manuscript to the journal, the authors certify that:
They are authorized by their co-authors to enter into these arrangements.
The work described has not been formally published before, except in the form of an abstract or as part of a published lecture, review, thesis, or overlay journal. Please also carefully read Jurnal Pendidikan Matematika (Jupitek) Posting Your Article Policy.
That it is not under consideration for publication elsewhere,
That its publication has been approved by all the author(s) and by the responsible authorities – tacitly or explicitly – of the institutes where the work has been carried out.
They secure the right to reproduce any material that has already been published or copyrighted elsewhere.
They agree to the following license and copyright agreement.
Copyright
Authors who publish with Jurnal Pendidikan Matematika (Jupitek) agree to the following terms:
Authors retain copyright and grant the journal right of first publication with the work simultaneously licensed under a Creative Commons Attribution License (CC BY-NC-SA 4.0) that allows others to share the work with an acknowledgment of the work's authorship and initial publication in this journal.
Authors are able to enter into separate, additional contractual arrangements for the non-exclusive distribution of the journal's published version of the work (e.g., post it to an institutional repository or publish it in a book), with an acknowledgment of its initial publication in this journal.
Authors are permitted and encouraged to post their work online (e.g., in institutional repositories or on their website) prior to and during the submission process, as it can lead to productive exchanges, as well as earlier and greater citation of published work.