PENERAPAN PROSES HIERARKI ANALITIK (PHA) DALAM MENGATASI MASALAH KEMACETAN LALU LINTAS DI KOTA AMBON
Mozart W. Talakua

Jurusan Matematika FMIPA Universitas Pattimura

Jemsr S. Batlajery

Jurusan Matematika FMIPA Universitas Pattimura
Abstract
Kepadatan lalu lintas yang meningkat akhir-akhir ini di Kota Ambon telahmenimbulkan masalah yang cukup serius, seperti waktu tempuh perjalanan yang bertambahlama dan pencemaran udara yang semakin meningkat. Masalah kemacetan di Kota Ambon ini dapat diselesaikan dengan menggunakan metode ProsesHierarki Analitik (PHA). Data penelitian ini diperoleh dengan menyebarkan 100 kuesioner kepada masyarakat Kota Ambon yang memiliki Surat Izin Mengemudi (SIM). Hasil penelitian ini dengan menggunakan metode Proses Hierarki Analitik ternyata masyarakat Kota Ambon yang memiliki SIM menganggap aspek pengelolaan yang paling mempengaruhi kemacetan yaitu sebesar 45,2%, sedangkan yang menjadi prioritas utama dalam mengatasi kemacetan adalah pembenahan jalur angkutan umum sebesar 19,6%.
Kata Kunci : Transportasi, Kebijakan, Sistem, Transportasi Umum.
Downloads
Download data is not yet available.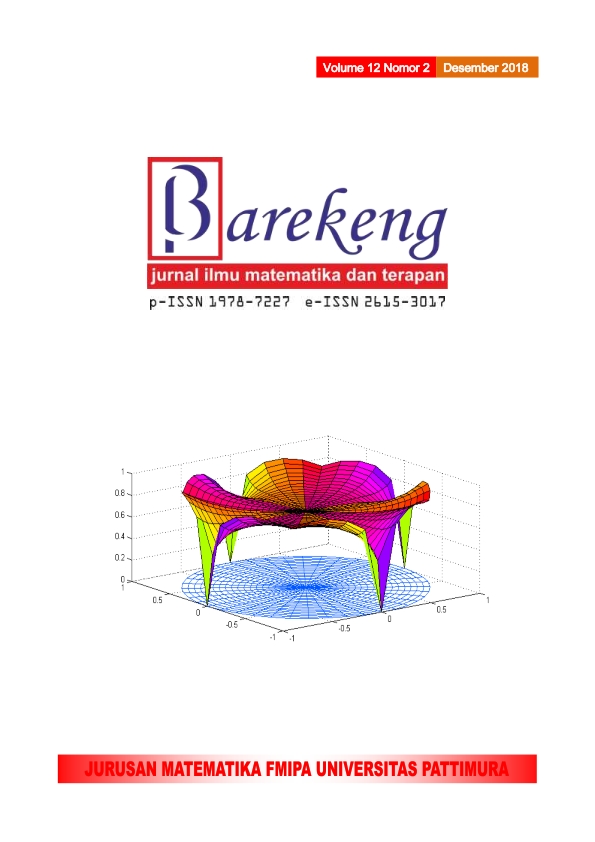 How to Cite
[1]
M. Talakua and J. Batlajery, "PENERAPAN PROSES HIERARKI ANALITIK (PHA) DALAM MENGATASI MASALAH KEMACETAN LALU LINTAS DI KOTA AMBON", BAREKENG, vol. 12, no. 2, pp. 081-092, Dec. 2018.
Copyright (c) 2018 BAREKENG: JURNAL ILMU MATEMATIKA DAN TERAPAN
This work is licensed under a Creative Commons Attribution-NonCommercial-ShareAlike 4.0 International License.