PENERAPAN ANALISIS KONJOIN DALAM PENILAIAN DOSEN FMIPA TERHADAP PEMBUKAAN PROGRAM STUDI STATISTIKA DI UNIVERSITAS PATTIMURA
Salmon Noce Aulele

Jurusan Matematika FMIPA Unpatti

Helda Y. Taihuttu

Jurusan Matematika FMIPA Universitas Pattimura

Mozart W. Talakua

Jurusan Matematika FMIPA Universitas Pattimura
Abstract
Analisis konjoin adalah  salah satu analisis statistik multivariat yang dapat digunakan untuk mengetahui keadaan suatu produk atau jasa. Pada penelitian ini analisis konjoin diterapkan untuk mengetahui penilaian dosen terhadap pembukaan program studi statistika di universitas pattimura. Atribut yang perlu diperhatikan yaitu jumlah dosen, banyaknya ruangan kuliah, peminat program studi, kondisi laboratorim, kondisi perpustakan, dan pengguna lulusan. Data diperoleh dari 50 dosen FMIPA. Hasil penelitian ini diketahui bahwa keadaan Program Studi Statistika nantinya memiliki karakteristik dosen statistika cukup, ruangan kuliah kurang, peminat program studi banyak, kondisi laboratorium baik, kondisi perpustakaan dan pengguna lulusan banyak dan menurut pendapat dosen FMIPA atribu yang sangat perlu diperhatikan adalah atribut jumlah dosen.
 Kata kunci: Analisis Konjoin, Penilaian Dosen, Program Studi Statistika
Downloads
Download data is not yet available.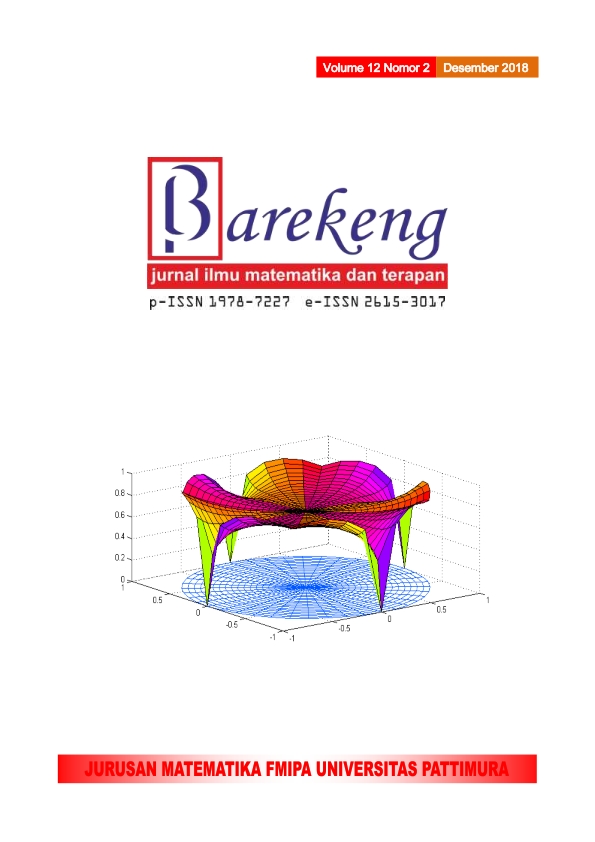 How to Cite
[1]
S. Aulele, H. Taihuttu, and M. Talakua, "PENERAPAN ANALISIS KONJOIN DALAM PENILAIAN DOSEN FMIPA TERHADAP PEMBUKAAN PROGRAM STUDI STATISTIKA DI UNIVERSITAS PATTIMURA", BAREKENG, vol. 12, no. 2, pp. 093-098, Dec. 2018.