MENINGKATKAN HASIL BELAJAR SISWA KELAS IV SD KRISTEN BELSO A2 AMBON DENGAN MENGGUNAKAN MODEL PEMBELAJARAN DOUBLE LOOP PROBLEM SOLVING PADA MATERI PENGUKURAN PANJANG DAN BERAT
Herlina Yacob

Universitas Pattimura

Carolina Selfisina Ayal

Universitas Pattimura

Johannis Takaria

Universitas Pattimura
Keywords:
DLPS Learning Model, Learning Outcomens and Measurement
Abstract
This study aims to determine whether there is an increase in students' learning outcomes taught using Double Loop Problem Solving (DLPS) on the measurement material. The design of this study was a pre-experimental design with one group pre test post test design. The research sample was sixth grades which amounted to 24 people. The research techniques used were test and non-test techniques. Analysis of student learning outcomes data descriptively obtained from the results of percentages and average students while to determine the increase in student learning outcomes, we used the N-gain test formula. The results showed that using of the Double Loop Problem Solving (DLPS) learning model could improve student learning outcomes in the measurement material. This is supported by a pre-test and post-test analysis that uses normalized N-gain values where 21% of students are in the N-gain category with a High category, 58% of students are in the moderate category and 21% are in the low category
Downloads
Download data is not yet available.
References
Dimyati dan Mudjiono (2002). Belajar dan Pembelajaran. Jakarta: Rineka Cipta dan Depdikbud
Huda (2014) Model- model Pengajaran dan Pembelajaran. Yogyakarta: Pustaka Belajar
Meltser, D.E (2002). The Relationship between Mathematics Preparation and Conceptual Learning Grains in Physics: A Possible "Hidden Variable†in Diagnostice Pretest Scores. Dalam American Journal Physics, Vol 70 (12), 27 halaman
Sugiyono (2012) Metode Penelitian Pendekatan Kuantitatif, Kualitatif dan R&D Bandung Alfabeta Bandung
Sukardi, 2011. Metodologi Penelitian Pendidikan,Bumi Aksara,Jakarta.
Van den Heuvel-Panhuizen, M. (2004) Young Children Learn Measurement and Geometry. Netherlands: Freudenthal Institute, Utrecht University
Zuhri, D. (1998). "Proses Berpikir Siswa Kelas II SMPN Pekanbaru Dalam Menyelesaikan Soal-soal Perbandingan berbalik Nilaiâ€.
Yuspriyanti,D.N. (2011) Implementasi Pembelajaran Matematika Dengan menggunakan Doble loop Problem Solving Untuk meningkatkan kompetensi strategis siswa Smp.tesis pada jurnal pembelajaran matematika SPS UPI Bandung: Tidak diterbitkan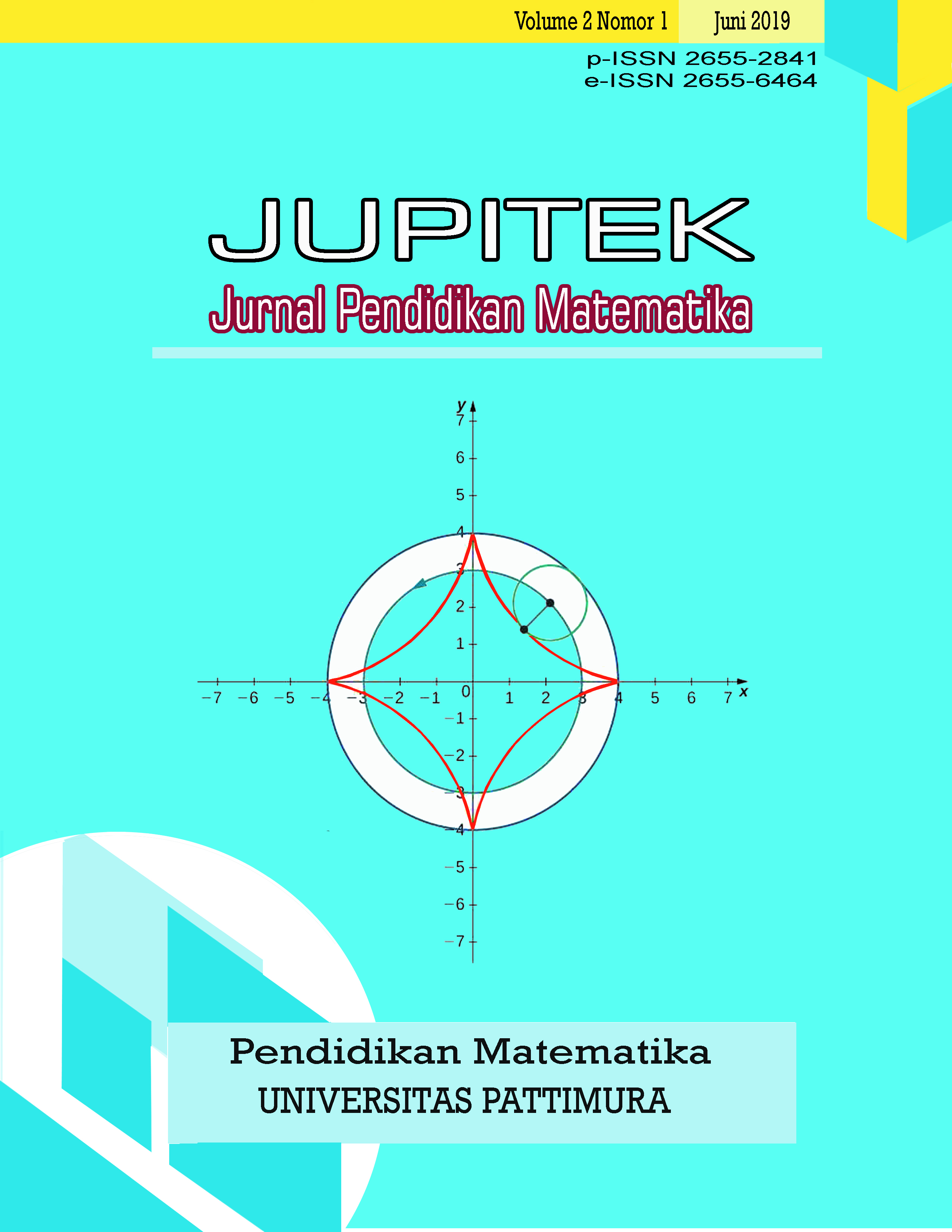 How to Cite
Yacob, H., Ayal, C., & Takaria, J. (2019). MENINGKATKAN HASIL BELAJAR SISWA KELAS IV SD KRISTEN BELSO A2 AMBON DENGAN MENGGUNAKAN MODEL PEMBELAJARAN DOUBLE LOOP PROBLEM SOLVING PADA MATERI PENGUKURAN PANJANG DAN BERAT. Jurnal Pendidikan Matematika (JUPITEK), 2(1), 35-42. https://doi.org/10.30598/jupitekvol2iss1pp35-41
Copyright (c) 2019 Herlina Yacob, Carolina Selfisina Ayal, Johannis Takaria
This work is licensed under a Creative Commons Attribution-NonCommercial-ShareAlike 4.0 International License.
License and Copyright Agreement
In submitting the manuscript to the journal, the authors certify that:
They are authorized by their co-authors to enter into these arrangements.
The work described has not been formally published before, except in the form of an abstract or as part of a published lecture, review, thesis, or overlay journal. Please also carefully read Jurnal Pendidikan Matematika (Jupitek) Posting Your Article Policy.
That it is not under consideration for publication elsewhere,
That its publication has been approved by all the author(s) and by the responsible authorities – tacitly or explicitly – of the institutes where the work has been carried out.
They secure the right to reproduce any material that has already been published or copyrighted elsewhere.
They agree to the following license and copyright agreement.
Copyright
Authors who publish with Jurnal Pendidikan Matematika (Jupitek) agree to the following terms:
Authors retain copyright and grant the journal right of first publication with the work simultaneously licensed under a Creative Commons Attribution License (CC BY-NC-SA 4.0) that allows others to share the work with an acknowledgment of the work's authorship and initial publication in this journal.
Authors are able to enter into separate, additional contractual arrangements for the non-exclusive distribution of the journal's published version of the work (e.g., post it to an institutional repository or publish it in a book), with an acknowledgment of its initial publication in this journal.
Authors are permitted and encouraged to post their work online (e.g., in institutional repositories or on their website) prior to and during the submission process, as it can lead to productive exchanges, as well as earlier and greater citation of published work.