MENGKAJI PERBEDAAN KEMAMPUAN MATEMATIS SISWA MENGGUNAKAN MODEL PEMBELAJARAN KOOPERATIF THINK PAIR SHARE (TPS) DAN MODEL PEMBELAJARAN KONVENSIONAL DI KELAS VIII SMP DITINJAU DARI LEVEL SEKOLAH
Assessing the Difference of Mathematical Capability Students Using Cooperative Learning Think Pair Share (TPS) Model and Conventional Learning Model in Class VIII SMP Reviewed from School Levels
Anderson Leonardo Palinussa

Universitas Pattimura

Abdulla Thaib
Keywords:
Mathematical abilities, Think Pair Share (TPS), conventional
Abstract
The purpose of this research is to study the differencesstudents' mathematical abilities of schools with middle accreditation level and low accreditation level when given the same treatment by applying Think Pair Share (TPS) model compared to conventional models on the circle concept. The Population of this research is schools with a midddle accreditation level and low accreditation level in Ambon. Samples of this research are students on the 8th grade of SMP Al-Wathan Ambon which has middle accreditation level and students on 8th grade of SMP Ass Salam Ambon which has low-level accreditation. This research is experimental research by using Post Test Only Control Group Design. The results on these schools shown that a significant value less than alpha value, in precisely 0,012 < 0,05, which means H0 is rejected and H1 is accepted. This statistical expression means that there is a difference in students' mathematical abilities through the application of Think Pair Share and Conventional model reviewed from school levels.
Downloads
Download data is not yet available.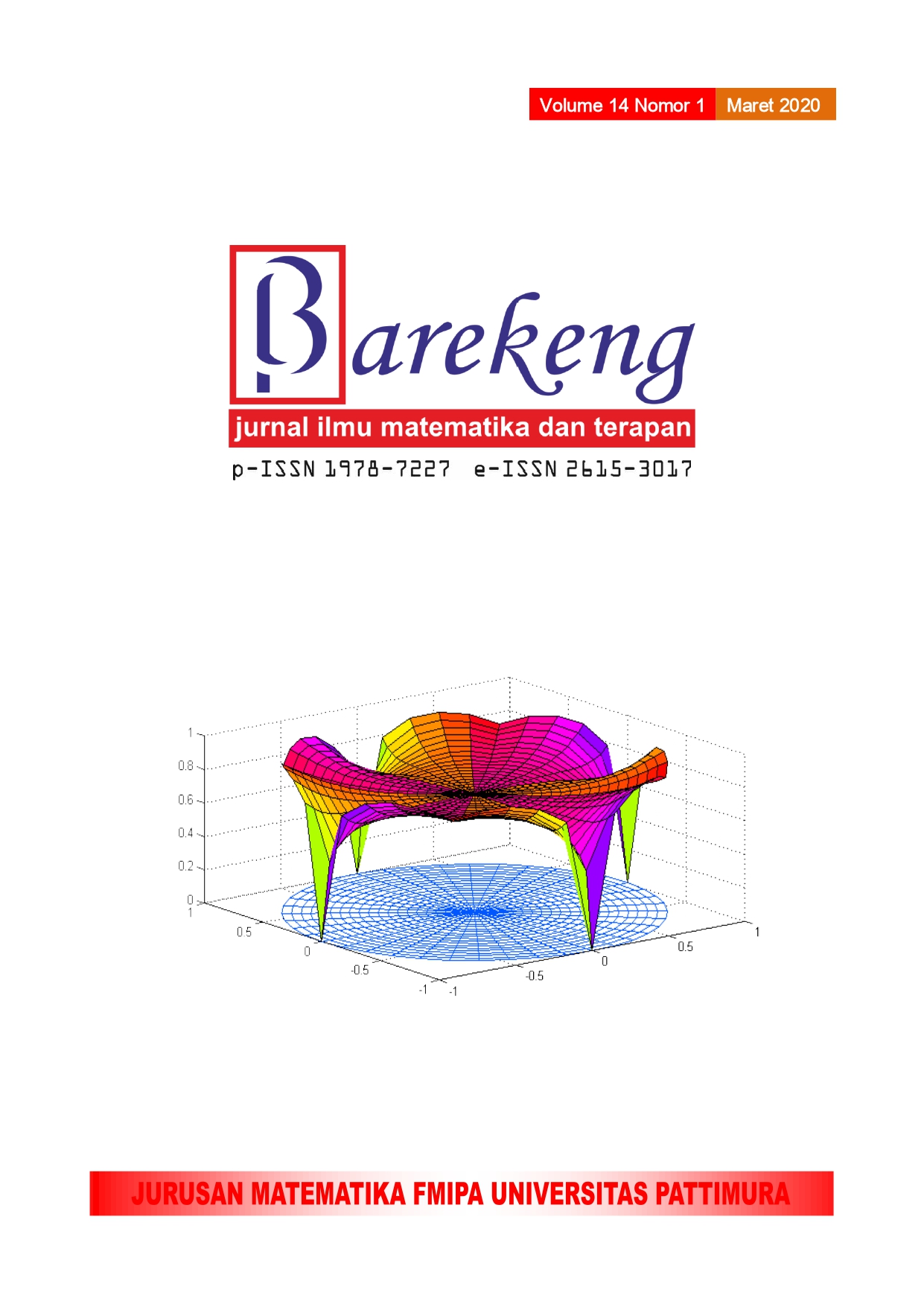 How to Cite
[1]
A. Palinussa and A. Thaib, "MENGKAJI PERBEDAAN KEMAMPUAN MATEMATIS SISWA MENGGUNAKAN MODEL PEMBELAJARAN KOOPERATIF THINK PAIR SHARE (TPS) DAN MODEL PEMBELAJARAN KONVENSIONAL DI KELAS VIII SMP DITINJAU DARI LEVEL SEKOLAH", BAREKENG, vol. 14, no. 1, pp. 023-030, Mar. 2020.
Copyright (c) 2020 Anderson Leonardo Palinussa, Abdulla Thaib
This work is licensed under a Creative Commons Attribution-NonCommercial-ShareAlike 4.0 International License.