ANALISIS PETA POSITIONING UNTUK RESTORAN BERDASARKAN PERSEPSI PELANGGAN DENGAN MENGGUNAKAN METODE MULTIDIMENSIONAL SCALING
STUDI KASUS: RESTORAN AMBON CITY CENTER PASSO
Ferry Kondo Lembang

Jurusan Matematika FMIPA Universitas Pattimura

Angelia C. Leunupun

Jurusan Matematika FMIPA Universitas Pattimura

Mozart W. Talakua

Jurusan Matematika FMIPA Universitas Pattimura
Keywords:
Multidimensional scaling, positioning map
Abstract
Multidimensional Scaling (MDS) merupakan salah satu teknik peubah ganda yang dapat digunakan untuk menentukan posisi suatu objek berdasarkan penilaiannya kemiripannya.Tujuan penelitian ini adalah untuk memperoleh deskripsi pelanggan terhadap restoran serta mengetahui kemiripan antara rumah makan berdasarkan atribut-atribut yang dijadikan objek penelitian.Teknik analisis yang digunakan adalah Multidimensional Scaling Penelitian ini dilakukan dengan mengambil responden sebanyak 30 responden. Hasil dari peta analisis Multidimensional Scaling dapat dilihat bahwa Mister Basso dan Rice Bowl memiliki tingkat kemiripan pada cita rasa, harga, dan fasilitas karena jarak yang saling berdekatan. Sedangkan untuk restoran Solaria, 77 Es teller dan Bakso Lapangan Tembak Senayan menempati posisi yang relatif saling berjauhan antar satu dengan yang lain yang berarti ketiga restoran tidak mempunyai kemiripan atau ketidakmiripan. Hasil dari uji konsistensi dan kesamaan sikap responden juga menenjukan bahwa responden memiliki kesamaan sikap dalam menilai kemiripan masing-masing restoran.
Downloads
Download data is not yet available.
References
[1] A. Kotler, Prinsip-Prinsip Pemasaran, Jilid I, Jakarta: Erlangga, 2001.
[2] A. Ries and J. Trout, Positioning : The Battle For Your Mind, Mc McGraw- Hill Education, 1981.
[3] Supranto, Analisis Multivariat : Arti dan Interpretasi, Jakarta: PT. Rineka Cipta, 2004.
[4] Malhorta and K. Naresh, Marketing Research : An Applied Orientation, 5th ed., New Jersey: Pearson Education, Inc., 2004.
[5] D. Hair and dkk., Multivartiate Data Analysis, New Jersey: Pearson Education, 2006.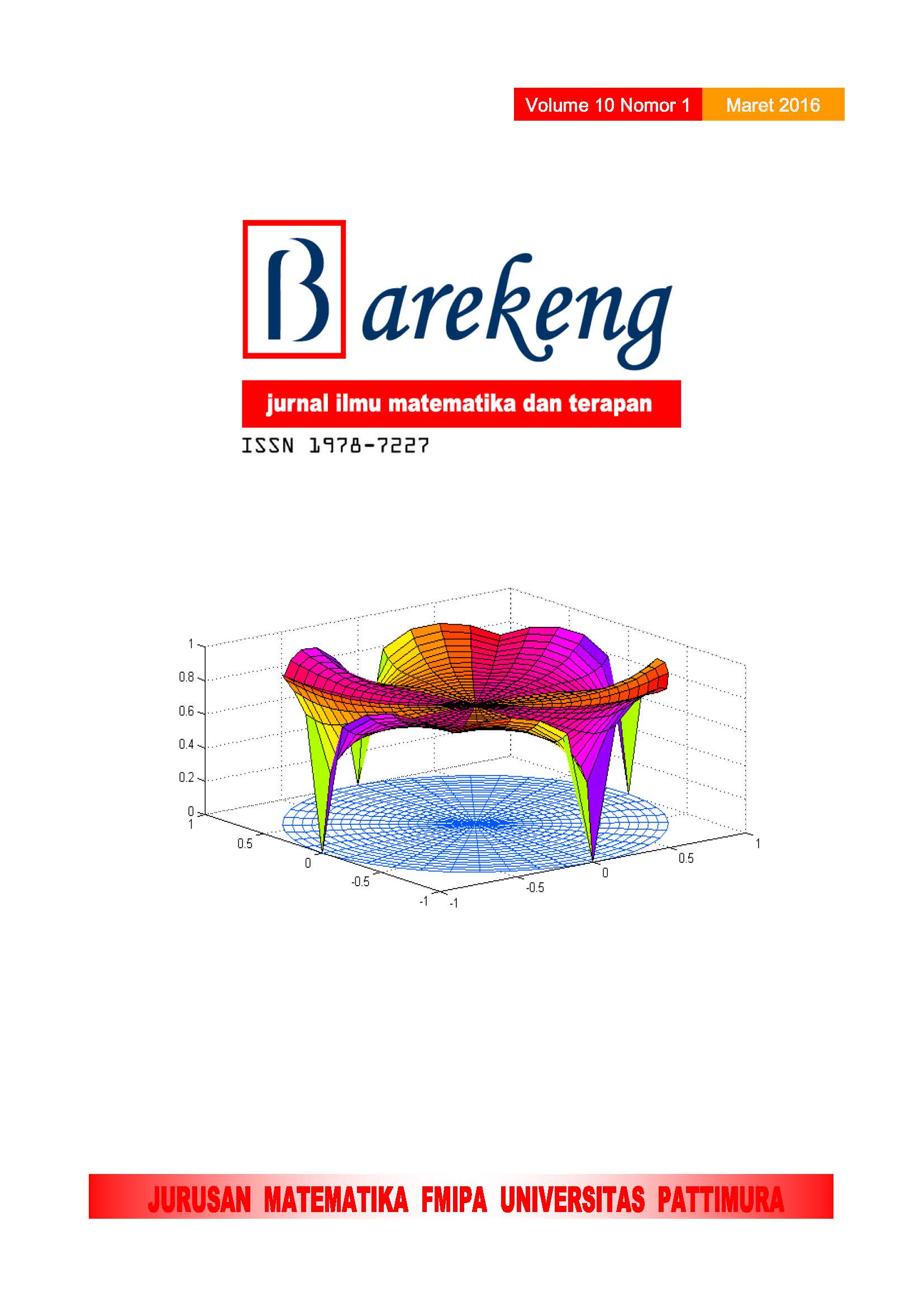 How to Cite
[1]
F. Kondo Lembang, A. Leunupun, and M. Talakua, "ANALISIS PETA POSITIONING UNTUK RESTORAN BERDASARKAN PERSEPSI PELANGGAN DENGAN MENGGUNAKAN METODE MULTIDIMENSIONAL SCALING", BAREKENG, vol. 10, no. 1, pp. 47-54, Mar. 2016.
Copyright (c) 2016 BAREKENG: JURNAL ILMU MATEMATIKA DAN TERAPAN
This work is licensed under a Creative Commons Attribution-NonCommercial-ShareAlike 4.0 International License.